…because you have other shizz to do.
Where I've been this week on the www.
All summed up so you can move on with your life.
~ ~ ~ ~ ~ ~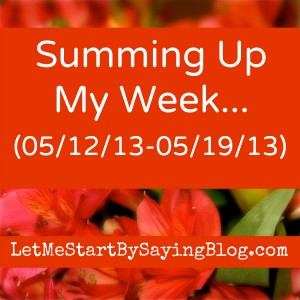 WHERE I WAS:
I reached 10,000 Facebook Fans, so am giving away $400 in prizes HERE.
On InThePowderRoom HERE making you glad you weren't me saying what I was saying to my parents during dinner one night. (prepare to cringe)
This weekend (the 18th-19th) I was in Brattleboro, Vermont for a book signing. I'll post about that this week, but I can say this: I LOVE YOU, VERMONT!
I try to hop onto the #SpikedPunch Twitter Party every Sunday at 9pm EST. Join me!
STUFF I LOVED THIS WEEK:
@TheNDM makes her own fun HERE.
FAVORITE TWEETS:
So many of the meal choices I make for the kids are based directly on when they had their last bath.

— Greta Funk (@gfunkified) May 14, 2013
BLOG SPONSORS:
I have 4 wonderful blog sponsors. Please help me show them some love by checking them out & Liking them on Facebook & Twitter.
My Pretty Chic Boutique = Etsy shop of stone & bead jewelry that I covet.
Carpool Goddess = Tales of a modern mom.
Daughter-in-Law Diaries = Advice, support, community for DILs.
Splendid Junk Vintage = Etsy shop of lovely vintage goods.
Okay, now I think that's everything. Back to your regularly-scheduled weekending…
Comment with Your Facebook Account
Comments