My son's nose started running on a Friday. I had been feeling his forehead and checking to see how swollen his glands were, hovering and worried for days, so he asked me why I was being so annoying.
"I never got you two your flu shots. I really hope it's just a cold, but I'm kicking myself for not getting around to it."
"Mom, it's okay. I'm fine. We can get it later."
"It's not fine. It's my job, and I didn't do it."
"It's not your job to do everything."
"Yes it is."
"No it isn't."
"Yes it is."
"No it isn't."
"Yes it—"
"MOM. 'Everything' isn't a job. That doesn't even make sense. You do so much, a late flu shot is okay. I'm okay and you're okay. We're all doing okay and that's what matters."
And dammit, he's right.
Yet again, I forgot that I'm human and can—should—only do so much, not beat myself up over being human. In one eye-rolling statement, he gave me a two-part gift: reminding me that I don't have to do everything, and assuring me that he is okay.
I needed to hear it, so I thought maybe I could tell you all that his words apply to you, too. Because I bet I'm not the only one who was kicking themself this week over some parenting thing that didn't meet the "Everything" standard.
A standard that even a sniffly 14-year-old knows isn't fair to his parents because he is absolutely okay without it..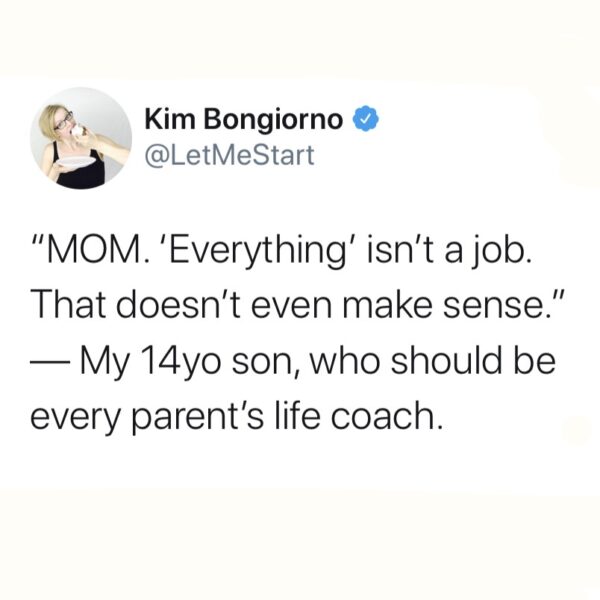 ---
Kim Bongiorno is an author, full time freelance writer, and the blogger behind Let Me Start By Saying. Learn more by connecting with her: Facebook · Twitter · Instagram · Goodreads · Amazon.com · BookBub · Newsletter