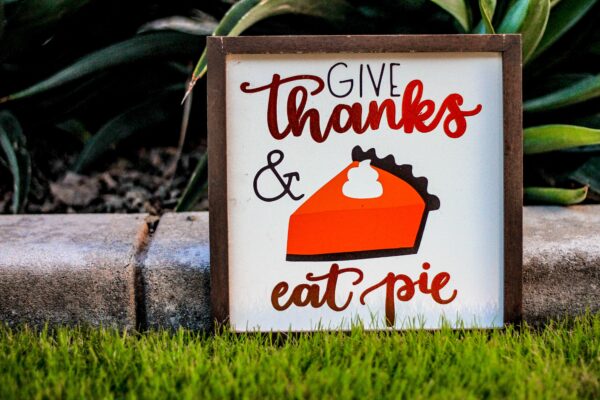 Please do not gather for a Thanksgiving meal with loved ones who live outside of your home or daily-ish bubble this year.
(And this goes for all the other holidays this season, as well.)
I miss my big extended family so much, too. Haven't been in a room with any of them since at least December 2019, and it SUCKS to not fight over pie and mashed potatoes with them this year. But safer is better, for us.
I know that not everyone of every age catches the virus and dies, but the grey area between death and survival can be truly devastating physically, financially, and emotionally, for far longer than just a couple of weeks.

Is one meal with people you miss (or are being guilt-tripped by) worth potentially causing them and/or others:
Getting them sick, period
Needing to afford and be logistically able to create a safe quarantine space that is stocked with the medical care, food, drink, and supplies needed for weeks (and arrange for others to take over their usual responsibilities) if their care doesn't require hospitalization
Costly medical care while being treated for the illness in hospital
Loss of much-needed work hours while sick, thus loss of pay
Loss of job due to inability to show up
Loss of healthcare due to loss of hours/job
Loss of prescription coverage due to loss of hours/job
Loss of other benefits through work due to loss of hours/job
Loss of childcare due to loss of hours/job
Loss of ability to care for own children
Loss of ability to care for or financially support others who regularly depend on them
The emotional experience of being quarantined alone in a hospital, unsure of one's odds of surviving
Loss of life
In the case of loss of life, the emotional devastation (no goodbye, no funeral), extensive bills, and other logistics left behind for their partner, spouse, kids, family to have to take on
Need for in-home or outside of home care while recovering from illness
New long-term health issues caused by the illness
Need for costly new prescriptions to manage the long-term health issues caused by the virus
Need for costly new specialists, testing, procedures, etc. to understand and manage long-term health issues caused by the virus
Need to rely on loved ones to manage their bills, care, home, family, and beyond while they're ill and recovering, despite them already having countless responsibilities
The physical and mental experience of having the virus
The emotional experience loved ones of the sick go through, including young children, family, and friends.
The knowledge that you encouraged and/or participated in an event that can not only cause someone there to catch the virus, but now all of the attendees exposed can spread it even further, resulting in an unknown number of the scenarios above as well as potentially terminal cases to both loved ones and strangers
Close-contact maskless scenarios like meals, and time together indoors like family gatherings, are HUGE spreaders of the virus. Our country is on fire with this thing, and the flames are spreading fast.
Please, please have a safer Thanksgiving (and the rest) at home with whomever you already live with, and catch up with the family and friends you miss via video or phone calls throughout the day.
You wouldn't be cancelling the gathering because you don't want to see them in person again; you'd be cancelling because you DO.
---
RESOURCES
For more information about the virus, how it spreads, how to protect yourself/your family, what to do if you think you are sick, and more, please visit the Center for Disease Control (CDC) and/or the World Health Organization (WHO) websites.
FURTHER READING
Cases of COVID-19 and deaths caused by COVID-19 in the United States of America, as of November 19, 2020 at 9:45 a.m. ET
Cases in the US: 11,538,104
Deaths in the US: 250,652
Source: Johns Hopkins University Center for Systems Science and Engineering
See the latest numbers here, including state-by-state breakdowns.
Brain Fog Plagues Covid Survivors | The condition is affecting thousands of patients, impeding their ability to work and function in daily life
(New York Times reports) 

"Confusion, delirium and other types of altered mental function, called encephalopathy, have occurred during hospitalization for Covid-19 respiratory problems, and a study found such patients needed longer hospitalizations, had higher mortality rates and often couldn't manage daily activities right after hospitalization.

But research on long-lasting brain fog is just beginning. A French report in August on 120 patients who had been hospitalized found that 34 percent had memory loss and 27 percent had concentration problems months later.
In a soon-to-be-published survey of 3,930 members of Survivor Corps, a group of people who have connected to discuss life after Covid, over half reported difficulty concentrating or focusing…It was the fourth most common symptom out of the 101 long-term and short-term physical, neurological and psychological conditions that survivors reported."

Read the article here.
The Hidden Long-Term Effects of Covid-19
(Harvard Health Publishing, Harvard Medical School reports)

"There is one inevitable conclusion from these studies: COVID infection frequently leads to brain damage — particularly in those over 70. While sometimes the brain damage is obvious and leads to major cognitive impairment, more frequently the damage is mild, leading to difficulties with sustained attention…

One recently published paper from a group of German and American doctors concluded that the combination of direct effects of the virus, systemic inflammation, strokes, and damage to bodily organs (like lungs and liver) could even make COVID survivors at high risk for Alzheimer's disease in the future. Individuals whose professions involve medical care, legal advice, financial planning, or leadership — including political leaders — may need to be carefully evaluated with formal neuropsychological testing, including measures of sustained attention, to assure that their cognition has not been compromised."

Read the article here.
Long-Term Effects of Covid-19
(The CDC reports)

"The most commonly reported long-term symptoms include:
Fatigue, Shortness of breath, Cough, Joint pain, Chest pain

Other reported long-term symptoms include:
Difficulty with thinking and concentration (sometimes referred to as "brain fog"), Depression, Muscle pain, Headache, Intermittent fever, Fast-beating or pounding heart (also known as heart palpitations)

More serious long-term complications appear to be less common but have been reported. These have been noted to affect different organ systems in the body. These include:
Cardiovascular: inflammation of the heart muscle, Respiratory: lung function abnormalities, Renal: acute kidney injury, Dermatologic: rash, hair loss, Neurological: smell and taste problems, sleep issues, difficulty with concentration, memory problems, Psychiatric: depression, anxiety, changes in mood"

Read the article here.
Multiple Covid-19 Outbreaks Linked to a [Small] Wedding Reception
(The CDC reports) 

"A wedding reception with 55 persons in a rural Maine town led to COVID-19 outbreaks in the local community, as well as at a long-term care facility and a correctional facility in other counties. Overall, 177 COVID-19 cases were linked to the event, including seven hospitalizations and seven deaths." 

Read the article here.
---
Photo by Preslie Hirsch on Unsplash