If you are holiday shopping for someone who regularly gets headaches or migraines, you have come to the right place. I've written out my tips for avoiding headaches, and lots of migraine remedies, but this is a quick and easy gift guide full of my favorite things that keep me happy and healthy all year long.
While it might seem strange to give what could fairly be called "healthcare items" as a holiday gift, I promise you that it will mean a lot to the recipient, for you are truly giving comfort and joy.
Simply click the links in pink or the images below to add the item to your cart. Happy shopping!
GIFTS FOR PEOPLE WHO GET MIGRAINES AND HEADACHES
Microwavable Heating Pad for Neck and Shoulders
Loosen up those muscles to prevent or relieve tension headaches. Ahhh…
Item shown is approximately $35. Click link for current price.
Cervical Neck and Shoulder Relaxer
Lie back with this under your neck and it just kind of puts everything back where it's supposed to be. I was not a believer until I tried it, and now I not only always keep it close at hand, I won't travel without it. THIS THING IS PURE MAGIC.
Item shown is approximately $16. Click link for current price.
The Cervical Neck Hammock
My husband actually discovered this, and it is AMAZING. This is the version he has, which you can hang off of any doorknob. It relieves tension and stretches things out. This one comes with a stand, so you can use it anywhere (in bed, on a couch, a comfy spot on the floor that's not near a doorknob, etc.).
Item shown is approximately $49. The one with a stand is $34. Click links for current price.
The Migraine Hat
This product changed my life, and is the #1 thing I recommend to people who ask for tips on managing their (or their kids') migraines. I have some health restrictions that make me unable to take certain medications, so I need as many non-pill headache/migraine management options as possible.
This is a comfy ice pack you wear on your head, wrapping as tight or loose as you want. It has stopped incoming migraines from blowing up, and kept big ones under control even as I dozed. Get. This. "Hat."
Item shown is approximately $29. Click link for current price.
Peppermint Oil
I keep this roller of peppermint oil in my bag so when there's a smell around me that's triggering a headache/migraine, I can sniff it and apply a bit on my temples or the back of my neck. Bonus points to this one for also helping to take the edge off of nausea, too. And one bottle will last a really long time.
Item shown is approximately $9. Click link for current price.
Bubble Eye Shades
Hello darkness, my old friend. These not only keep the light out when trying to get away from all the triggers, they do so without pressing against eyeballs that are already feeling a bit sensitive. 
Item shown is approximately $8 for a two-pack. Click link for current price.
Chair Massager
Because while you'd LOVE to give your BFF a $5,000 full-body massaging chair to loosen up those back and shoulder muscles for a properly-stretched spine, this one is about $4,900 closer to your actual budget.
Item shown is approximately $89. Click link for current price.
A Shiatsu Neck Massager
For about half the price of the full-back one, you can get a smaller one that does an amazing job of getting the tension out of your neck and shoulders.
When I feel a tension migraine coming on, it usually crawls up between my upper shoulder blades to my neck, so leaning back at an angle on the couch with this perched behind my neck so it hits those tight muscles at the top of my shoulders and my neck is a BIG help.
Item shown is approximately $39. Click link for current price.
A Big, Hardworking Water Bottle
When the neurologist says to drink enough water to keep your pee colorless all day every day as a way to prevent headaches and migraines, you listen. After a decade-plus of trying every brand out there, I found Takeya and never looked back. These don't spill, wash easily, last even when my kids do all the things kids do to break nice stuff, and keep the temp of the water where you want it all day long. Again, there MUST be some magic at work here.
Item shown is approximately $14. Click link for current price.
Room Darkening Curtains
Migraines don't care what time of day it is, and most of them don't like sunlight. These thermal curtains look good, come in a variety of colors and sizes, are priced right, and do a wonderful job of making my rooms dark when I need them to be. Bedrooms are an obvious place to put them, but I also have some in my office, and am getting them for the bathroom, too (dark, warm showers are a white noise paradise when I'm on head pain overload). Make sure to measure to get the right length and width!
Item shown is approximately $14 for a pair of 84″ long panels. Click link for current price.
A Laptop Stand
A big headache/migraine trigger is bad posture, like when you sit at a desk working on a computer that you have to look down at to see. If the neck isn't straight—and it usually isn't when using a laptop or other computer with a screen that isn't at eye-level—there is increased pressure on the spine. Even just looking down at a 30-degree angle puts about 40lbs of extra weight pressure on your spine right at the back of your neck. YEOWCH. This totally triggers tension migraines for me, which usually last for days.
I got this adjustable laptop stand so my family can make sure they're eye-level with their laptop for work or homework, no matter which table or desk they're sitting (or standing) at, and it absolutely decreased the frequency of them getting a headache while being on the computer. 
Item shown is approximately $34. Click link for current price.
MORE HOLIDAY GIFT GUIDES:
Gifts for writers (coming soon)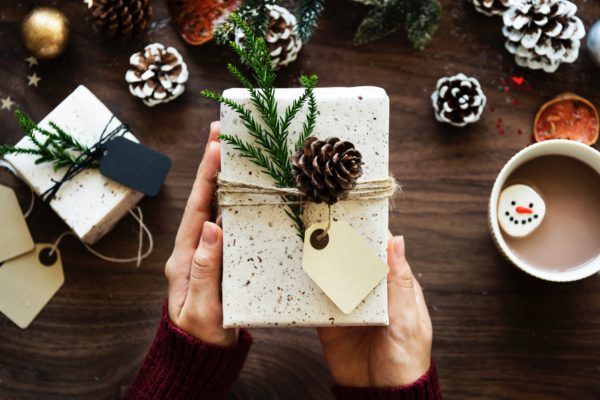 Affiliate links were used in this post.
---
Kim Bongiorno is an author, full time freelance writer, and the blogger behind Let Me Start By Saying. Her latest publication is the essay "This One is for the Ghost Girls" in YOU DO YOU, an anthology about the female experience written by authors ages 12-65 for readers of all genders, ages 12 and up. Learn more by connecting with her: Facebook · Twitter · Instagram · Goodreads · Amazon.com · BookBub · Newsletter · Book Announcement Mailing List 
---