"Don't glue your brother! I MEAN it!"
Most days you give a crap. You really do. 
You make sure no one does anything that could directly lead to bleeding from the ears or grand larceny.
You don't Helicopter Parent—who has the energy for that, anyway?—but you spew a nonstop stream of dialogue at the kids in the vein of Don't do this, Please stop that, The cat does not belong in the fireplace. 
On weekdays you are (mostly) organized. The alarm goes off early Monday morning so there can be fluffy scrambled eggs, crisp bacon, sweet orange juice and perfectly-buttered whole grain toast perched on a tidy table to help give your kids the energy to succeed at school and start the week off right. Sure, Tuesday is only the toast and eggs, Wednesday is just toast, then Thursday and Friday it's cereal with milk placed on the table only after you shove the accumulation of random kidstuffs out of the way, but you're making it happen. Humans are being fed!
Some mornings there's even sweaty workout gear resting in a humming, floral-scented laundry room as you shower.
The days are full of errands, calls, work, appointments, checking off your To Do lists, and making it to school pick-up on time.
You're handing one kid their soccer cleats as you remove dance tights from the other while flipping grilled cheese sandwiches that 100% count as a "homemade meal."
You're monitoring their chores to ensure they get done and reminding them to chip away at the big school project and ensuring they use the best of manners when answering doors, phones, greetings from neighbors.
By the time they curl up in bed, your kids have finished homework, done extra reading, tidied up the toys and books and detritus once hidden under their beds, and maybe even flossed.
(Okay, fine—nobody flossed.)
Then the weekend hits, and you cling to the hope that your offspring will survive in a Darwinian environment because you just don't give a crap. 
All the craps to give have been used up for the week.
The crap well is empty.
Friday night before you crawl into bed, weary-boned and delirious, you toss empty paper cups and a box of doughnuts on the kitchen table next to fully-charged iPads and the TV remote with a note that says: As long as you don't wake me up before 8am, you can do whatever you want.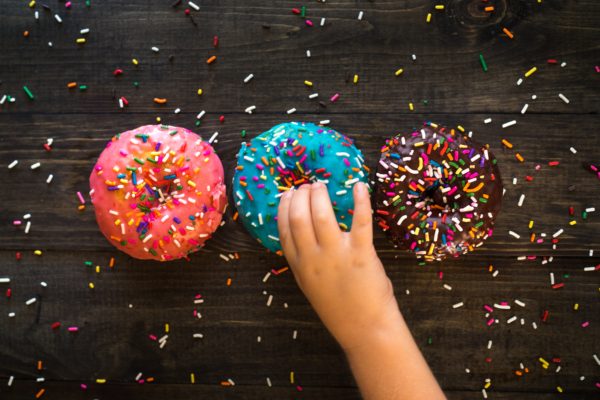 Parenting is less hands-on and more hopeful, as you release the grip you have on all the strings you've tied to them, allow them to just be without your tugs.
I found that it's in those times that you can't do it, can't make one more damn decision for the little people in your life, that kids learn how to be themselves. 
How to flourish and grow and choose and be independent. 
How to make good decisions and fix bad ones. 
How to know when to tell on someone to get them out of trouble, rather than tell on them to get them in trouble. 
How to know who they really want to play with, or know when they want to play by themselves.
How to self-advocate. Be a better learner. Be a better teacher (if they have siblings).
How to use the toaster oven without setting the kitchen ablaze.
So this weekend when I yet again turn a blind eye to my kids tearing through the house on an adventure, when I'm letting them eat what they want and resolve their own arguments, I'm not being lazy. I haven't completely given up. I simply am giving myself the chance to recharge while my kids feel what it's like to be in charge of themselves. 
They need the practice to be better humans on their own two feet, and I'm happy to give it to them, more and more as they get older. 
Yes, this means mistakes are made (as are disastrous messes), but so is the experience of being accountable. Responsible. Capable. 
And those are three things I definitely give a crap about.
LIKE THIS?
Then you'll love my essay "Sarcasm, Fart Jokes, and Other Reasons Why I'd Never Make It as a Middle School Teacher" in WILL WORK FOR APPLES, the latest in the New York Times best-selling I JUST WANT TO PEE ALONE anthology series. Available now: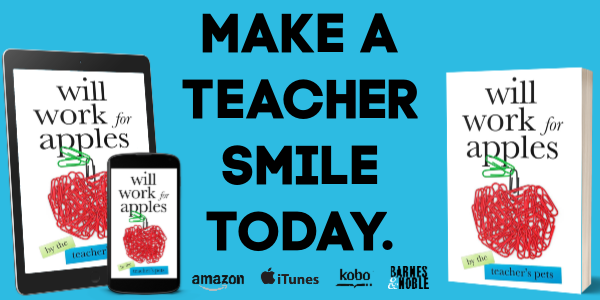 ---
Kim Bongiorno is an author, full time freelance writer, and the blogger behind Let Me Start By Saying. Connect with her on Facebook · Twitter · Instagram · Goodreads · Amazon.com · BookBub · Newsletter