I like SpongeBob SquarePants.
Yes, some parents roll their eyes when asked, "Who lives in a pineapple under the sea?" or visibly cringe at his laugh, but I think he's pretty great. So I've always let my kids watch him. I've bought them giant mylar balloons of him for birthdays. I've sung along to his movies.
Because believe it or not, sometimes a chipper and chatty sea sponge is a great example of who we want our kids to be.
SpongeBob's creator, Steven Hillenburg, may be gone now, but I will be forever grateful for what he gave us parents almost twenty years ago in the form of a bright yellow, big-hearted cartoon character who taught my kids life lessons I hope they never forget.
Here are just a few of them.
1. Be enthusiastic about your work and everything else you do.
Whether he was flipping Krabby Patties or going on new adventures, he did it with aplomb—and a big smile.
2. Make friends with all kinds of different people/creatures/beings.
It didn't matter if they were a fellow sea dweller, displaced squirrel, or bubble. He didn't judge based on age or style of dress or appearance. SpongeBob was happy to befriend anyone willing to let him into their life.
3. Find confidence in what you do well.
And have no shame in being proud of what you're doing.
4. Love your neighbors. Even the cranky ones.
Squidward had a case of the Mondays every day, but SpongeBob didn't let that deter him from caring. That safety net of total acceptance might have been exactly what the ornery cephalopod needed.
5. Always try new things.
New games, new pants, new shapes, new words, new anything! SpongeBob was willing to give all sorts of new things a go, not too worried about whether or not it would end well.
6. Don't let the little things get you down.
There are so many little things that can go wrong (and large disasters that implode upon the smallest accidental provocation), but he just let them float away from his mind while focusing on the good stuff.
7. Those who value money most aren't the happiest.
SpongeBob didn't need much to feel joy. He also witnessed the wealthiest people around him (from kings to Krabs) obsess over cash and things only money can buy to a point that they lost focus on what was really important.
8. It's okay to be the first one to end a fight with your friend.
Humility and forgiveness are a big part of long-lasting friendships. That's why SpongeBob and Patrick worked so well together! Neither were willing to hold a grudge for long.
9. Be nice to your enemies and they will never win.
I do believe this is called Plankton Karma.
10. Be an involved and concerned member of your community.
SpongeBob was never shy about wanting to help his neighbors, and hit the streets to do so at any opportunity.
11. Having a positive attitude is the best decision you can make for a happy life.
Remembering to hope and believing in the possibility of goodness in each moment gave him a light my kids saw through the years, and I'm thankful that I can see it shining through them now, too.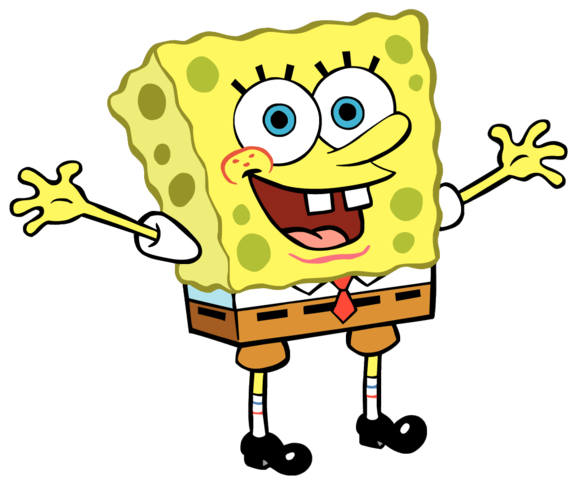 ---
Kim Bongiorno is an author, full time freelance writer, and the blogger behind Let Me Start By Saying. Her latest publication is the essay "This One is for the Ghost Girls" in YOU DO YOU, an anthology about the female experience written by authors ages 12-65 for readers of all genders, ages 12 and up. Learn more by connecting with her: Facebook · Twitter · Instagram · Goodreads · Amazon.com · BookBub · Newsletter · Book Announcement Mailing List