Not long ago, I found myself yet again surrounded by a bevy of kids. Only a small percentage were mine. 
(This happens a lot once you become a parent.)
It was loud. They were in constant motion. They were making me laugh. Then out of nowhere, a ball flew into the group from behind me and smacked a little girl in the face. I dropped down, placing a palm on each of her cheeks—one now hotter than the other—trying to counteract the pain with my mom hands while catching her shocked eyes and asking if she was okay, asking how I could make it better. Once she was settled, I addressed the group as a whole to ensure this wouldn't happen again.
She was not my daughter, but I didn't even think of that as I tried to soothe her in the moment, to make the space safer for her in the future.
It's just what we do as moms, as parents. Whether a child is ours or not, we will help them. 
We swipe sharp things out of their reach before they can grab them, hold out a hand between their wobbling skulls and the corners of tables, yank them from the path of a speeding bike they don't see coming their way, kick the discarded shoes out from behind them before they trip, grab a ball mid-air before it strikes them. Often they don't even know the work we are doing, for we are diligent and they are busy growing, learning, living. They trust us to do our job.
When danger comes their way, we put ourselves between it and the children in its path.
If it sneaks by us—like a ball gone rogue when our back is turned—we repair the damage.
It's just what we do.
There's a quote by everybody's favorite nice guy that gets shared a lot in times of trouble. I'm sure you've read or heard it before: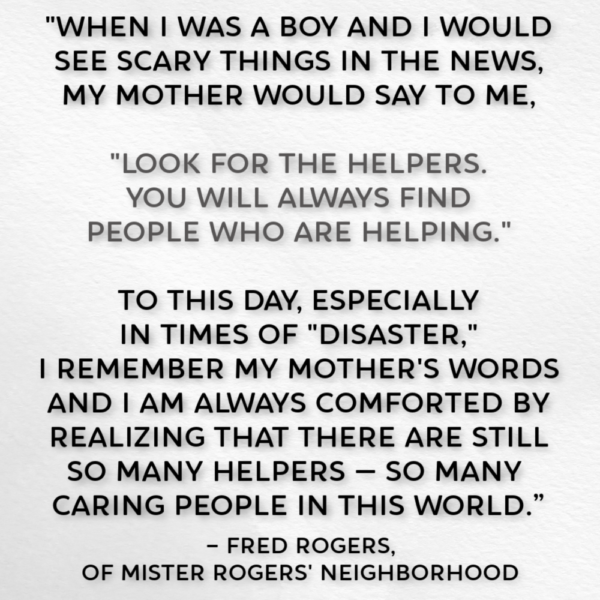 The more I think on this, the more I understand that we parents are the biggest helpers out there. We're everywhere. We are the ones always caring, always comforting, always keeping kids safe—whether or not they are ours, whether or not they are aware of what we are doing for them.
When it comes down to instinct or reflex, our response to a child in need in the moment it is happening is to treat them as we would our own.
It's time to embrace what we are and put it to work in a more organized fashion.
Right now we are in a time of trouble, in a time many quite fairly call a "distaster," and the kids need us to do what we do best. 
The people in power are directly and indirectly giving permission for more danger to come to more people in our country—including the children. The momentum is picking up in a direction that is making things worse, leaving horrifying wreckage in its wake as it plows forward.
We parents have a choice to make: sit back and look for helpers, or be the ones we've always been.
Vote on Election Day.
Vote for the people who respect all lives equally and would grab a ball mid-air to prevent it from hitting a child without wondering first who that child was, where their ancestors came from, who they prayed to, which gender they are, who they love, how much money their parents have, who their parents voted for in the last election.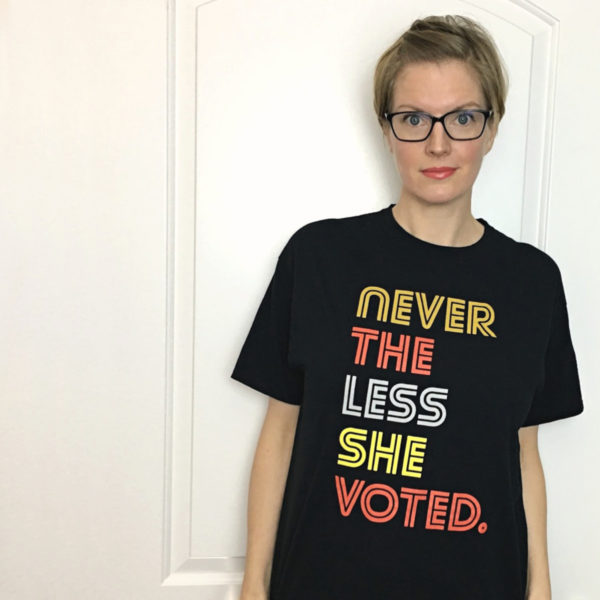 It's time to look up who will be on your ballot and see where they stand on the issues. Then find your polling booth. Then on November 6th, drive, carpool, get a discounted/free ride from Lyft or Uber, walk, run to vote. 
Put leaders in place who can stop this dangerous momentum.
We have been the helpers our kids need at home, at the playground, and in their schools. It is time to be the helpers they need on a much bigger scale.
All it takes is us continuing to do our job the next time we're in a voting booth.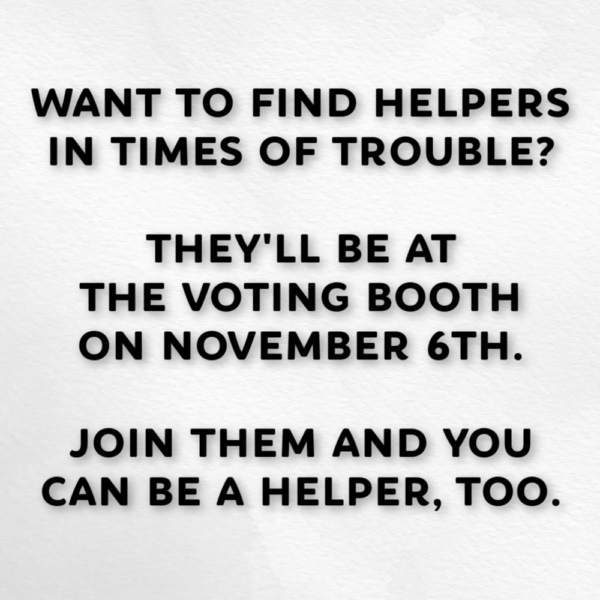 ---
Kim Bongiorno is an author, full time freelance writer, and the blogger behind Let Me Start By Saying. Her latest publication is the essay "This One is for the Ghost Girls" in YOU DO YOU, an anthology about the female experience written by authors ages 12-65 for readers of all genders, ages 12 and up. Learn more by connecting with her: Facebook · Twitter · Instagram · Goodreads · Amazon.com · BookBub · Newsletter · Book Announcement Mailing List