My son started 8th grade last week. He told me on the way home from school on Friday that he had an assignment: to interview someone at home about 9/11.
Upon my expression he said he'd ask Dad if I didn't want to do it. But I did. He needed to see me talk about it.
We came into the house and sat at the kitchen table.
He began the interview, and I opened with how I was supposed to be up there in the (World Trade Center) tower, but chance kept me away at the very last minute. He took notes, kept asking the listed questions, was patient as my thoughts stumbled out.
I cried a bit as I talked. I'm tearing up now as I write this. It was a big moment in my life, and I don't want to hide from my children that things scare me, that sometimes we still get emotional talking about parts of our lives from many years ago.
He stayed with me. Let me take the time I needed, feel what came up with the memories. My daughter didn't need to be at the table, but she stayed with me, too, uncharacteristically quiet.
He asked whether we had any momentos he could share with his class, so I gave him some of the photos I took while I was down by Ground Zero two days after the attack, visiting a client (upon managerial insistence). Their dusty tower so much brighter inside because its two neighbors were no longer there. I had to bring my camera to shoot the damage to their equipment, their trading floor.
At the site, my contact suggested I keep shooting beyond what I was told to, even if it wasn't easy. So I did. I'm glad he encouraged me to do so. It helped me, in a way. Photography always drove things home for me, whether I was the one taking the shots or looking at someone else's.
My son was most struck by the photos I took of the posters. I tried to explain the fluttering noise they made, papery whispers of all those missing people. He went through the stack over and over again, the images slipping through his hands, his eyes taking in countless names, faces, and pleas on those papers.
And so begins another generation truly starting to understand why 9/11 is a complicated day for those of us who were there.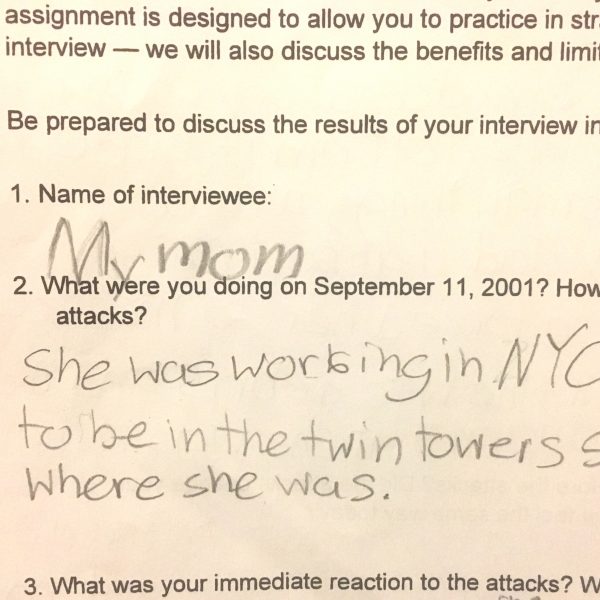 ---
Kim Bongiorno is an author, full time freelance writer, and the blogger behind Let Me Start By Saying. Learn more by connecting with her: Facebook · Twitter · Instagram · Goodreads · Amazon.com · BookBub · Newsletter · Book Announcement Mailing List