I write a lot of notes to myself: story ideas, grocery lists, wines to try, blog post ideas…
But the most important things I haven't been writing down, are the things I want my kids to learn from me by example. 
The problem is this: Not only am I not always the most stellar example-maker around, I also have a terrible memory (thus all the lists). I want the best for my kids, but sometimes I just can't remember to teach the lesson when it arises at times they aren't by my side.
So I decided to write a list for my son and daughter. I found a scrap of paper in my handbag & started jotting lessons down on it.
It was filled up within a day, so I added more to a piece of notebook paper, then some on my phone, and so on.
I figured what better place to share my list – so far – than right here. A place where people are more than willing to tell me what I forgot to put on it.
Without further ado, here are some lessons I want my kids to learn. Please feel free to add more in the comments—I'll take any help at this parenting gig that I can get.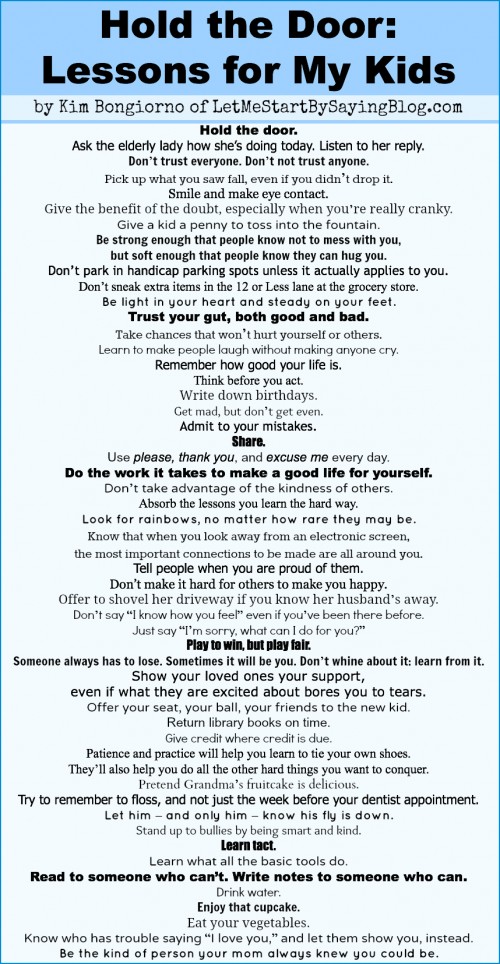 And from a lesson I recently learned, Be Kind. To yourself, and others.
What would you add to this list?
GET THE UPDATED FOR 2022 POSTER HERE.

Order the original poster version of this list HERE.