Choose the option that works best for you:
OPTION #1: Weekly Newsletter
Want everything in one place at one time? My weekly newsletter comes to you via email each Sunday with everything I wrote that week, what I loved by others around the www, insider info & some personal notes.
OPTION #2: bloglovin'
Follow all your favorite blogs–and see which your friends follow, too–by using bloglovin's free service. Follow me on bloglovin' here:
OPTION #3: Posts by email
Subscribe through FeedBurner to get every blog post by email as it happens:
SOCIAL MEDIA
Join me on Facebook, Twitter, Pinterest, Instagram, and Google+.
Thanks so much for following along!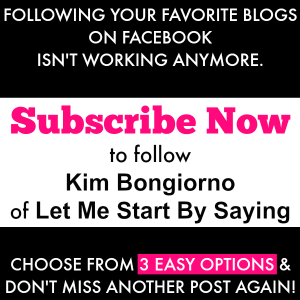 Comment with Your Facebook Account
Comments