Thursday April 18, 2013 from 5-9pm is Westfield New Jersey's annual Girls' Night Out!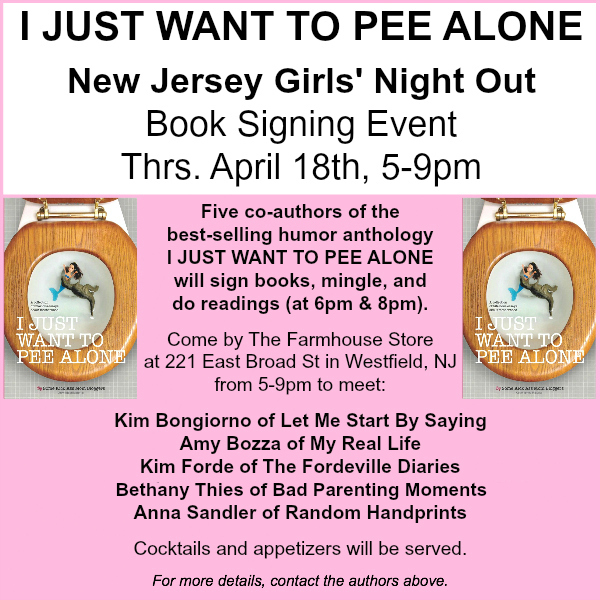 5 co-authors of the best-selling humor anthology I JUST WANT TO PEE ALONE will be signing books, mingling, and doing 2 readings (at 6pm & 8pm).
Come by The Farmhouse Store's upper level from 5-9pm to meet:
Kim Bongiorno of Let Me Start By Saying (Me!)
Amy Bozza of My Real Life
Kim Forde of The Fordeville Diaries
Anna Sandler of Random Handprints
Bethany Thies of Bad Parenting Moments
Cocktails and appetizers will be served.
Paperback books will be available for $10 CASH, or bring your own copy to be signed by the co-authors. Buy a copy HERE.
This is a downtown-wide Girls' Night Out event with giveaways, shopping, prizes and more.
Registration not required, but the first 1000 ladies who register (for free) for Girls' Night Out get complimentary gifts. Click HERE to register and learn about other activities going on in Downtown Westfield that night, including shopping, special, and more.
To RSVP on the Official Facebook Event page, click HERE.