Ladies and gentleman, it had to happen.
The biggest blogging conference of the year happens to be in Chicago this summer.
I'm going. Lots of my co-authors in I JUST WANT TO PEE ALONE are going.
My in-laws live in Chicago, so I know and love Chicago.
Lots of fans of the book and the co-authors live in Chicago.
Lots of fans of the book and the co-authors will be in Chicago for the blogging conference.
So why not have a BIG book signing at my in-laws' restaurant the weekend that we're all in town?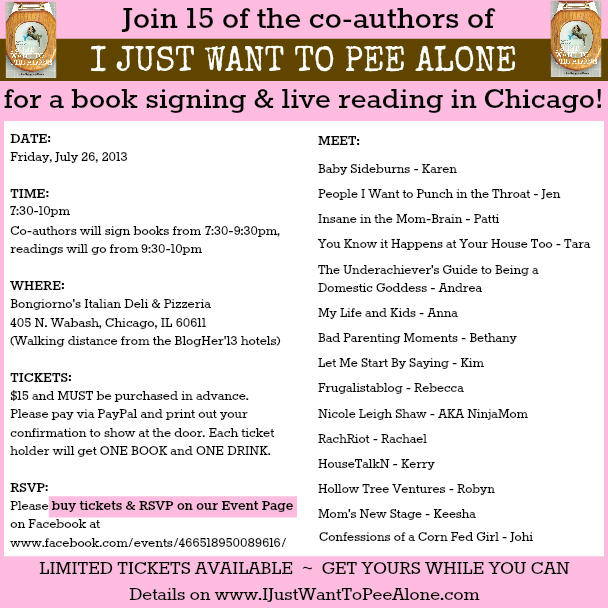 DATE:
Friday, July 26, 2013
TIME:
7:30-10 PM
Co-authors will sign books from 7:30-9:30 PM, readings will go from 9:30-10PM. Readings will not be from the book, so you never know what to expect!
WHERE:
Bongiorno's Italian Deli & Pizzeria
405 N. Wabash, Chicago, IL 60611
Walking distance from the BlogHer'13 hotels.
Yes, this is owned by my in-laws!
Yes, there will be deals on food for those who come to the reading, so arrive hungry!
You can take something delicious To Go back to your hotel room, if you're in town for BlogHer13 & have parties to attend after this event!
See the full menu here. Deals for event ticket holders will be posted closer to the event.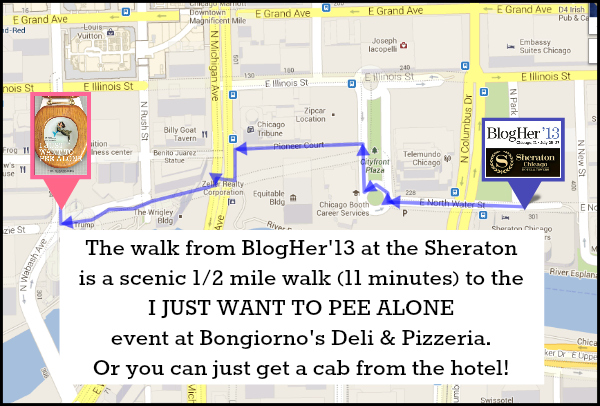 TICKETS:
$15 and MUST be purchased in advance.
Please pay via PayPal (link is below) and print out your confirmation to show at the door.
Each ticket holder will get ONE BOOK and ONE DRINK.
There are limited tickets, so get yours while you can!
RSVP:
Please buy tickets & RSVP on our Event Page on Facebook at
www.facebook.com/events/466518950089616/
MEET:
Jen of People I Want to Punch in the Throat
Patti of Insane in the Mom Brain
Karen of Baby Sideburns
Tara of You Know it Happens at Your House Too
Andrea of The Underachiever's Guide to Being a Domestic Goddess
Anna of My Life and Kids
Bethany of Bad Parenting Moments
Kim of Let Me Start By Saying
Rebecca of Frugalista Blog
Nicole of Nicole Leigh Shaw (fmrly Ninja Mom)
Kerry of HouseTalkN
Robyn of Hollow Tree Ventures
Keesha of Mom's New Stage
Rachael of RachRiot
Johi of Confessions of a Corn Fed Girl
It's always cool to meet an author and have her/him personally sign your book. What is even more exciting is seeing one perform a piece she has written, live and while surrounded by fellow authors and fans who bring an energy to the room. Now multiply that by fifteen. This is going to be a night to remember!
Make sure you're following the official I JUST WANT TO PEE ALONE website and Facebook page for any additional information about this (and other) event.
Look out Chicago, here we come!