A collection of my most popular posts, from here & around the web.
Want more? Subscribe to my blog and find me on Facebook & Twitter.
Hold the Door: Lessons for My Kids 
A list, with love.
A Message to My Kids Who Think Their Lives Are Really Really Hard
Come travel back in time with me.
Emojis for Parents
I strive for accuracy when communicating with other parents.
House Rules: The Complete List (so far)
These hang in my kitchen.
Her Future Fat Thighs
Originally on InThePowderRoom, this is my award-winning piece about teaching my daughter to love her body.
How Being a Parent is Like Being a Rock Star
We have so much in common.
How Being a Parent is Like Being a Superhero
A list that reminds us to don our red capes.
When a BFF Isn't a Friend, After All
Watching my daughter deal with the hard reality of friendships.
Real Moms Magazine
I'm like Oprah, only not rich and have very low expectations of my magazine readership.
Lessons Learned by Seeing Magic Mike
Shared a lot because it's naughty AND nice to look at.
Max & Ruby: The Lost Story
My attempt at script writing.
A Letter to Another Mother
An unexpected note.
The Truth About the Rainbow Loom
Originally on InThePowderRoom: I might have anger issues when it comes to plastic crap in my house.
11 Sexy Sounds That Totally Aren't What They Used to Be
A humor list.
How I Made the Kind of Friends You Need While Almost Crapping My Pants in an Elevator. Twice.
A pretty unbelievable story.
Things I Said 
Motherhood quotes (a series).
Men Shoot, Cars Crash, Diseases Surprise: How to Live in This World
On The Huffington Post, in response to the Sandy Hook elementary school shooting.
I'm Okay to Weigh…
About weight and women.
I Showed You My Bad Clothes Days, You Showed Me Yours
Reader submissions, my comments.
How Being a Parent is Like Being a Rock Star
The parenting humor list that spawned the Facebook graphic version.
An Open Letter to Miley Cyrus After Her Performance at the 2013 MTV VMAs
The viral post about, well, tweaking all at that.
Playtex Thinks Your Beaver is Filthy
Originally on InThePowderRoom, in response to a new Playtex ad campaign.
Santa, Baby: The Mom Version
You'll hum it 'til the new year.
Signs Your Elf on the Shelf is on The Naughty List
He's a bad boy.
Like these? Subscribe to my weekly newsletter today.
Find me on Facebook, Twitter, Pinterest, Google+, Instagram, and LinkedIn.
Learn more about me and my writing here and check out my books here.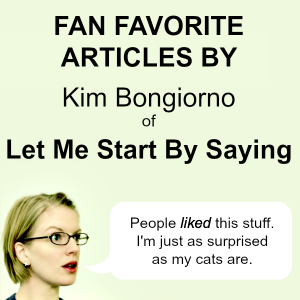 Comment with Your Facebook Account
Comments