Bloggers and writers have been so good to me over the years, that I have decided to do a little something in return.
This September, I'll be speaking at a Ladies Night Out in Madison, New Jersey. It's the kind thing bloggers and writers with fans in this area would want to share with their audiences across social media, anyway, so let's make it interesting.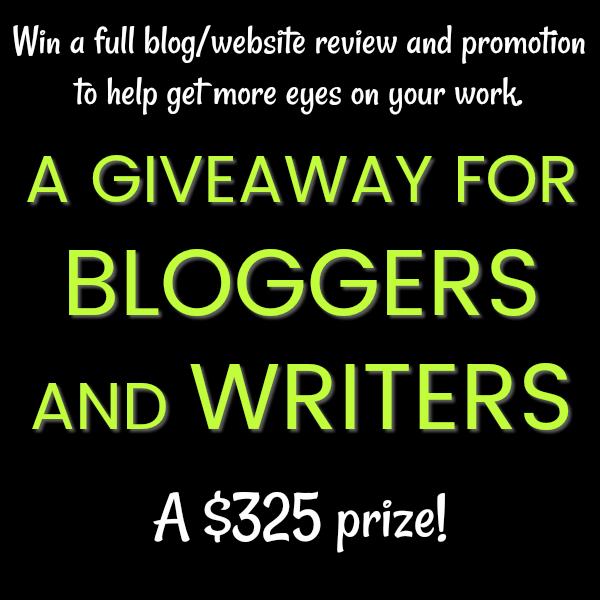 IT'S GIVEAWAY TIME
WHO IS IT FOR?
Anyone who has a blog or website and associated social media outlets. You use all this stuff, but want to make it better, get more eyes on it.
(This includes any blogs/websites for individuals or groups, special interest websites such as local parenting blogs/websites, small businesses that have a blog attached to their online shop, authors, etc.)
WHAT IS THE PRIZE?
A 90-minute Blog/Website Review and Consultation
I will review your blog/website and attached social media outlets to advise you on how to make the most of them for gaining more exposure, increasing likelihood of others sharing it, and how to position yourself to be more successful in achieving your goals.
We will work together to make a plan for you to improve the aesthetic and "shareability" of the whole set-up. By the end of our consultation, you should have an improved blog/website to organically increase readership.
Value: $225
Plus, once you're all updated, I'll share your links to my 65,000+ fans across social media.
Value: $100
(Want to see more of my consulting services? Check them out here.)
HOW TO ENTER
Simply promote our upcoming event with your fans via the Rafflecoptor entry form below.
Good luck!
THE FINE PRINT
Giveaway runs from Friday 08/25/17 through Monday 09/18/17
You do NOT have to be based in New Jersey to enter/win
All entrants must have an active blog and fans on at least two social media outlets.
All entrants must promote the event via the Rafflecopter options provided
No purchase necessary
Prize must be used within 12 months of winner's acceptance
---
THE EVENT DETAILS, BECAUSE YOU DON'T WANT TO MISS ALL THE FUN
Don't miss this stop on New York Times bestselling author Jen Mann's book tour celebrating her newest project, Working with People I Want to Punch in the Throat: Cantankerous Clients, Micromanaging Minions, and Other Supercilious Scourges! She might not know how to write a short book title, but she sure does know how to make you laugh. Join Jen and her friends for a night of hilarious readings, a little shopping, and more!
Saturday 9/23/17 6-9pm
Jen Mann's Big Book Tour – Madison
Madison Community House, 25 Cook Ave, Madison, NJ
TICKETS
Tickets must be purchased in advance, and include:
ABOUT THE SPEAKERS
Featured author: Jen Mann
This New York Times bestselling author is celebrating her 15th book! Known for both her print work and for being a viral sensation on her blog People I Want to Punch in the Throat, Jen always has something funny and fresh to bring to her audience.
Local authors who have contributed to the 5-book New York Times bestselling I Just Want to Pee Alone humor anthology series will also be speaking! This includes:
Kim Bongiorno of Let Me Start By Saying
http://letmestartbysayingblog.com
E.R. Catalano of Zoe vs. the Universe
http://www.zoevstheuniverse.com
Stacey Gill of One Funny Motha
http://onefunnymotha.com
Jennifer Lizza of Outsmarted Mommy
http://www.outsmartedmommy.com
Elly Lonon of Buggin' Word
http://bugginword.com
Samara Rose of A Buick in the Land of Lexus
https://samaraspeaks.wordpress.com/
Jen Simon
http://jensimonwriter.com
…and more to come!
ABOUT THE SHOPPING
You're already getting a signed copy of Working with People I Want to Punch in the Throat: Cantankerous Clients, Micromanaging Minions, and Other Supercilious Scourges with your ticket—why stop there? We'll have other books by Jen and the attending authors available for sale, as well as various booths with local vendors happy to show you their wares. This includes:
Arbonne by Tracy Barbossa – Look better. Live better. Feel better. Botanically-based beauty and wellness products. SHOP • FACEBOOK • INSTAGRAM 
Autistic Hero Teeshirts – Tees for kids and adults designed by an autistic cartoonist. They support creative and entrepreneurial effort in the Autistic community. SHOP • FACEBOOK • TWITTER
ShellyCakes – Handmade jewelry and accessories for women and girls, including beach, boho, vintage, bridal, retro, and classic styles. SHOP • INSTAGRAM 
Splendid Junk Vintage – Vintage finds for home and garden. SHOP • INSTAGRAM 
…and more to come!
DO GOOD THINGS
Our good friend Beth Caldwell of The Cult of Perfect Motherhood (mom of two, wife of one, contributor to I STILL Just Want to Pee Alone) has been battling metastatic breast cancer since 2014. We will be collecting donations to help support her family's needs as they focus on spending time together and taking a new step in her fight. Proceeds from each ticket sold will be donated to her family, plus each additional $5 donated at the event will earn you another raffle ticket entry.
DIRECTIONS
Minutes from Rt 24, via Rt 78 or Rt 287. Enter the address in your navigation system for the best route. Plenty on parking in the lot next door. Also a 7-minute walk from Madison Train Station (http://www.njtransit.com).
RAFFLE PRIZES
Books, jewelry, swag, wine, and more!
INVITE YOUR FRIENDS
Have some friends who might be interested? Click the little "invite" envelope at the top of the Event and send it to them to check out. Thanks!
---
Kim Bongiorno is an author, full time freelance writer, and the blogger behind Let Me Start By Saying. You can find her on Facebook and Twitter, hire her to write for you or speak at your event, or buy her a cherry Icee because they are delicious. 
SaveSaveSaveSave
Comment with Your Facebook Account
Comments