We all know that the most popular pumpkin spice obsessions are the pumpkin spice latte and pumpkin spice muffin—treats I have known to enjoy now and again—but it has grown far, far beyond that.
I'm not saying that the Pumpkin Spice thing is getting out of hand, I'm just saying that you can drink it and eat it as a Twinkie and curb your chocolate craving with it and huff it from a candle and wear it on a shirt and decorate your home with it and shampoo your dog with it and tag your luggage with it and detail your car with it and exfoliate your face with it and read cookbooks fully committed to it and add it to your plush toy collection and, really, do I need to go on?
I just think that this pumpkin spice mania might be making us lose focus on other potential joys this time of year. I mean, what about all the other autumnal options? Are we even giving them a fair chance?
Hear me out.
I would never suggest we take away everyone's beloved PSL, but how about we add PSL-adjacent coffee drinks and teas to the menu, see what sticks, and maybe go from there?
Just imagine tasting these caffeinated concoctions created with your favorite things about fall in mind, all steamy and delicious in your cup:
Lattes
Warm Gourd
Hazelnut Sweater
Chestnut Pinecone Crumble
Nutty Number 2 Pencil
Caramel Composition Book
Butterscotch Brown Paper Bag
Ginger Scarecrow
Mocha Maize Wreath
Football Fudgiccino
Cocoa Cornucopia Crunch
Nutmeg and Wool Blanket
Allspice Influenza Vaccination
Salted Tall Socks
Teas
Savory Deciduous Stick
Roasted Vanilla Acorn
Crabapple Zing
Burlap Honeybee
Mothbally Quilt Cobbler
Sweet Balsam Cardamom
Raked Compost Chai
And if one of them catches on, becomes a new favorite? Maybe some day you'll be enjoying it at home from your own themed mug next to a lit candle that smells like it while wearing a cozy sweater adorned with the likeness of a drink you decided to give a chance.
Now that sounds delicious.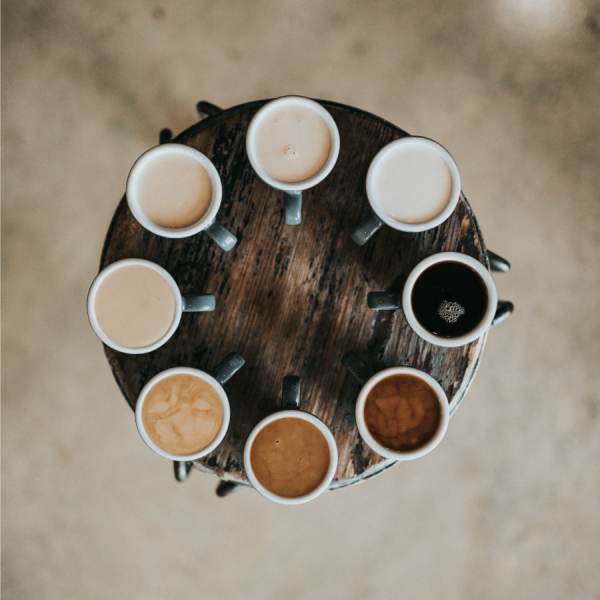 Photo by Nathan Dumlao on Unsplash
---
Kim Bongiorno is an author, full time freelance writer, and the blogger behind Let Me Start By Saying. You can find her on Facebook and Twitter, hire her to write for you or speak at your event.
SaveSave
SaveSave
SaveSave
SaveSave
SaveSaveSaveSave
SaveSave
SaveSave
SaveSave
SaveSave
Comment with Your Facebook Account
Comments