If you're new around here, you might not know about my butt.
Back when I started this blog in 2008, I was keeping a secret about my butt, going along and trying to be at least somewhat tactful on the internets as I plodded along.
Then in 2011 I revealed my secret: I had been living with pain for years because my kids broke my butt. I was in tears as I wrote it, but I had to just say it. Had to get it off my chest.
You see, I am the kind of person who drinks gallons of water every day and eats fiber/whole grains/vegetables like nobody's business. Pooping was never a problem. My back door was always happy. Then I had a kid in 2005. That pregnancy gave me my first experience with hemorrhoids, which everyone told me would go away.
They never totally did.
Then I got pregnant with my daughter just after my son's first birthday. I had hyperemesis gravidarum (which I explain here) this time. The medicine to keep that under control caused terrible constipation. Pooping became something so infrequent and painful, I'd weep and sweat while on the toilet. I was in constant, horrible pain this time. Again, I was told my back door issues would go away not too long after childbirth.
They never totally did.
I was so overwhelmed with everything else I felt I needed to take care of — two kids less than two years apart, a move, family stuff, the usual — that I just lived with the pain. I'll deal it if it doesn't go away, I'd say to myself.
I said it all of 2007.
I said it all of 2008.
In 2009 I did have a vascular surgeon take a look, and he did a swift hemorrhoidectomy of the main thrombosed hemorrhoid. But it didn't totally fix things. So I started saying I'll deal with it if it doesn't go away to myself again.
I said it the rest of 2009.
I said it all of 2010.
I said it most of 2011, until my friends pulled an intervention when they saw me walking my kids to school that October.
They wanted to know why I was so thin, so grey. Why I looked to be struggling to walk. They insisted I tell them what was wrong RIGHT NOW. I finally told them what I was living with. How the shooting pain in my anus woke me up most nights and kept me up for hours. How I was barely eating any solid foods anymore, because pooping was excruciating. How I had been using every kind of hemorrhoid ointment, cream, pad, soak, wipe, suppository, voodoo spell for years, and nothing helped. How I could be mid-conversation and — out of nowhere — the pain would start throbbing so badly I'd lose my breath, lose focus on the conversation.
I was living with a chronic pain.
It took so much focus and energy to get through my days, that even the thought of trying to make a doctor's appointment and finding someone to watch the kids so I could go to an appointment overwhelmed me. Paralyzed me.
My friends had no idea it was this bad. Sure, I had joked about hemorrhoids before, but I didn't want to be that person who complains about everything. I was a tough woman: I could handle this.
They told me to shut up and make a call RIGHT NOW.
So I did.
I made some calls and found the right doctor. I thought it'd be a quick in-and-out, but (DUH) things were worse than he expected. We tried some non-surgical options, but they didn't work (I had both hemorrhoids and an anal fissure caused by them). So I booked my surgery and a colonoscopy (to ensure my issues weren't deeper) for 12/01/11.
In the meantime, on 10/19/11, I revealed my secret online and the floodgates opened.
At the time I was a little Facebook page with maybe a few hundred followers. Within a day of posting the confession, my "Likes" went up over 12,000%. People came out of the woodworks both on my Facebook Page and via private messages telling me that they, too, were in terrible pain. They, too, were putting off seeing a doctor about their hemorrhoids or other similar issues.
All those years I felt so alone in my pain.
All those years I kept it to myself, suffered in silence.
Wasted.
There were hundreds (thousands? I lost count!) of women out there living with pain caused by pregnancies and childbirth and non-baby-having stuff who not only related to my story, but who were also putting off taking care of themselves because [insert not-good-enough reason here].
I said it over and over again in the comments once my surgery was over and I was on the mend back then that it was worth it. To please take care of it — whatever their "it" was.
I'll say it again today, 5 1/2 years post-op: DO WHAT YOU NEED TO DO TO TAKE CARE OF YOURSELF AND YOUR PAIN.
I feel like a fool for not taking care of myself sooner. Go back and look at all of those years I kept telling myself "later," kept putting my comfort on the bottom of the priorities list. I feel like a new person now that I am fully recovered from that. I worked with my new doctor to find the right treatment for me, went through with the hard part (my surgery was no joke, and the recovery huuuuuurrrrt) in the short term so I could get back to being me in the long term.
It was worth it. It was worth it. It. Was. Worth. It.
Still need more encouragement? Today Ashley Fuchs of The Malleable Mom (a friend of mine who lives with chronic pain and takes measures to manage it the best she can) shared an article that talks about how living with pain isn't just you living with pain. Chronic pain affects your entire quality of life. It affects your family. The people who you live with, work with. Heck, it can shorten your life. When you don't take care of yourself, you're causing even more damage than the pain is.
Sure, you might be thinking to yourself, my pain isn't "chronic pain" because [insert some rationalization here], or my pain isn't as bad as Kim's was, but let me assure you that most medical institutions define chronic pain as pain that lasts more than three months. Has yours lasted that long? Then it's chronic. Get thee to a doctor, prioritize taking care of yourself, pronto.
You deserve it.
One of my biggest regrets in my life is not taking care of my butt pain sooner. Letting myself suffer for years.
So, please, don't be like me. Go take care of whatever pain you have. Don't let it be more of a pain in the ass than it needs to be.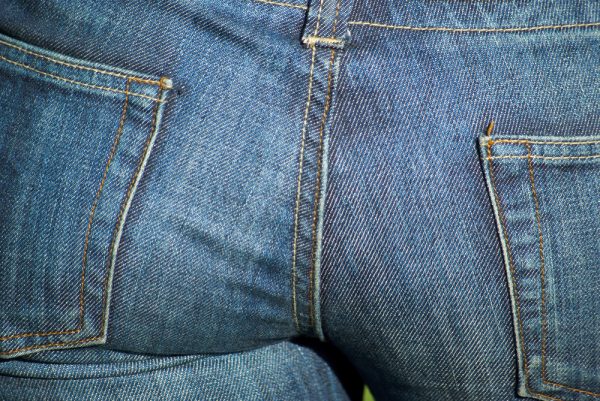 SaveSave
Comment with Your Facebook Account
Comments