See, I'm all for trying new things, but there is something I just need to put out there. A permission, of sorts, to those of you who look up to popular, beautiful celebrities and think that if they do something, maybe you should give it a go, too.
When you read about famous women doing things to their vaginas and surrounding lady parts that make you tilt to your head to the side, squint, and ponder whether that is healthy/legit/legal, you absolutely do not need to jump on that crazy train. A large social media following does not make someone an expert on the wants and needs of your front bum.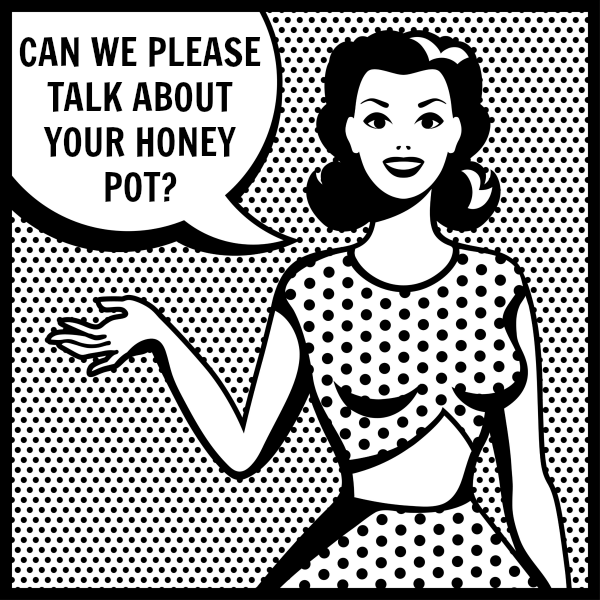 I'm not saying everything celebs and self-proclaimed internet health gurus suggest is pure madness. I'm just saying that I've seen a pretty clear streak of things that made me — a pretty open-minded gal — want to shake those who recommend them and shout, "WHY CAN'T YOU JUST LEAVE THE VAG IN PEACE? WHYYYYY???"
Recently, Gwyneth Paltrow recommended popping jade eggs up into your love tunnel to I guess fix your sex or detox your menses waiting room or something along those lines? When you read the article, please note that they call it once a, "strictly guarded secret of Chinese royalty" for a reason: back then, her highnesses knew they were doing something bananas to their beavers, and were embarrassed to admit where all the fancy decorative eggs were hidden. That is, in my opinion, a pretty big red flag.
Now, I have shared my strong feelings about people using sea sponges as tampons [shudders], and steaming their vaginas. Lord help us all. (And our pinker parts.)
But I get particularly annoyed when I hear about a trend that tries to persuade us womenfolk into believing that something is inheretantly wrong with our plumbing as-is. Like the "Herbal Womb Detox Pearls"  you stuff up into your lady stocking that are "designed to cleanse the womb and return it to a balance state." They are intended to treat any upset in your baby-making biz from fibroids to general unease, all while leaving it smelling like a garden. Here are my thoughts on that:
I'm no cleaning expert, but how does leaving pungent old dead wet leaves in the oven to ferment help make it cleaner? Is today Opposite Day?
You're told to keep them in there for three days. I've seen perfectly crisp heads of lettuce get funky in the fridge in less time than that, and they weren't tucked away in a bacteria-filled steam room. Also, if you're not supposed to keep a tampon in for more than eight hours due to the risk of toxic shock syndrome, I'm gonna go out on a limb here and say roadblocking your most delicate of passageways with a traffic jam of crazy in a cheesecloth is possibly not the wisest medical decision.
You are advised to not have sex while steeping this discharge tea in your tampon tunnel. Gosh, thank goodness for that advisory, because I can just imagine all the dudes lining up to dive in among the myriad of strings to make his spoon smell like parsley's ancient cousin wrapped in roses.
Nobody needs potpourri in her pink palace. Flowery air fresheners are meant for bathrooms and wherever you keep litter boxes or teenagers' shoes, not all up in your most sacred of pockets. Your vagina is not a potpourri bowl.
We've all heard of warm baths, right?
And doctors? We know we can call a doctor to ask them what to do if we think our womb is unbalanced, right? Like stand up straighter and stay away from the internet?
OH MY GOD, STOP TRYING TO MAKE VAGINAS SMELL LIKE FLOWERS. THAT IS NOT WHAT THEY ARE SUPPOSED TO SMELL LIKE.
Their brochure has a picture of what came out of one client's hotbox after being crammed with their hoo-ha herbs. Now, I was in sales for quite some time, and never ever ever ever EVER did I hear the benefits of adding photographs of a stranger's debris-filled cervical mucous as a persuasive measure to close a deal.
We shall not even discuss that while only one schmear of post-detox vag matter appears in the pamphlet, their website has a smattering of users' amateur close-up photos of both during and after snatch snaps, as well as a pantyliner present portfolio for your viewing pleasure. I will never unsee that and will be calling my therapist once I'm done typing here.
Just…no.
So if you happen to see these in a store near you, run—don't walk—as fast as you can in the opposite direction while patting your womb, reassuring it that you respect it far too much to buy into that kind of DIY gynecological experimentation and floral-scented madness.
Back to my point, please understand that you have my full permission to never ever feel pressured to steam, Febreeze, hide eggs in, bleach, dye, store sponges in, trim, alter, stuff with potpourri, or otherwise mess around with your undercarriage just because some famous female mentioned it's her new favorite pastime or someone with access to the internet decides to whip up some vaginal voodoo to sell on a dare.
You are welcome to do anything you want to it, of course – it is your body, and you have the www at your fingertips to do some thorough research on it first – but if you don't want to? THAT IS ONE BAJILLION PERCENT OKAY. You've got a beautiful self-cleaning oven between your legs, and it is delightful exactly as it is.
Part of this post was originally published on Scary Mommy. 
Comment with Your Facebook Account
Comments