My kids and I have accidentally made a habit of only getting sick or injured at the most inconvenient times.
My daughter once scooped a chunk of my cornea out with her fingernail as I was getting everyone out the door for school.
I came down with a fever of 104˚F when my husband was in Boston for a week and I was alone in our new home in a new town with a baby and a toddler.
My son bumped his head hard enough to make me worry about a concussion when we had three long-awaited activities to get to that day.
Both of my kids have woken up with various ugly coughs and angry colds on days we were to fly away to visit family.
The night before I had family visiting so we could go to a wedding, and within days of my son breaking his arm during the first week of school, I snapped something in my shoulder making it incapable of moving.
Quite frankly, there is no particularly good time to get sick or injured, but – honestly now – my family seems to pick the actual very worst times to do so.
Since being part of a family means lots of germs plus fairly regular accidental bodily harm, and I didn't marry a doctor (SORRY, MOM), we have to rely on professionals to fix us up. This means I need to figure out whether we need to visit the ER, our regular doctors, Urgent Care, or just buck up and ice whatever body part my kids decided to jump on that day, when the need arises. I don't know about you, but I'm not so good at making those decisions while I'm bleeding or a kid is crying or none of us can find the thermometer.
Thankfully, UnitedHealthcare is here to hold our (probably scarred) hands. They have this handy-dandy PDF that breaks down who to turn to when you (or your kids) needs care. Check it out, print it out, enjoy the peace of mind!
They also have a Quick Care Quiz to help explain the cost of care options we might not have realized were available to us, likely saving us time and money when the next illness or injury pops up. (BONUS: if you take the quiz now, you'll be entered to win a $500 gift card from UnitedHealthcare!)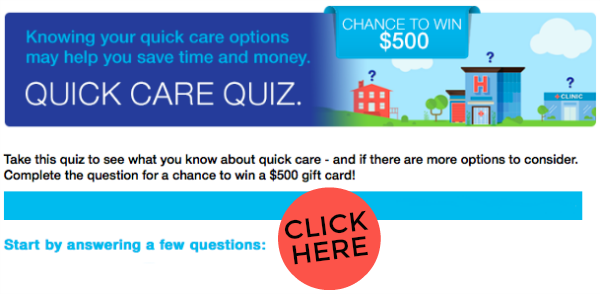 I'm such a fan of these conveniences I'm giving away a $100 gift card to Target as encouragement to check them out. Yep, I care about your health and understand what it's like to try to make the right decision for my family while also holding a possibly broken kid under one arm and a crying kid who is going to miss her sewing class because of a trip to the ER under the other. If this info helps make these decisions easier (and possibly less expensive) for all of us, I'm happy to help spread the word!
Now, let's get to the giveaway, shall we?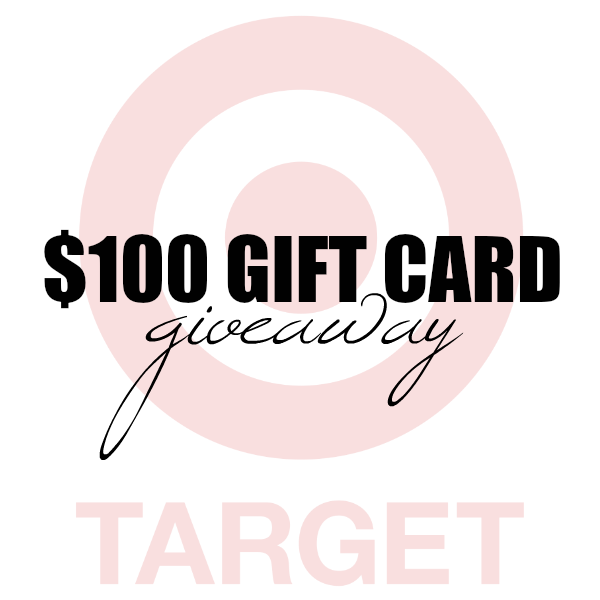 PRIZE:
Contest ends on 12/31/16 at 12PM EST. One winner will be randomly chosen to receive a $100 gift card to Target courtesy of UnitedHealthcare. Must be 18 or older to win. No purchase necessary.
HOW TO ENTER:
All you have to do is complete the UnitedHealthcare's Quick Care Quiz to qualify! I'll include more ways to earn additional entries, too, but that one's mandatory since it's fast and easy and super informative. Use the Rafflecoptor box below to enter. Good luck!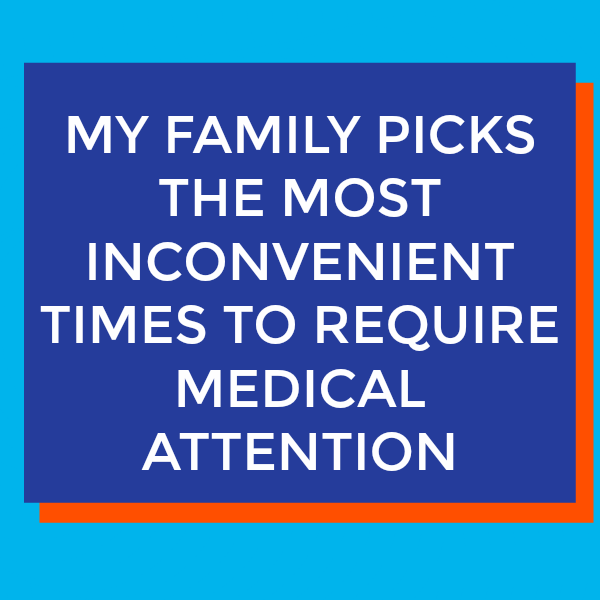 This post was sponsored by UnitedHealthcare, but the sheer delight over a solution to our desperate need for assistance while inconveniently sick or injured is 100% genuine.
Comment with Your Facebook Account
Comments