How to host a good party: remember that perfection is overrated, and it's hard for the guests to have fun if the hostess isn't.
How to be a good party guest: enjoy yourself and don't forget to say, "thank you" before you go. (Yes, this means considering bringing a hostess gift to show your gratitude.)
Seriously, it is that easy!
We host parties in our home all holiday season long – and have for many years – so I have been on the receiving end of many hostess gifts (good and not-so-good). You don't need to spend a lot to make a great impression. My guess is that most of my favorite gifts have fallen in the $5-20 range. This really is the time when it's the thought that counts (unless you're trying to kiss some new boss's butt – then you need to shell out some cashola for the fancy champagne).
As far as what to bring, some parties make it very clear: an assigned box of holiday treats for the Christmas cookie exchange, a selection of cheese for the ugly Christmas sweater "cheesy" party.
But then there are the parties where the hostess waves you off when you ask what you can bring, or ones where you don't know them well enough to ask (like a work-related shindig). I, for one, have a hard time showing up to a party empty-handed, so it used to drive me bonkers when I'd get zero guidance for this kind of thing (default gift = just wine). Below are some of the best gifts I have received, as well as the ones I love to give. I hope they help you become the kind of guest every hostess invites back year after year!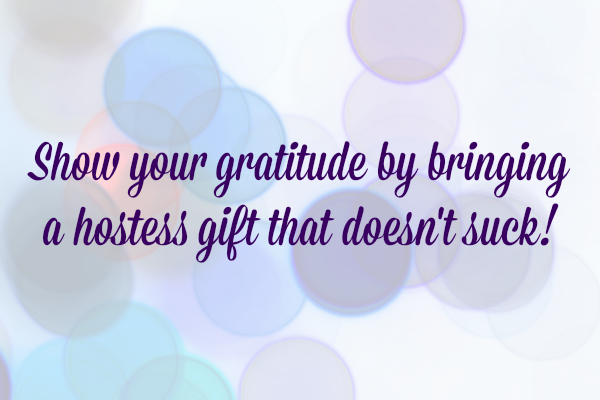 1. Ornaments for the Tree
If they have a tree, give them something to put on it. Simple and in a style that reflects the recipient's tastes – a crystal star, a funky ball, something personalized – is a small, thoughtful way to make yourself a part of their celebration for years to come. Knowing that my tree is peppered with ornaments from friends and family gives me the warm and fuzzies.
2. A Bottle Opener
There's bound to be a bunch of bottles to open up (duh). Why not make it easier with a well-made classic bartender's tool, one of those fancy electronic wine openers, or a personalized bottle cap opener they'll like too much to lose?
3. Wine Stoppers
At the end of the night there will likely be a bevy of unfinished wine bottles peppering the counters. A beautiful stopper can help get the job done. Oh – but I'd try to avoid ones with the GIGANTIC fancy fake crystal or decorative thingamabob on the top. Those sometimes make it impossible to fit the opened wine back into the fridge to keep cool.
4. Cheese Knives & Spreaders
Because: cheese. And not one of those big clunky sets in a bulky wooden box that nobody has storage room for, I'm talking about a set of 3-6 nice cheese knives and spreaders with sturdy handles tied up in a ribbon and can easily be slipped into a regular utensil drawer when not in use. Most parties call for cheese, so these will absolutely be used.
5. Hand Towels
Extra people in the house means extra people in the bathroom. The first time I received a set of fluffy hand towels for my bathroom I was a bit surprised: then I happily used them throughout the holiday season, year after year. Disposable paper ones are great, too (bonus points if you find ones with their monogram on it).
6. Booze
Contributing to the party is always good! (Obviously.) Wine, beer, champagne, and spirits all have high approval ratings. I once had someone who had been a bartender bring all the ingredients for a delicious shot that tasted like cake (!!!), which I was then able to serve at the party.
7. Fun Napkins
With cute cocktail party saying on them or hailing the praises of desserts, a hostess will definitely be amused by them – then quickly put them on display at her next fête. Some people might say they're too fun to use, but as hostess I promise you that the one thing I often am checking cabinets for last-minute are extra napkins!
8. Tea Service
It'd be nice to have something to drink with all the treats received during the cookie swap. Pick up a simple teapot and some nice teas to go with it, then wrap it all in a pretty tea towel. If you're coming as a group, maybe go in for some teacups, too.
9. Recipe Books
A classic bartender's guide, themed cocktail book, or one featuring party hor d'ouvres are handy. She into old things? Look for vintage cookbooks she can display during the holidays.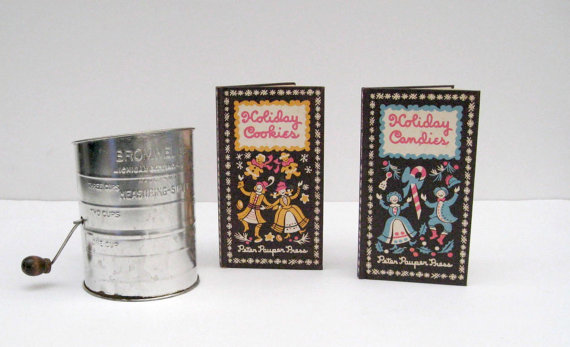 10. Bathroom Books
Give them something to read while they're sitting down! My favorite one for the holidays is a hilarious collection of essays by David Sedaris, but there are a lot of great ones to choose from, like this all-season one by Peyton Price, or maybe pick a humor essay collection that I'm in?
11. Take Care of Breakfast Tomorrow
Real Maple Syrup and Trader Joe's infamously delicious pancake mix? Yes, please.
12. They'll Need Coffee, Too
A set of big mugs with a bag of breakfast blend will be much appreciated in the AM.
People who host parties are likely list-makers and the recipient of many things to be thankful for. If you happen upon a To Do List notepad and coordinating Thank You cards, there's a good chance she'll put it to use. Papyrus has these kinds of things in all different styles, from classic to sassy, and I always find perfectly-priced stationary for this purpose at Homegoods, TJMaxx and Marshalls.
14. Help Cleaning Up
The first time I hosted a friend of mine after we moved to our house, she gave me a Swivel Sweeper because she, too, had two young kids and was forever fighting a battle against crumbs. It. Is. Awesome. My kids can run it through the kitchen to help keep things tidy in between vacuuming. Uncomfortable with handing over a cleaning tool? Credits to a local cleaning company are appreciated, as well.
15. Apron
It usually looks like I've lost a wrestling match with a bag of flour after a day of holiday baking. Getting something to keep me from getting it all over my clothes is a wonderful surprise!  Find an apron that's both practical and pretty, making her feel good whenever she ties it on.
16. Coasters That Get the Party Going
I am still laughing over these coasters a friend brought to a holiday party of mine a few years back. You can use them for your drink or hang them from your nose to wear a funny face. They really got the conversation flowing, exposing the sense of humor of quite a few wallflowers!
BONUS IDEA: A Gift Card
Give the gift of giving herself a gift after all the holiday madness. I've been able to buy myself a deeply discounted luxurious scarf at a department store during their clear-out-the-store sales, tuck into a coffee and cake at a quiet Starbucks, grab come goodies at Target just for me. Knowing these cards are tucked into my wallet so I can be treated after a season of hosting everyone else puts a smile on my face through the less-festive part of winter.
Cheers!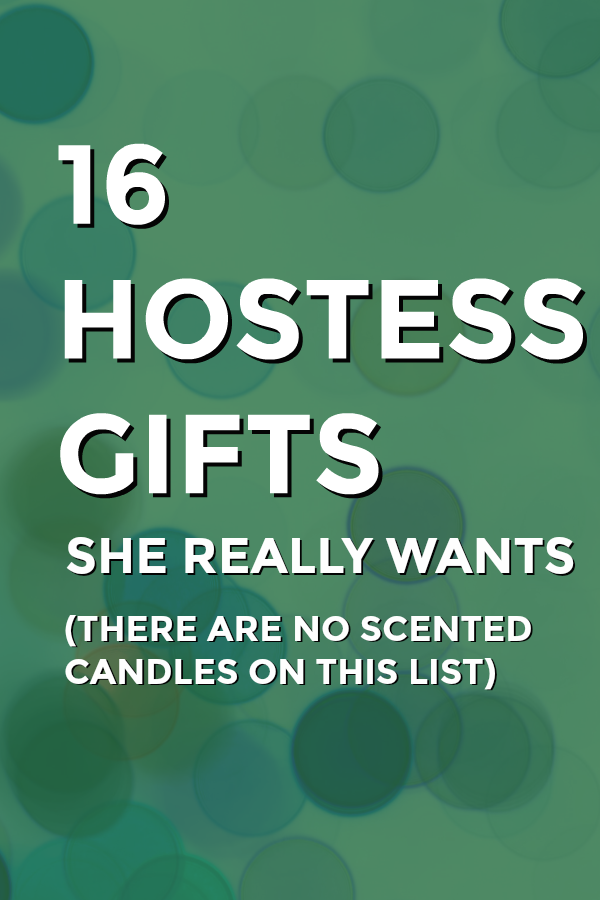 Some affiliate links appear in this post. If you purchase my suggestions through those links, I earn a small commission, which I must say is a lovely hostess gift for you to bring while you party here at my blog today.
Comment with Your Facebook Account
Comments