It's Stitch Fix time again! I took the summer mostly off from having clothes delivered to my home to try out for you all, but I simply cannot resist fall fashion. CANNOT. RESIST. So let's jump right in!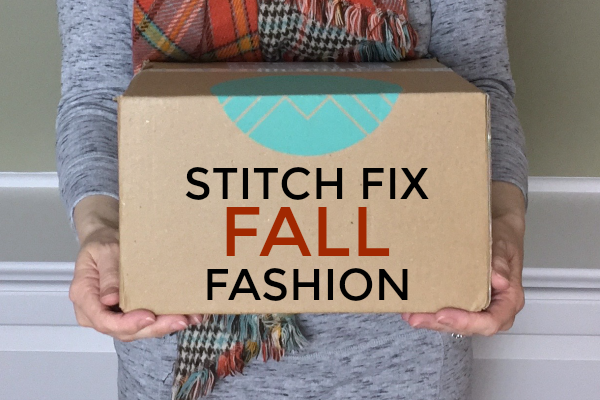 Here's the note I wrote to the stylist about what I was looking for: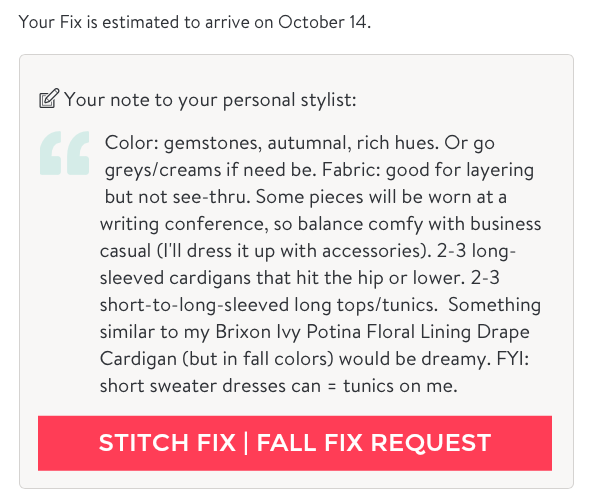 This time of year I have a couple of writing conferences coming up, plus family gatherings, so I was looking for comfort and the flexibility to dress up/down.
Now let's take a look at what Stitch Fix sent me this time. I'd LOVE to hear what you think!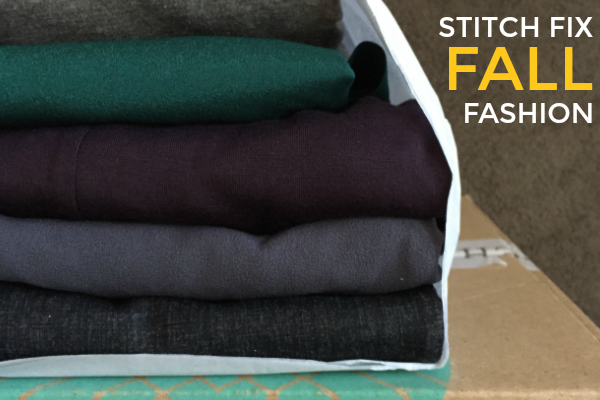 1. 41Hawthorn Queensland Dolman Jersey Top $48
Like buttuh, baby. I did not think I'd like a dolman (I've felt like Bat Kim in them in the past), but this one is so ridiculously soft and comfy. And the purple? DIVINE.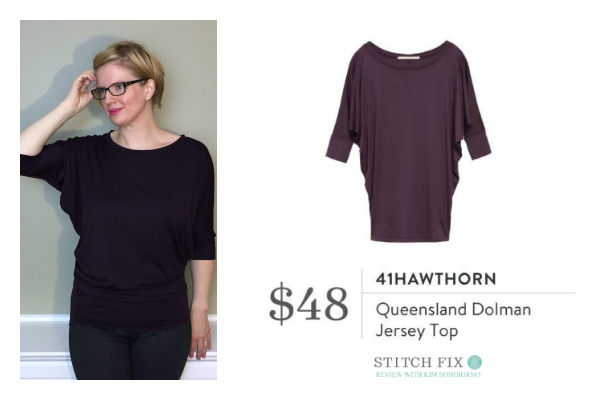 Bonus points for the fact that it is long enough that the snug part falls just under my muffin top so it camouflages it just perfectly. Love! I could sleep in this thing. Mmmmm…
2. 41Hawthorn Potina Draped Cardigan $68
You might have noticed in my note to my stylist that I wanted something like the pink Potina drape cardi that I'm in love with. Welp, my new stylist delivered!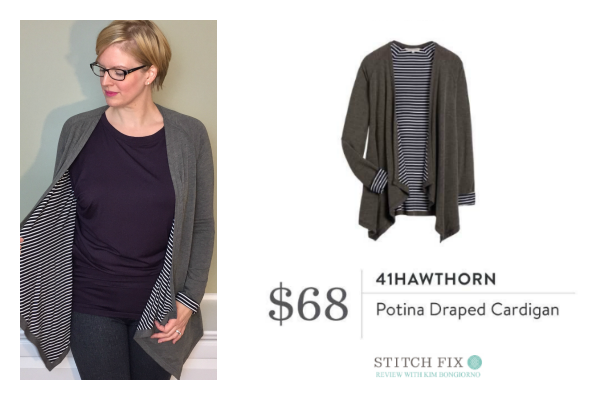 The stock photo does not do it justice. INSANE DELICIOUS SOFTNESS. The heathered grey exterior almost has a slight olive cast to it, and the inner lining is a deep (almost black) navy and white stripe. It really works! I tried it with my own dark denim and the grey pants they sent me, and it works with both. Again: LOVE.
3. Brixon Ivy Mandrake Embroidered Bib Blouse $64
So pretty and fun and easy to wear. The embroidery is somehow both geometric and soft.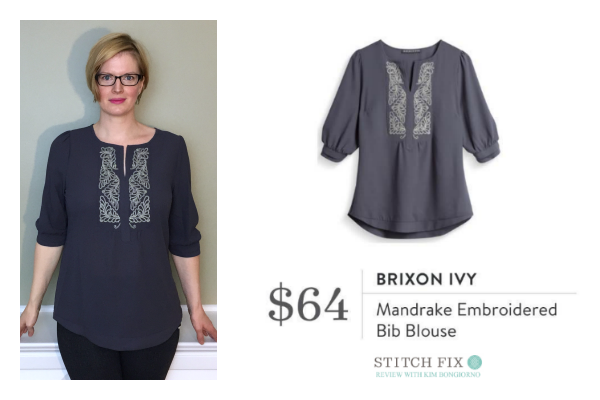 I think I will wear this, but if my friend who often pilfers from my Fixes likes it more than I do, I might just let her have it, instead. Or maybe I should tell her, "tough luck"? What do you think?
4. 41Hawthorn Tameron Button Down Blouse $58
THIS COLOR. I want to drink it up. The perfect jewel green for fall. And it has those 3/4-length sleeves with the roll tab, so it's easy to wear them up or down.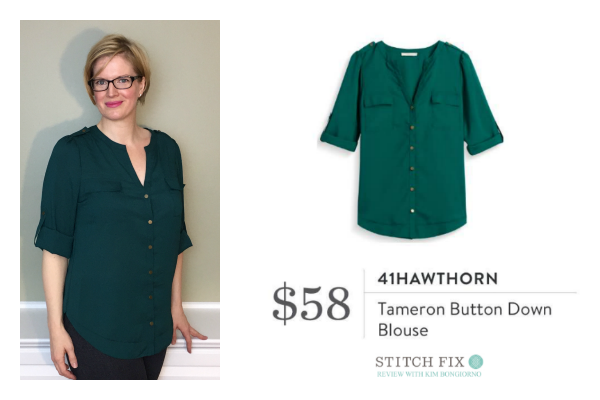 I'm a little undecided on this one. I do like it! But do I love it? Not sure. Would I wear it? Most likely. What do you think — should I keep it?
5. Liverpool Kori Bootcut Pant $88
I have a pair of Liverpool jeans from Stitch Fix that I pretty much live in. These are their slightly dressier BBF.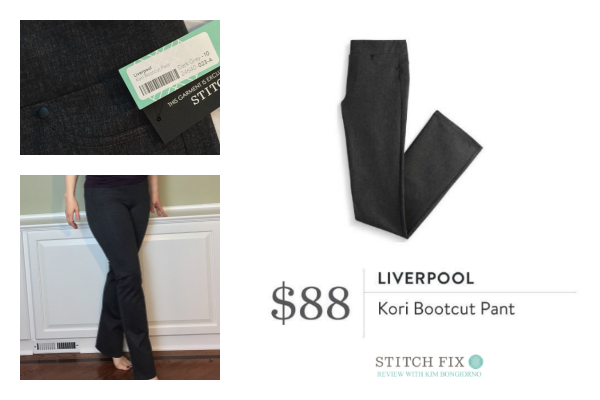 I might need to hem them 1″ (they're a 34″ inseam), but they are pull-on (yay for no zipper bump!) and feel like leggings. SCORE. They also have a grey kind of heathery/speckly print to them, which adds a nice texture look.
Overall, I'd have to say this Fix could be a 5 out of 5. Even if I don't keep some items, I genuinely like everything AND it all fix what I asked for. This stylist is my favorite person today.
In case you aren't familiar with Stitch Fix, it's an online personal shopping service for those of us who want to look and feel better in our clothes, but are clueless about how to do it on our own (and have no time to go spend a day shopping with a stylist). This is how it works:
Fill out a style profile
Schedule a shipment
Pay $20 for a personal stylist to hand-pick items in your budget that'll look great on you (this is credited toward your purchase, if you keep anything)
Get 5 clothing/accessory items delivered to your home so you can try them on with other stuff you own
Take a few days to decide what to keep and what send back in the pre-paid envelope
Totally user-friendly and worth giving a shot. I'm glad I did!
If you'd like to try Stitch Fix with me, please sign up here with my referral link. This helps me earn a $25 towards my next purchase. Also, if there is something in this Fix or any others that you want to try, you can ask for it by name in your notes to the stylist (plus I have 6 tips on how to get the best possible results that you can see here before you schedule your Fix). Thanks!
FYI: If you're reading this to get ideas for items to add to your Stitch Fix request list, let me help you with sizing. I'm 5′ 9.5″ tall, weigh 170lbs. The pants are a size 10, two blouses are L, cardigan and dolman are M.
→VIEW ALL OF MY STITCH FIX POSTS & TIPS HERE←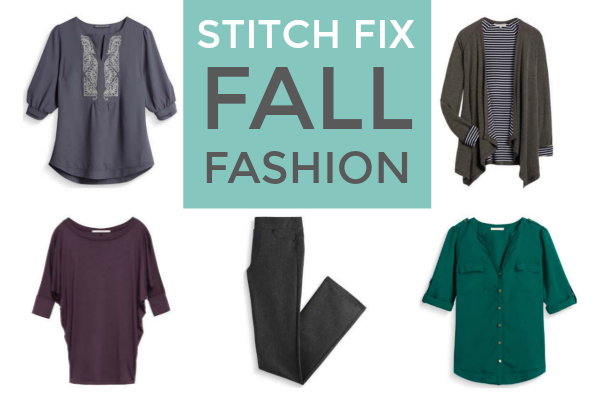 See my Stitch Fix purchases in action on Pinterest: Follow Kim Bongiorno's board Style: My Stitch Fix Closet on Pinterest.
Join my 60,000+ fans today! Subscribe to my Sunday newsletter and you'll never miss the important stuff.
Comment with Your Facebook Account
Comments