Of course it's a smart thing to surround yourself with wonderful parents who you can turn to when you need a positive role model. Parents who are so damn good at their job that their friendship is an invaluable resource to helping you not totally screw up your kids.
But I'm not talking about them today.
I'm talking about why it is great to have friends who are like you and me. You know, the average parents. Ones who make us feel like we're in this together, making mistakes sometimes and scoring wins sometimes and laughing at our own floundering as we genuinely try our best.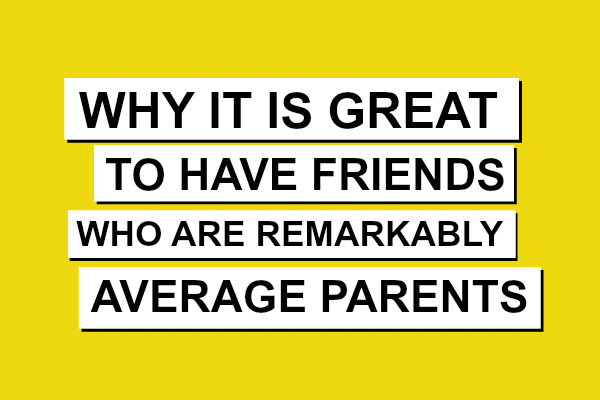 Parents who:
Know where they stand in the eyes of their beloved children, so stop asking questions about it.

Focus on the silver lining (because otherwise we'd curse a LOT more often).

Appreciate terrible housekeeping. HOORAY FOR DUST.

Understand that things aren't always what they seem.

Have mastered making a good impression at work LOL JUST KIDDING.

Know what it's like to want just a little alone time now and again from their darlings.

Stock their handbags with the same kinds of very important supplies that we do.

Want to put the blame on someone else for a change.

Fail, but keep trying. (And trying and trying and trying and trying.)

Get befuddled by those who don't like sleep. (Honestly, WHAT is WITH that?)

Hum similar lullabies to thier kids.
And accept things for what they are.

I've been lucky to have found a bounty of friends who fit this bill. One of them is Ilana, mom of Mazzy and Harlow. Sure, she's Instagram famous and has the ability to own white furniture (HOW? HOW IS THIS POSSIBLE??), but more importantly, she fits the "remarkably average parent" bill. We've known each other for years, and have seen one another's presumed gloss wiped away by the sticky hands of the children we keep meaning to pay lots of attention to, but we just got a really funny idea we want to write down, instead – hey, what was the crash?
Sure, she has a shiny way of presenting her life to the world that I could never replicate, but she's sweet and imperfect and lovely and just the right amount of remarkably average. This is why she was able to put together a book of the same title, which you need to get your hands on RIGHT NOW. And I can help you with that.

I bought a copy to give away to one of you, because I think we need more bright, happy celebrations of being exactly the parents we are without apology: perfectly, remarkably average…and absolutely adored by our kids for being just that.
---
Enter here for the giveaway:
Can't wait? Get a copy here (hardcover or for Kindle):
---
Kim Bongiorno is an author, full time freelance writer, and the blogger behind Let Me Start By Saying. You can find her on Facebook and Twitter, hire her to write for you or speak at your event, or talk to her about books because she seriously never shuts up about how much she loves books. 
Comment with Your Facebook Account
Comments