September is both beautiful and makes me want to hit my head against a sturdy wall.
The autumn weather makes my lungs, which spent all of August sucking in air the equivalent of pollen-filled boiling pond water, feel like they are at full function once again. Sunshine tickles my shoulders, rather than cause my pigment-lacking hermit self to burst into flames should I accidentally walk by an uncovered window, and PRAISE BE TO ALL THAT IS GLORIOUS MY KIDS ARE BACK IN SCHOOL AMEN.
But that also means homework picks back up (UUUUUUGH), as do my kids' organized activities, which never fail to all happen at the same time on the same days on opposite ends of the county we live in. Weeeeee!
But instead of being cranky – since 97% of the internet is taking care of that task at the moment – let's focus on the things that make me happy about the season. Shall we?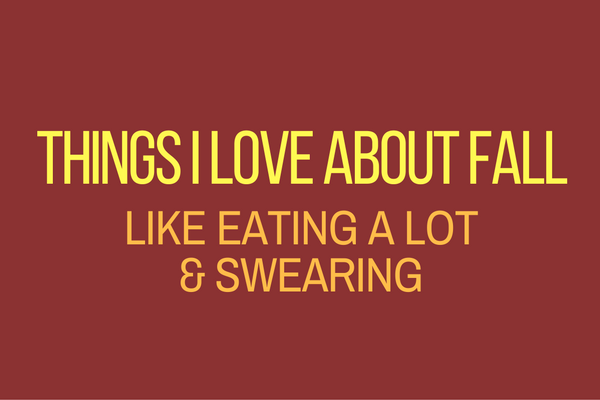 Fall fashion (seriously, this gives me a joy that is tangible and relentless)
Eating baked goods like it's my job (even if it makes me unable to fit into my fall fashion)
Small miracles (like getting to school on time)
New TV shows (not that I own every channel and streaming service and am addicted to screen time or anything HA HA HA)
My job (I don't care if it sounds cheesy! I love writing for a living and fall just always seems to be a fun time to do it)
In regards to fall fashion, I took a little break from using Stitch Fix this summer, but I scheduled a shipment of cardigans and tops for mid-October, which has me giddier than a tweenager meeting Channing Tatum. Autumnal clothing is my happy place.
As for the last four items on the list, I've been having fun writing more often for The Real Mom News Show by Deva Dalporto of MyLifeSuckers. Here's the latest episode that I wrote for, which I hope makes you laugh, covers a lot of the stuff on my What I Like list, and gives you a peek at a new TV show I am really looking forward to seeing because I like chortling:
While I'm on a roll here, how about a few other things I KNOW I am not alone in loving this season?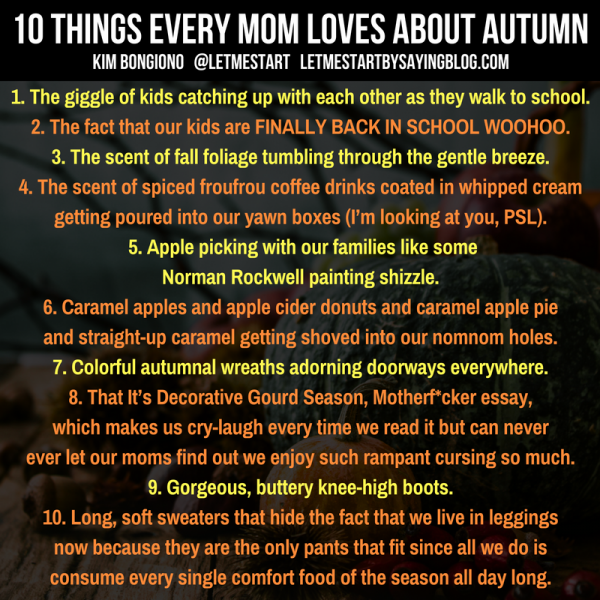 Okay, okay, I'm done. For now.
Besides, I have a slice of pumpkin spice loaf waiting for me to cram into my crave cave, which will be quickly followed by some sort of coffee product sprinkled with cinnamon. NOM NOM NOM. Happy autumn, everyone!
---
Kim Bongiorno is an author, full time freelance writer, and the blogger behind Let Me Start By Saying. You can find her on Facebook and Twitter, hire her to write for you or speak at your event, or ask her honest opinion on pretty much anything because she usually has one.
Comment with Your Facebook Account
Comments