I turn 40 this month, so decided to treat myself to a birthday Stitch Fix box for which I upped my budget and asked for the stylist to make it fun. Here's what I requested:
In case you aren't familiar with Stitch Fix, it's an online personal shopping service for those of us who want to look and feel better in our clothes, but are clueless about how to do it on our own. This is how it works:
Fill out a style profile
Schedule a shipment
Pay $20 for a personal stylist to hand-pick items in your budget that'll look great on you (this is credited toward your purchase, if you keep anything)
Get 5 clothing/accessory items delivered to your home so you can try them on with other stuff you own
Take a few days to decide what to keep and what send back in the pre-paid envelope
Totally user-friendly and worth giving a shot. I'm glad I did! This is my 9th Fix from them, and I am always pleased by what they decide to have me try on.
Now let's take a look at what Stitch Fix sent me this time!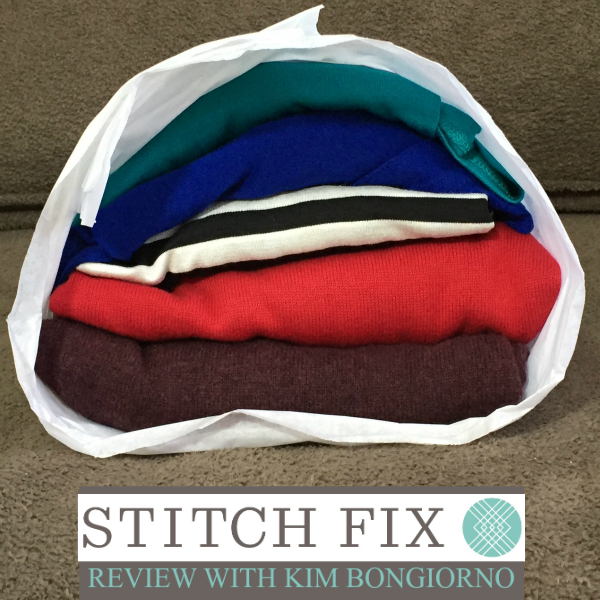 Oh–and if you're reading this to get ideas for items to add to your Stitch Fix request list, let me help you with sizing. I'm 5′ 9.5″ tall, weigh 165lbs, and wear a size 8/10. All tops in these pictures are a size Medium.
1. Moon & Sky Halifax Cross Front Tie Knit Top in Cobalt Blue $58
This color makes my eyeballs giddy with joy. The fabric is a delight. I want pajamas made out of whatever dreamy threads that keep this blue hug together. It's all sorts of FUN–which is what I asked for–but I truly can't decide whether or not I'll wear it! It is so different than anything else I own, but that could be a good thing, right? UGH HOW AM I TO DECIDE???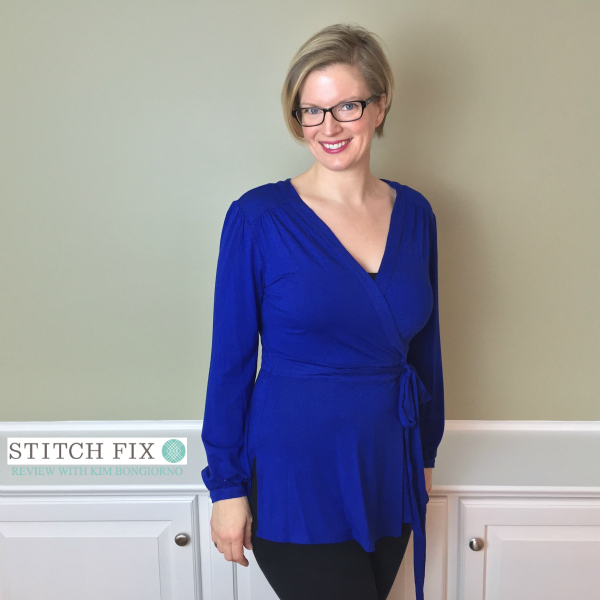 Seriously. Please tell me what to do with this one. Keep it? Return it? HELP ME.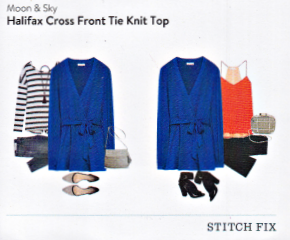 2. Central Park West Lyndy Pullover Sweater in Burgundy $148
The stylist who did my box this time sent me something in cashmere as a birthday treat. A nice idea, really: luxury at 40! I deserve it! However: Am I the only one here who finds cashmere to be crazy itchy and uncomfortable?
I do admit that the fit of this one is nice, even thrown on with my favorite black leggings (American Apparel winter ones):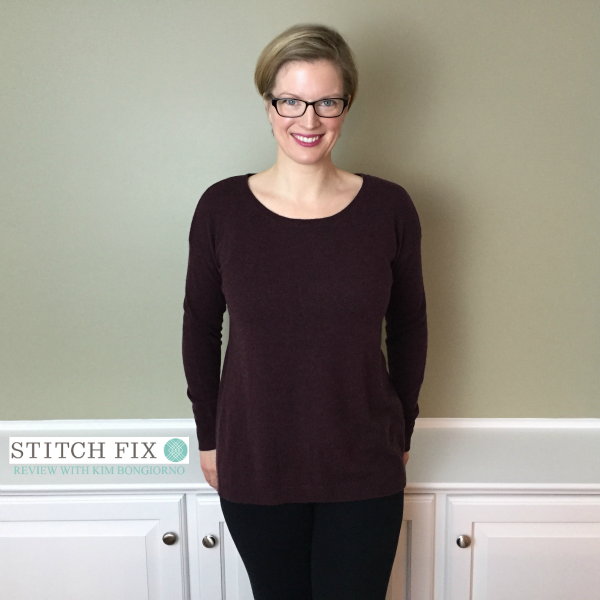 The scoop-ish neckline is flattering, plus look at the interesting little detail they put on the back, which makes it fall so nicely: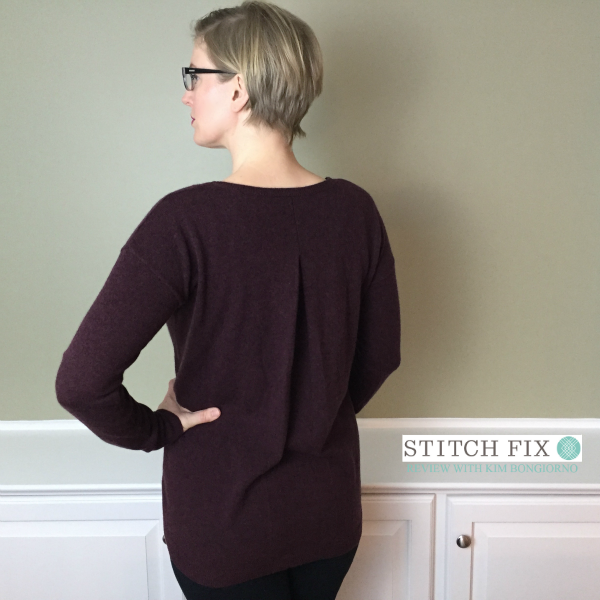 But do I keep a sweater that I can only wear over a long-sleeved something-or-other (or else I get all itchy)?
The price is pretty high, but I do have gift cards that cover it from Christmas presents. So that's not an issue.
What do you think? Keep it or send it back? Again: HELP ME DECIDE, PLEASE.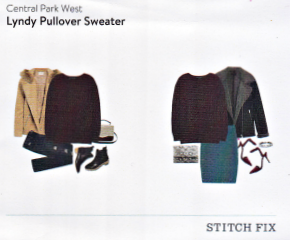 3. Leo & Nicole Ashaly Button Detail Sweater in Red $68
The verdict is in: I need some red in my wardrobe. CLEARLY. I mean, I never grab it in stores, but when I saw the pictures of myself in this color, I felt like someone  knocked me over the head with a pile of cherry-colored shirts and told me to wake up. HOORAY FOR RED!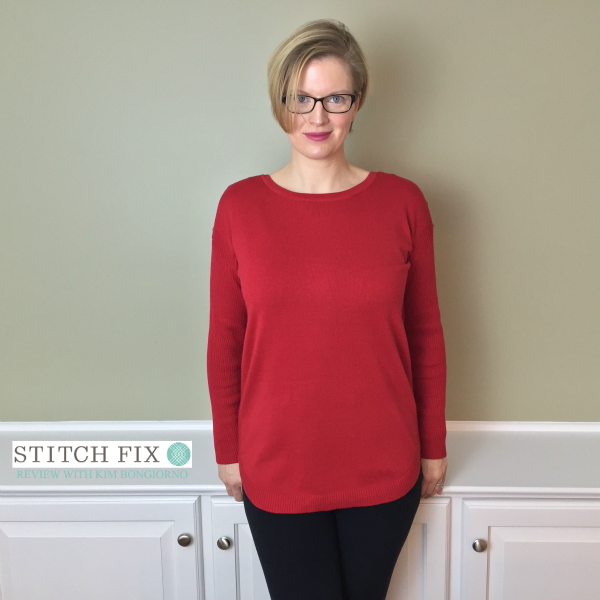 That being said, the color is the only thing I love about this one. Sure, the bamboo-blend fabric is soooooo nice, and the hemline is pretty cool: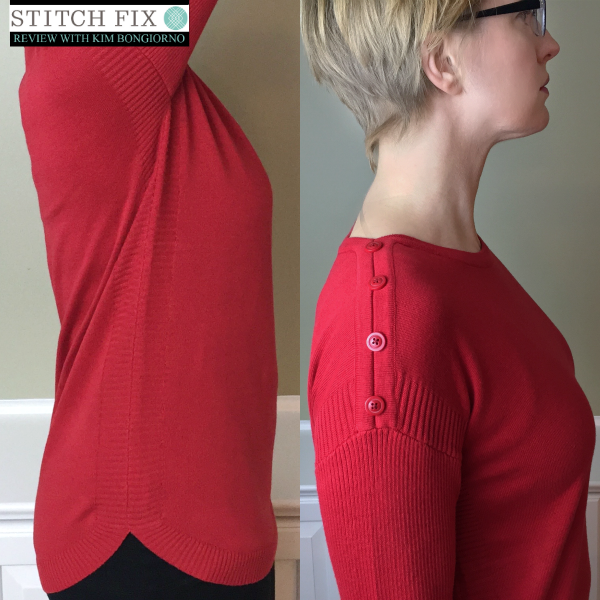 I'm just not into buttons where buttons do not need to be. Like on my shoulders, where I put my cross-body bag strap. I feel like Frankenstein's 3rd monster, a writer he slapped together with buttons when he ran out of thread. Nope, not me. Back it goes!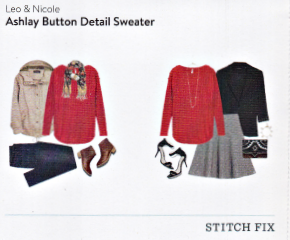 4. Staccato Traci Elbow Patch Hooded Knit Top in Black & White $54
Cute, right? Simple? Easy? Comfy, for sure. Buuuuut…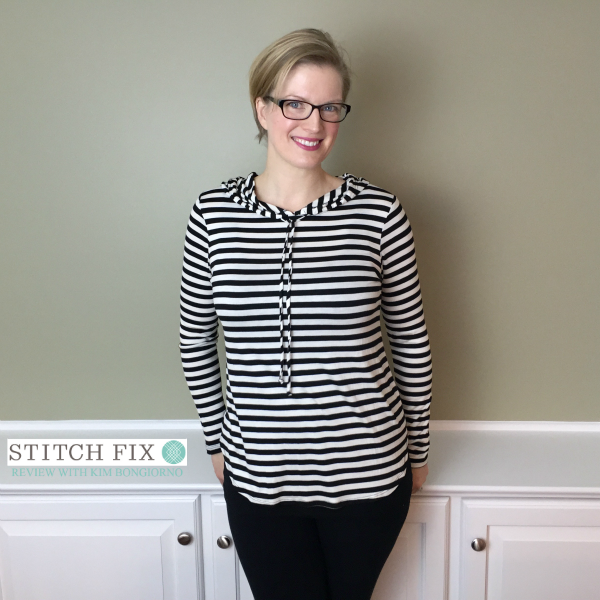 Then I turned around and realized that despite their mystic allure, and the fact that I have a bunch of stuff pinned on Pinterest with them on it, I AM SO NOT AN ELBOW PATCH KINDA GAL.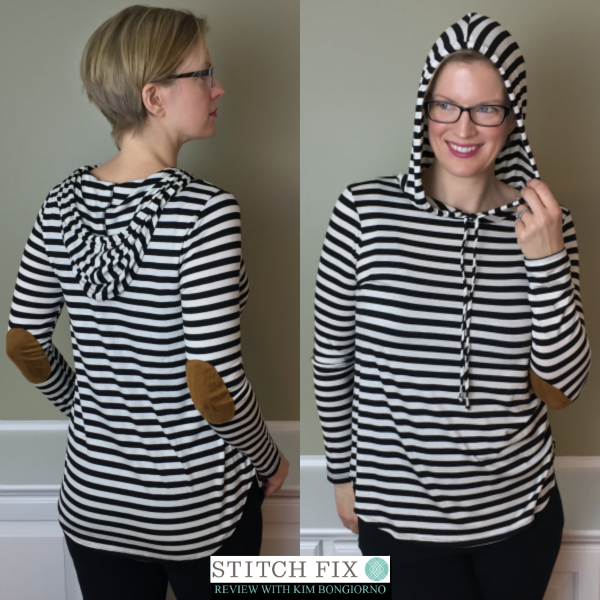 I can't get over how oddly silly I felt in them, which is dumb because I adore other people in them! And the hood? YES, PLEASE. I always have a cold neck, so that would have been a fine treat.
I petted those suedey ovals like mid-arm cozy friends, but I cannot grow to love them. Oh well! I still have one more thing in my box…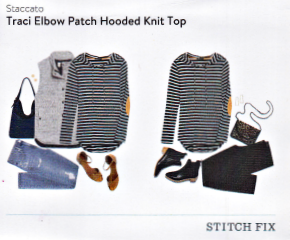 5. Loveappella Andris Slit Shoulder Knit Top in Turquoise $48
This is the moment when I embrace the fact that I am too boring to wear a gorgeously-colored, insanely-soft tee just because it has mid-shoulder air conditioning. That what it means to be 40, right? Knowing who you are, and accepting that you know when you're in something that doesn't make you happy, it just makes you giggle.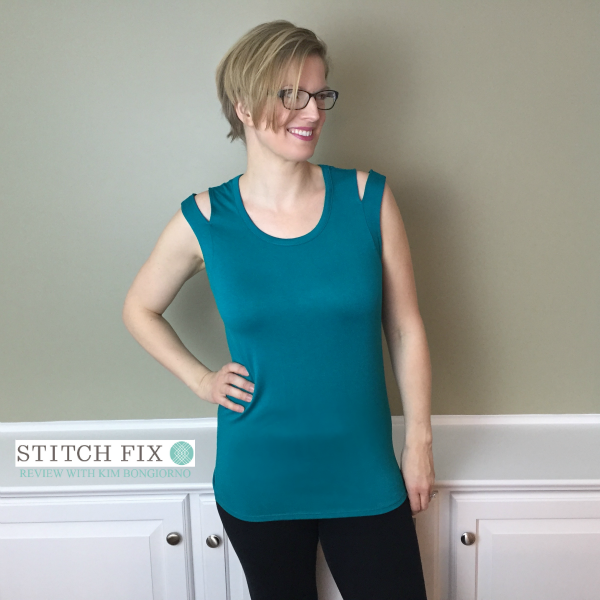 I love my strong, broad shoulders. I just don't feel the desire to play peek-a-boo with them on the regular. Yes, I could wear this under one of my many, many cardigans, but I'd still know those snipped sleeves were in there. Sorry, adorably fun shirt! Back you go…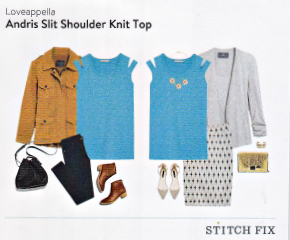 Overall, I'd have to say the new stylist got my request for fun and color spot-in. It's not her fault I am terribly boring! All I need to do now is decide whether to keep the first two items, or send it all back and try again.
Well, I think we all know I'll DEFINITELY try again no matter what. But you know what I mean.
If you'd like to try Stitch Fix with me, please sign up here with my referral link. This helps me earn a $20 towards my next purchase. Also, if there is something in this Fix or any others that you want to try, you can ask for it by name in your notes to the stylist (plus I have 6 tips on how to get the best possible results that you can see here before you schedule your Fix). Thanks!
→VIEW ALL OF MY STITCH FIX POSTS & TIPS HERE←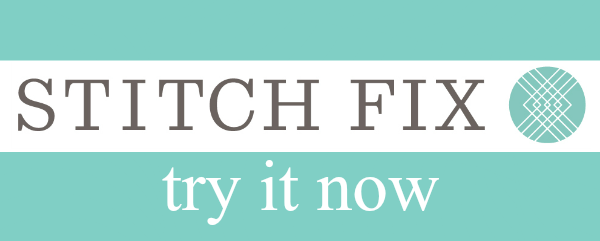 Think you know someone who'd love to try it? Get them a gift card!
See my Stitch Fix purchases in action on Pinterest:
Follow Kim Bongiorno's board Style: My Stitch Fix Closet on Pinterest.
Want more? Check out this Stitch Fix Review link-up and giveaway!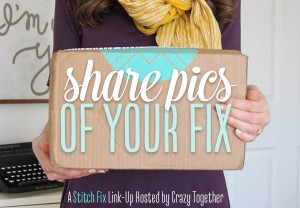 Join my 60,000+ fans today! Subscribe to my Sunday newsletter and you'll never miss the important stuff.
Comment with Your Facebook Account
Comments