Lately it seems that most of the packages coming to my house have been for my husband, so I was very happy to receive my November Stitch Fix delivery! WOO HOO!
This is what I asked of my Stitch Fix stylist this time around: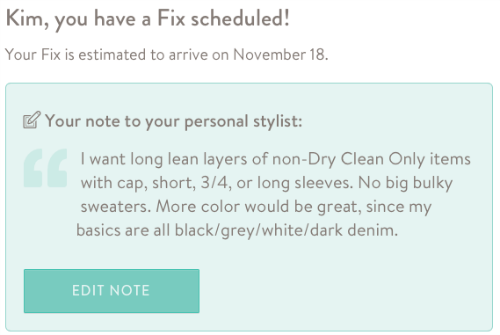 If you aren't familiar with Stitch Fix, it's an online personal shopping service for those of us who want to look better but have no frigging clue how to do it on our own. This is how it works:
Fill out a style profile
Schedule a shipment
Get 5 clothing/accessory items delivered to your home so you can try them on with other stuff you own
Take a few days to decide what to keep and what send back in the pre-paid envelope
Totally user-friendly and worth giving a shot. I'm glad I did!
Now let's take a look at what Stitch Fix sent me this time!
Oh–and if you're reading this to get ideas for items to add to your Stitch Fix request list, let me help you with sizing. I'm 5′ 9.5″ tall, weigh 165lbs, and wear a size 8/10. All tops in these pictures are a size Medium, and the jeans are a size 10.
1. 41Hawthorn Moni Chain Print Stud Detail Blouse $58
This is so far out of my comfort zone I needed my passport just to put it on. I gotta say, though, I liked it more than I expected to. Somehow the orange and blue just magically work, the studded bib looked funky, not infantile, and the sleeves really are pretty. This top would look great with the Kut from the Kloth Diana Skinny Jeans in a darn denim, like these. Super comfy and flattering.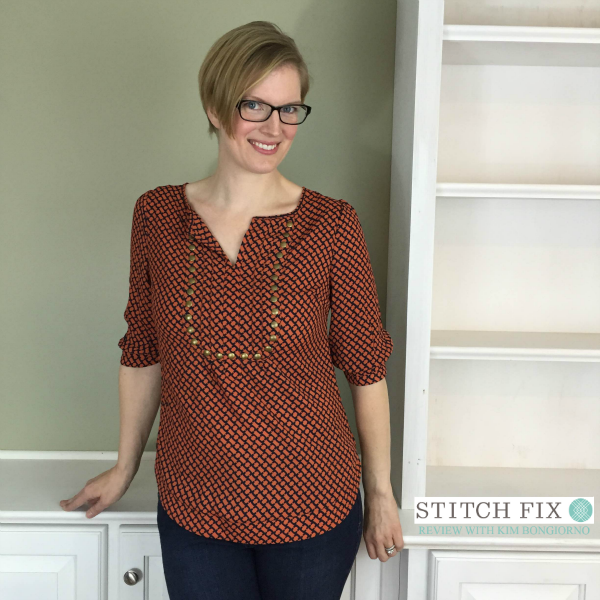 Problem is: it just doesn't feel right on me or work into my wardrobe. If I know me–and I think I do–I will never wear it. Too bad! It's a fun piece.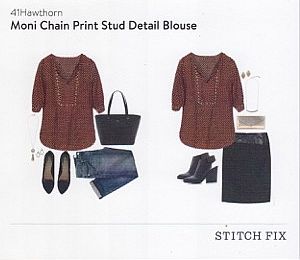 2. 41Hawthorn Breyson Pleated Tab-Sleeve Blouse $58
Light, comfortable, a stunning purple color, great for layering to dress up (like with my sparkly necklace) for parties or with a simple long cardigan and black leggings (American Apparel winter ones are my favorite) for everyday. They even have those beloved sleeve buttons to keep things rolled up when you want to.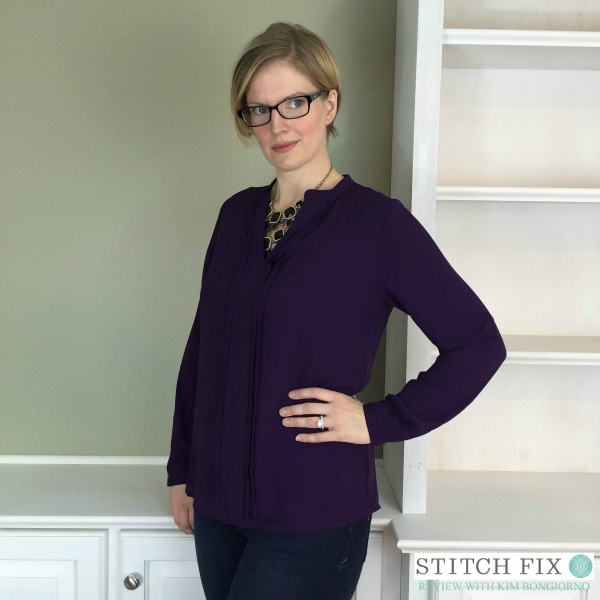 Tempting, but it was such a good pick for me that I already own something very similar in color and style. Back it goes…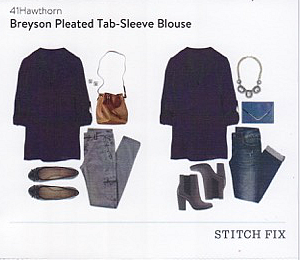 3. Market & Spruce Alan French Terry Asymmetrical Zip Cardigan $68
Let me tell you a little story about a fabric so delicious you don't know whether you want to cover yourself head-to-toe in it and roll around forever, or eat it. Seriously, this stuff must be woven from angel giggles and kitten winks. I've never felt anything so soft and appealing. I've only ever seen this cardigan/jacket thingy in black or grey, so this navy blue is a nice surprise. And it has pockets! POCKETS.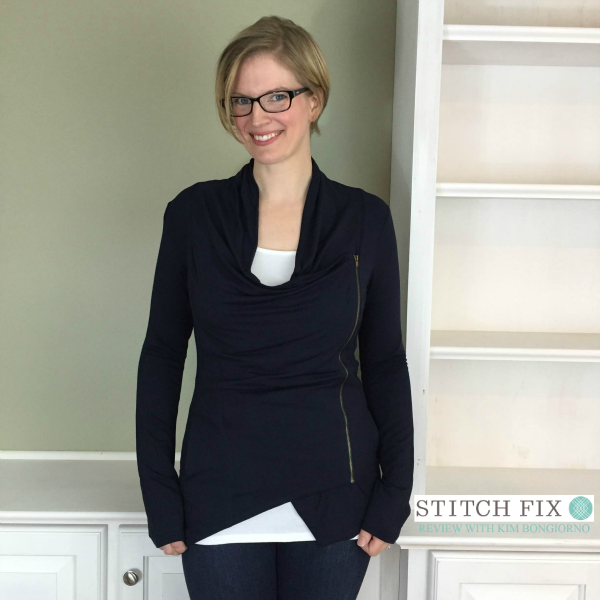 The only snafu here is that my brand of crazy does not allow me to wear asymmetrical stuff. A zipper on the side and that uneven bottom? *brain explodes* I can't handle it. I wish I could! So please, do me a favor and get this for yourself. It deserves a good home!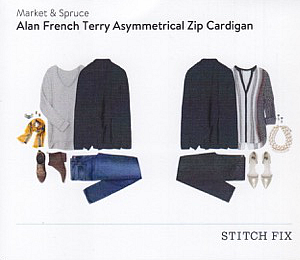 4. Market and Spruce Yuna Chevron Pointelle Knit Sweater $68
I'm not normally a basic crew neck sweater kind of gal, but I saw this one on some Stitch Fix Pinterest boards out there and wanted to give it a try. It is different, and I like that. Lightweight, cozy, not itchy at all, and it moves the eye around all those zig-zags. I wore a nude tank-style cami under it, which was perfect, though I think other layers in fun contrasting colors under it would be a great look, too. I tried it with my oversized plaid scarf, belted like a poncho, and it was fabulous. Here's another scarf for much less that I think would work with it.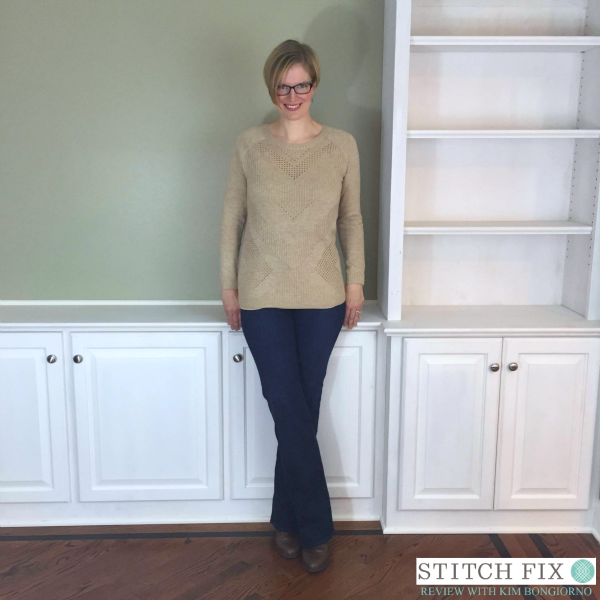 I went back and forth on this one, and decided that since I'm not in love with it, I won't keep it. That's my new rule, and I've been good about sticking to it. Maybe if they sent me this in one of the bold colors it also comes in I would have kept it, but I got this tan color that washes me out a little.
5. Kut from the Kloth Cai Bootcut Jeans $88
Pictured above, these have the comfort of mom jeans without being worthy of an SNL skit. Comfortable, high enough rise for muffin top tucking, great cut for wearing my favorite Clarks booties.
I happen to have a good stock of well-fitting jeans, and these look maybe one size too big for me, so they're going back.
If you'd like to try Stitch Fix with me, please sign up here with my referral link. This helps me earn a $20 towards my next purchase. Also, if there is something in this Fix or any others that you want to try, you can ask for it by name in your notes to the stylist (plus I have 6 tips on how to get the best possible results that you can see here before you schedule your Fix). Thanks!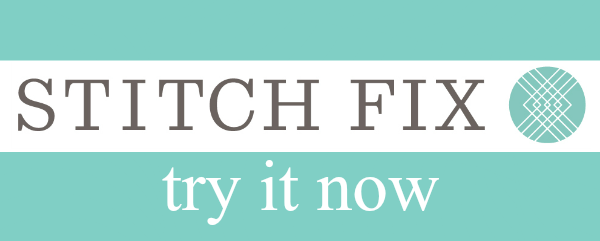 →VIEW ALL OF MY STITCH FIX POSTS & TIPS HERE←
See my Stitch Fix purchases in action on Pinterest:


Want more? Check out this Stitch Fix Review link-up and giveaway!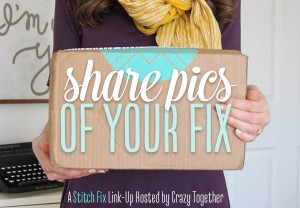 Join my 60,000+ fans today! Subscribe to my Sunday newsletter and you'll never miss the important stuff.
Comment with Your Facebook Account
Comments