Fall fashion is pretty much my favorite, so I was super looking forward to my September Stitch Fix delivery. It did not disappoint!
If you aren't familiar with Stitch Fix, it's an online personal shopping service for people like me who want to look a little less like their official uniform is old yoga pants and two sweatshirts bought on clearance six years ago. This is how it works:
Fill out a style profile
Schedule a shipment
Get 5 clothing/accessory items delivered to your home so you can try them on with other stuff you own
Take a few days to decide what to keep and what send back in the pre-paid envelope
Easy peasy!
Now let's take a look at what Stitch Fix sent me this time!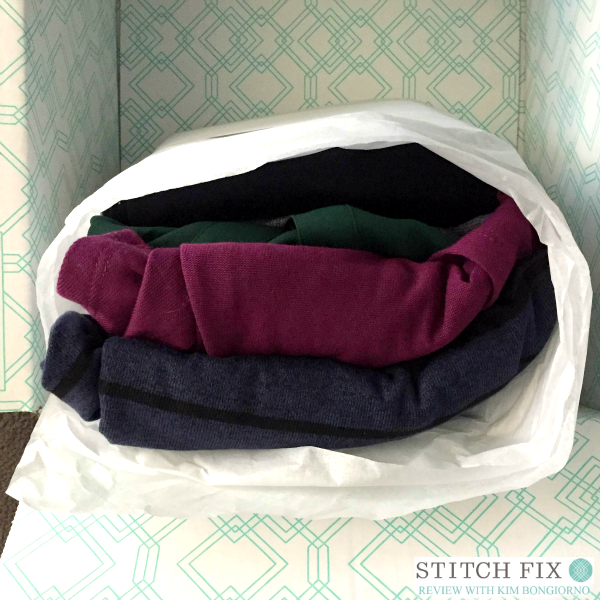 If you're reading this to get ideas for items to add to your Stitch Fix request list, let me help you with sizing. I'm 5′ 9.5″ tall, weigh 165lbs, and wear a size 8/10. All tops in these pictures are a size Medium, and the jeans are a size 10.
1. Market & Spruce Corinna Striped Dolman Top $48
Normally dolman tops make me look like a tall blonde bat girl (and not in a cool way), but this one was a very nice surprice! I loved it right away, and it pairs nicely with my Kut from the Kloth Diana Skinny Jeans in black. Comfy, casual, but not sloppy (or bat-like). It's a keeper.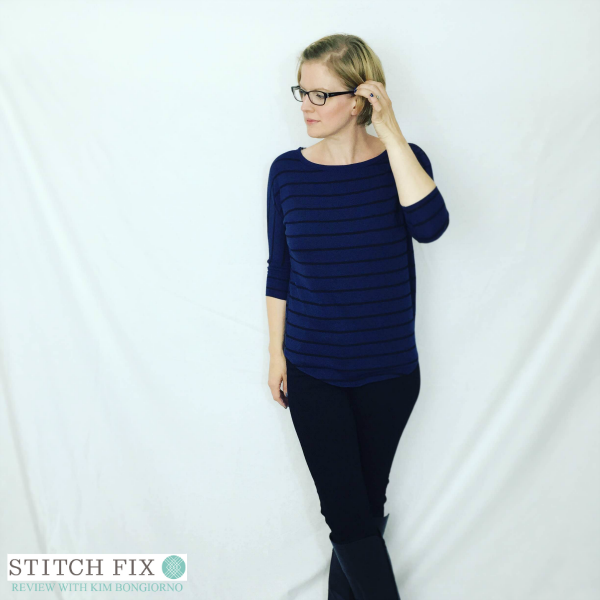 2. 41Hawthorn Colibri Solid Tab Sleeve Blouse $48
The dark green color of this really easy shirt is hard to take my baby blues off of. I confess that I worried I looked kind of boxy/matronly in it, but some trusted peeps assured me that with a cool long necklace and lighter pants/jeans or leggings and a thin belt, the look will be much less retirement-home-chic and simply just chic.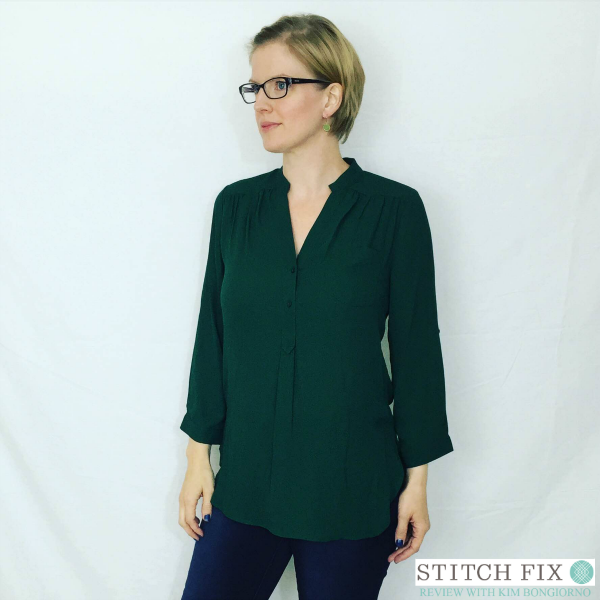 3. 41Hawthorn Abrianna Longsleeve Knit Cardigan $48
This is the color of happiness, it fits like a dream, and is so comfy I could sleep in it, but the price made me do an SNL-skit double-take. I mean, jeez Louise. I was recently in TJMaxx and they had cardis for half this price…though, admittedly, not in this ridiculously awesome color and softness and perfectness. Uuuugh…I want it, but should I keep it?
Anyway, I really liked how it looked with a simple long navy tank like this one and my Stella & Dot necklace, but something more modern like this silver necklace would be cool, too. Just the way the hem falls longer in the front that back gives it such a lovely shape. *sigh* I'm going to end up keeping it, aren't I?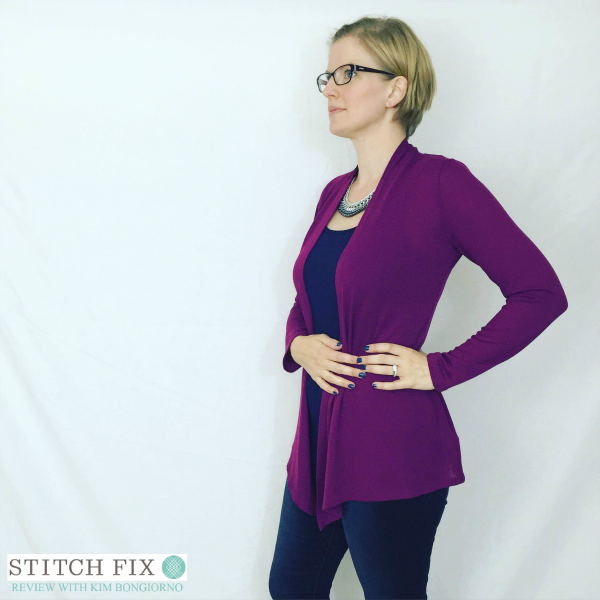 4. Liverpool Colleen Straight Leg Jean $78
Dark and soft and stretchy, these were a good decision to include in my Fix. But I can't decide whether or not to keep them. They are definitely long enough for me, and look good under tall boots. They didn't go well with my ankle booties: rolling them looked weird, and putting them over the boots wasn't quite right, either. Maybe it's just me styling them badly, so I should keep them and try with flats? Did I mention how comfortable they are?
5. Skies are Blue Candi Mixed Material Roll Tab Knit Blouse $48
Funky, fun, cool little touches in the seams and fabrication. A great denim color, and there are tabs so you can roll the sleeves up, too. My only issue is that it's a bit too short for someone as tall as me. BOOOO. I wanted it to fit! If it were only a few inches longer, it would have gone perfectly with my beloved Paige Denim Bell Canyon High Rise jeans. Since it isn't, I had to put my tank back on under it for some coverage.
Note: I SWEAR my blue nails were not in anticipation of this fix. Total coincidence. Fanfrickintastic coincidence, but still just a coincidence.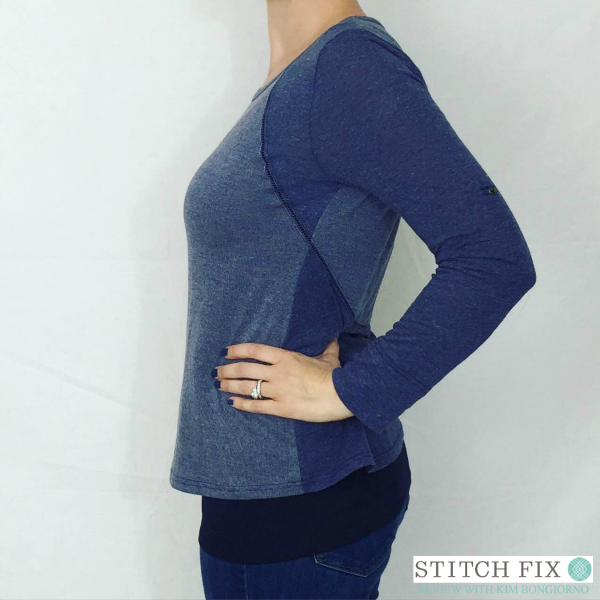 Even though I might end up sending a couple items back due to sizing and "need" concerns, yet again I am happy with this Fix. Everything my stylist sent made sense, and works with what I have in my closet.
If you'd like to try Stitch Fix with me, please sign up here with my referral link. This helps me earn a $20 towards my next purchase. Also, if there is something in this Fix or any others that you want to try, you can ask for it by name in your notes to the stylist (plus I have 6 tips on how to get the best possible results that you can see here before you schedule your Fix). Thanks!
→VIEW ALL OF MY STITCH FIX POSTS & TIPS HERE←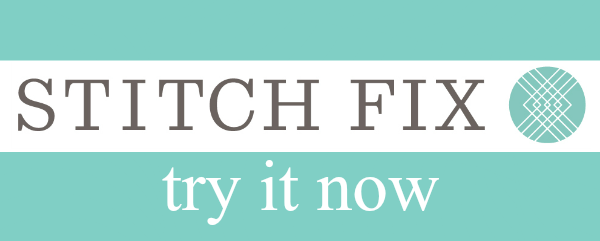 Want more? Check out this Stitch Fix Review link-up and giveaway!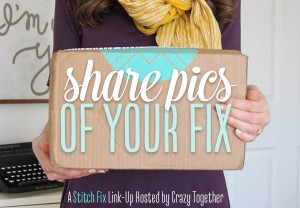 And see the Stitch Fix Style cards for styling options on each piece here:
Join my 60,000+ fans today! Subscribe to my Sunday newsletter and you'll never miss the important stuff.
Comment with Your Facebook Account
Comments