My usual Stitch Fix stylist was on vacation so I was assigned a new one for this month's requests of fun tank tops and a cardigan. At first I worried that pretty much every item was out of my comfort zone, being that I am—what's the word? Oh, right: BORING.
Then I got over myself.
Since I was surprised by what I loved, I thought I might surprise you, too: by giving away TWO $20 gift cards to Stitch Fix so you can try the online personal styling service for free. At the end of this post, I'll tell you how to enter. Now get reading!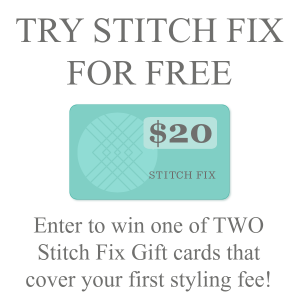 If you aren't familiar with Stitch Fix, it's an online personal shopping service for people like me who need CPR for their wardrobes (clothes and accessories). You get 5 items at a time to try on at home to see how they work with stuff you already own, then have a few days to decide what to keep and send back.
Now let's take a look at what Stitch Fix sent me this time.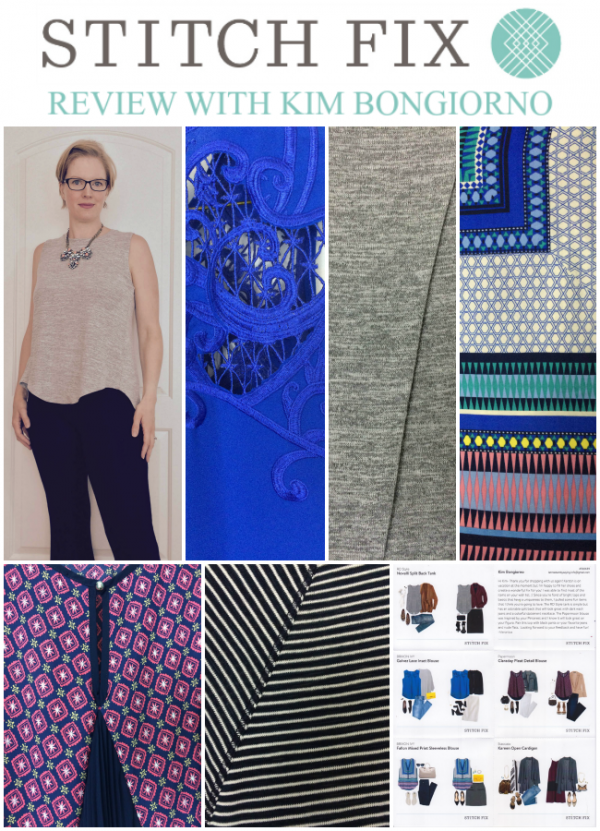 Oh—and if you're reading this to get ideas of pieces of clothing to add to your Stitch Fix request list, let me help you with sizing. I'm 5′ 9.5″ tall, weigh 165lbs, and wear a size 8/10. All tops in these pictures are a size Medium.
1. Staccato Kareen Open Cardigan $48
Wuv. Twue wuv. It is soft and stretchy and light and flattering and I want to marry it and have its babies (which I can only assume would be fingerless gloves, right?). I think I actually said, "SHUT. UP." to it when I first slid it on. If it came in a million different colors, I would buy them all and live in them forever 'til death do us part.
In the photos below, I'm wearing it with a tank from this Fix and my much-beloved Paige Denim Bell Canyon High Rise jeans.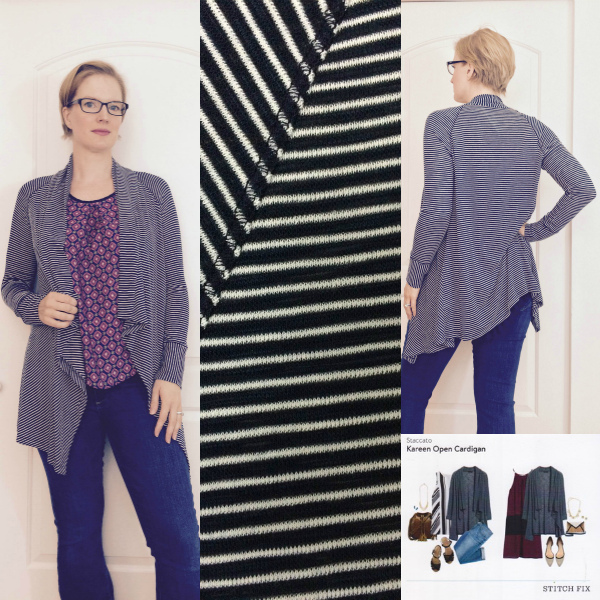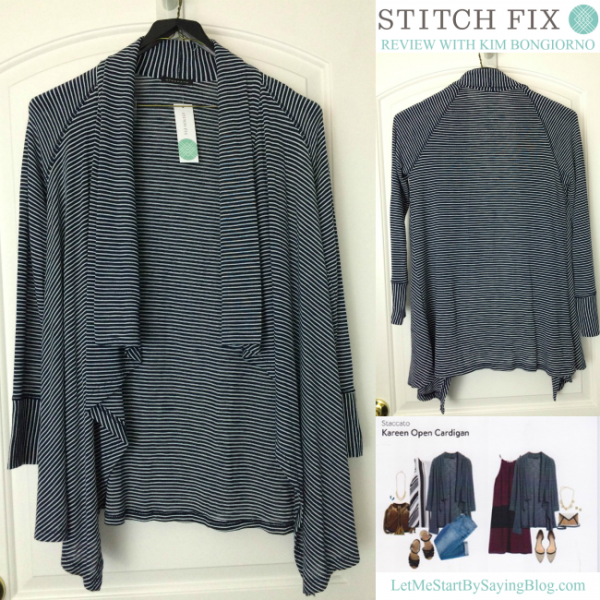 2. RD Style Novalli Split Back Tank $48
One look at this on the style card and I was disappointed: there was NO WAY I'd wear a top that opens in back. I am Prudey McPruderton and I live in Nosexyville. Then I put it on. It is insanely soft and comfortable, and I look much less like a tall blonde box than I expected to. Sure, when I bend over to touch the floor it opens up past my bra strap, but I'll throw a couple stitches in there to prevent that from happening. I am keeping this bad boy.
I dressed it up in the photos below with a new necklace I got from/stare at obsessively by Charming Charlie, but this sparkly necklace on Amazon would look great, too. I'm wearing bootcut leggings (like these), but I think it'd also be perfect with jeans. Or to just spoon on rainy nights. It's that comfortable.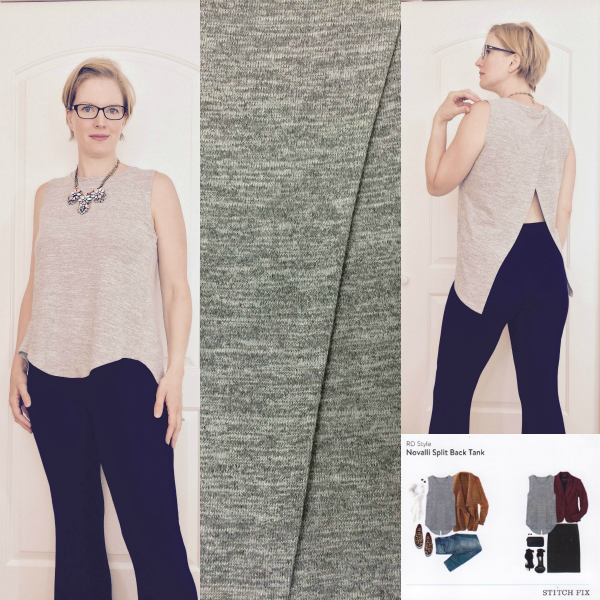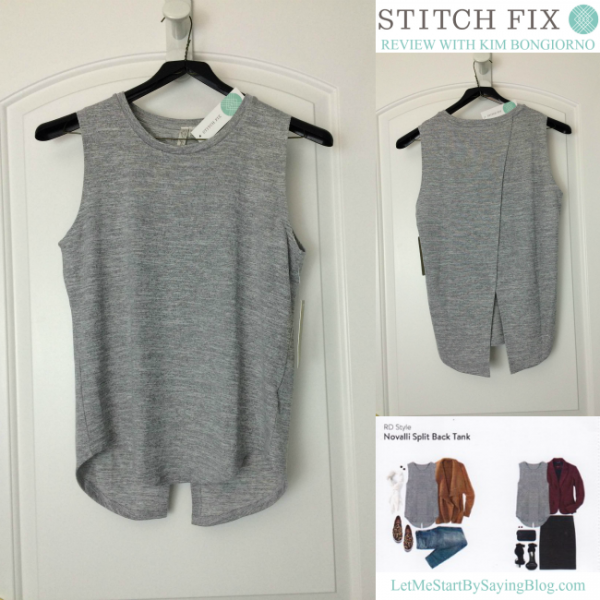 3. Papermoon Claraday Pleat Detail Blouse $48
This one was bright and looked weird and I wasn't sure, then I really looked at it and realized it has all the unique details I need in my life: the print isn't too "printy" for me (it's not a word but whatever, haters), the navy trim reins the whole thing in a bit, the pleat in the front keeps it from being too boxy and reminds people that I have boobies, the button on the back is delicate, and the pleaty-tail-thingy just makes me happy. I tend to wear the same old boring solid color ribbed tank tops always, so this is the fun injection my closet needed! FUN INJECTION, PARTY OF ONE.
I tried it with my favorite jeans again, and I think it works, but again, it can totally be dressed up with black dress pants or the like.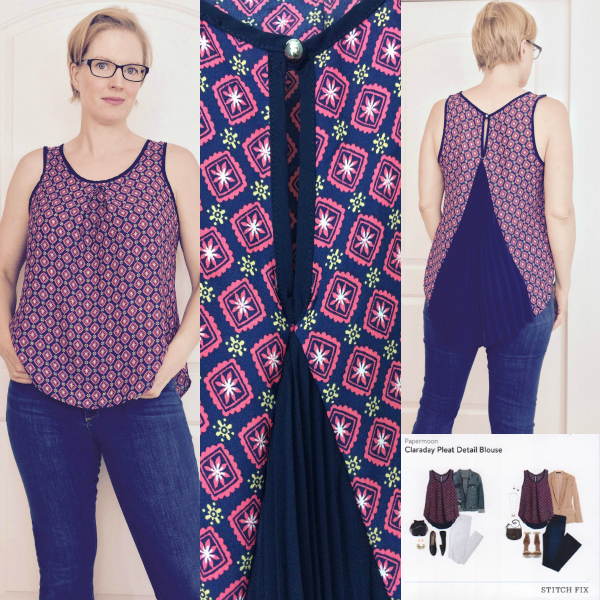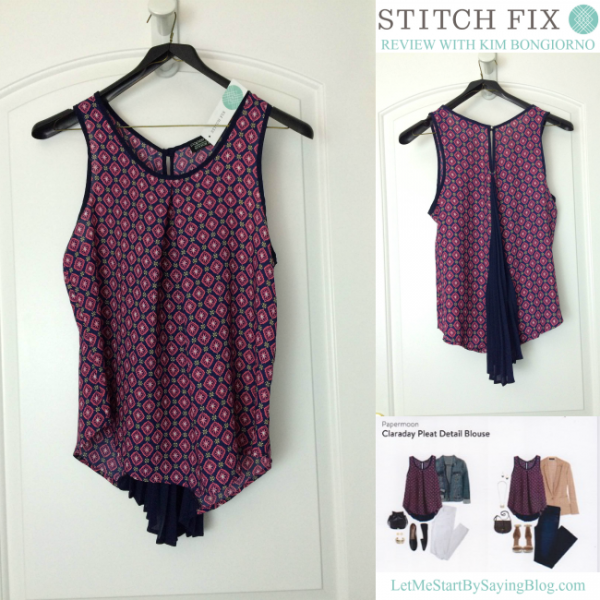 4. Brixon Ivy Galvez Lace Inset Blouse $58
I want to like lace. I want to like cut-outs. But I never do. UNTIL NOW. Maybe the cobalt color won me over. Maybe the fact that I'm wearing it with a regular nude (for me) bra and not some specialty rib-breaking strapless thing. Maybe it's because—as someone pointed out—it kind of looks like wings from the back and I've always wanted wings. I don't know. But I LOVE THIS TOP.
After I took these pictures I threw my insanely comfy Splendid Women's Jungle Boucle Cardigan over it and the combo was perfection. So it's great with jeans and a sweater all casual, or I can throw on some kick-ass earrings (OMG OR A SPARKLY HEADBAND) and great trousers to dress it up for a book signing or dinner out. Woo hoo! Look at me, stepping out of The Boring Box!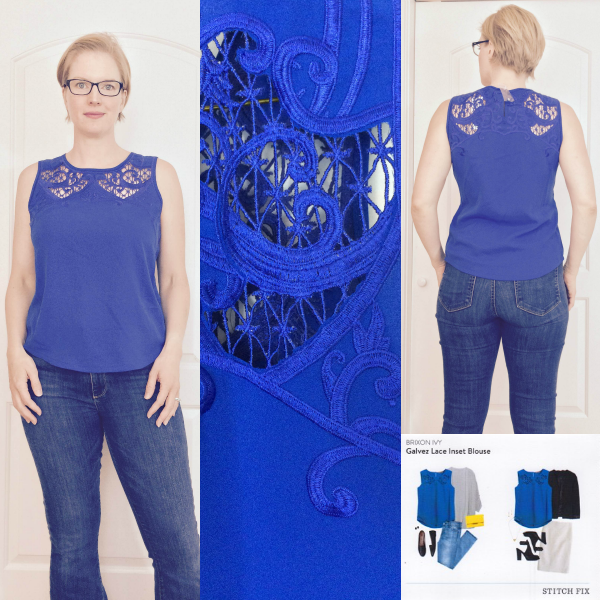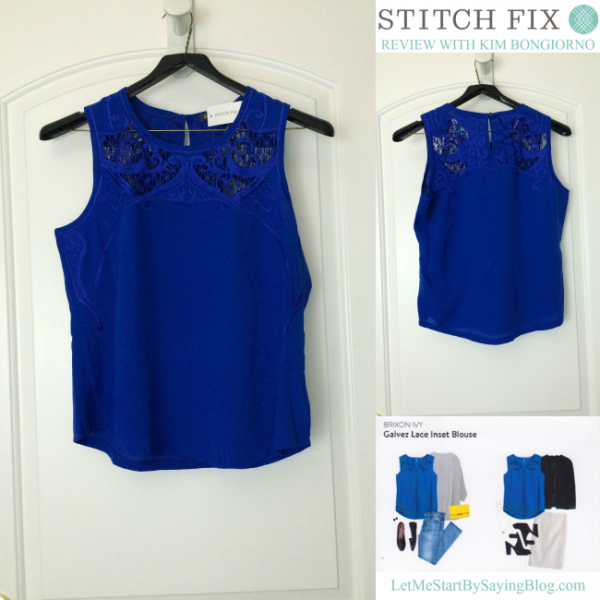 5. Brixon Ivy Fallon Mixed Print Sleeveless Blouse
I was confident I'd hate it. The print hurt my brain when I saw the picture online, but I tried it on anyway and whaaaaaat? I actually liked it! It is a bit more booblicious than I normally go for (i.e. any boob at all), but considering that I'm almost 40, I think I can stop hiding my boobs like some state secret, right? RIGHT. People are (usually) aware that I am a female who like has sweater puppets in there somewhere. Anyway. It is really, really light and silky, and now I want a solid navy cardigan like the one above to wear with it.
BTW, when my friends see me in this they might have heart attacks that I now own TWO things that aren't a solid color. It's a big day for Kim.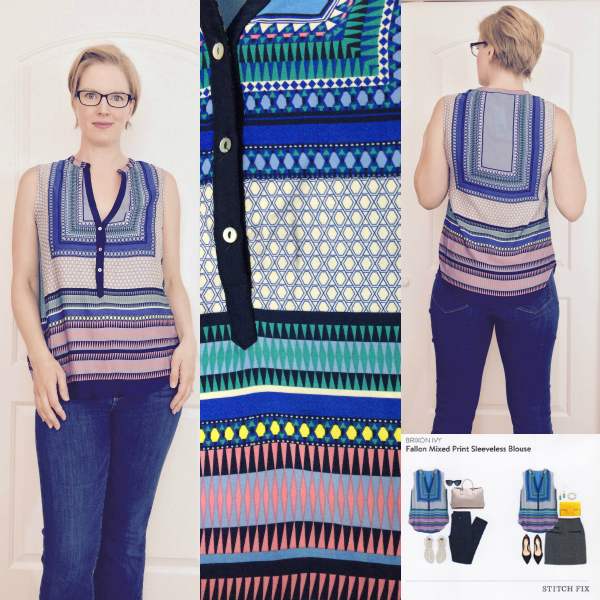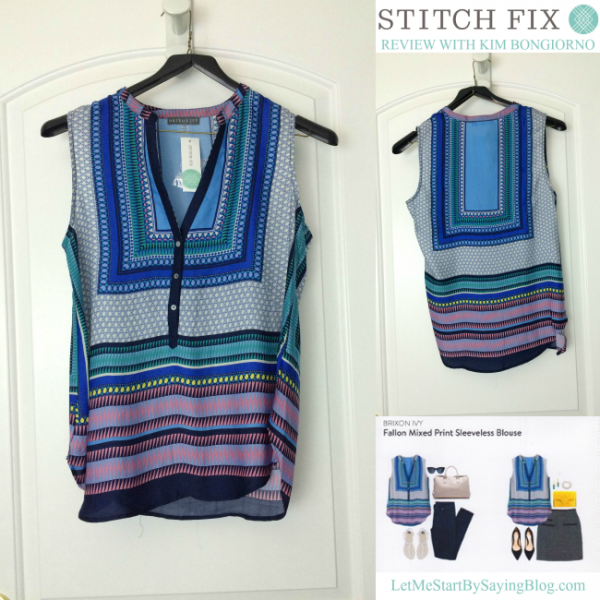 I was really happy with everything, despite my initial assumptions I'd hate most of it. (I sound like such an optimist, don't I?) Since I am keeping all 5 of the pieces, I get a 25% discount off of my total order, which is pretty awesome. Plus my $20 styling fee goes toward it, too, so the final tally is $164.50 for everything, which is right in the budget I set in my style profile. It's important to me that everything I buy now works with the stuff I love in my closet and from previous Fixes, and this whole shebang fits that bill.
If you'd like to try Stitch Fix with me, please sign up here with my referral link. This helps me earn a little extra $$ towards my next purchase. Also, if there is something in this Fix or any others that you want to try, you can ask for it by name in your notes to the stylist (plus I have 6 tips on how to get the best possible results that you can see here before you schedule your Fix). Thanks!
→VIEW ALL OF MY STITCH FIX POSTS & TIPS HERE←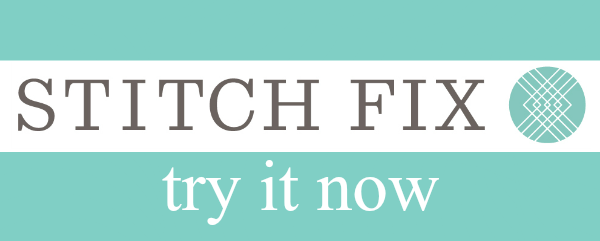 Now: are you ready to try Stitch Fix for free? 
WHAT YOU WILL WIN
Two people will each win a $20 Stitch Fix gift card that covers the styling fee. This means you can

sign up to Stitch Fix for free

, fill out your style profile, add the credit to your account, and schedule a box to be delivered to your home without it costing you a penny. If you decide to purchase anything from that Fix, the $20 credit on your account will end up going toward your purchase. If you do not decide to keep anything, you can send the items back in the prepaid envelope without ever spending a dime!
I will also email the winners some helpful information on how to be more successful with their Stitch Fix experience.
Already a lover of/user of Stitch Fix? Then just take the $20 gift card and RUN, my friend. Happy shopping!
HOW TO ENTER
Go to the Rafflecopter box below and chose the entry options that work best for you.
Stitch Fix only ships within the United States, but I am opening this giveaway up to anyone with an email address because you can always gift your $20 gift card to a loved one here in the U.S. who would appreciate it!
No purchase neccessary to enter or win this giveaway.
WHEN IT ENDS
Giveaway starts Friday August 28, 2015 at 9:15am EST and ends Thursday September 10, 2015 at 9:15am EST.
Good luck!
Comment with Your Facebook Account
Comments