I asked for brighter colors, things I can bring from summer to fall with layering, and my stylist delivered.
If you aren't familiar with Stitch Fix, it's an online personal shopping service for people like me who need CPR for their wardrobes. You get 5 items at a time and have only a few days to decide what to keep and what to return.
Shall we begin reviewing my latest Fix?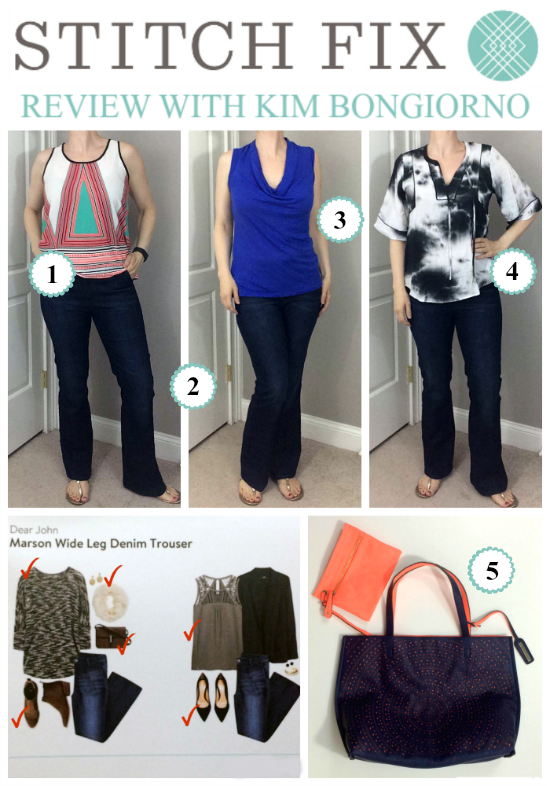 1. Le Lis Mervin Scoop Neck Blouse $44
I asked for color and HOLY COW I GOT IT. I normally don't get white tops because I hate when you can see through them, but this is fun, geometric without being too much, and the black trim at the neck and arm holes kind of frames the shirt in a cool way while making it go well with my black eyeglasses frames. I can wear a casual black cardigan or dressier blazer over it, and already saw it goes with both my comfy, flowy wide-leg summer pants as well as my more structured black dress pants. Also, I made my friend stand right in front of me poking at my shirt and she swore you can't really see my nude bra through it unless you were looking for it. And if someone is that interested in seeing my full-coverage boring-ass nude bra? Enjoy it, bro.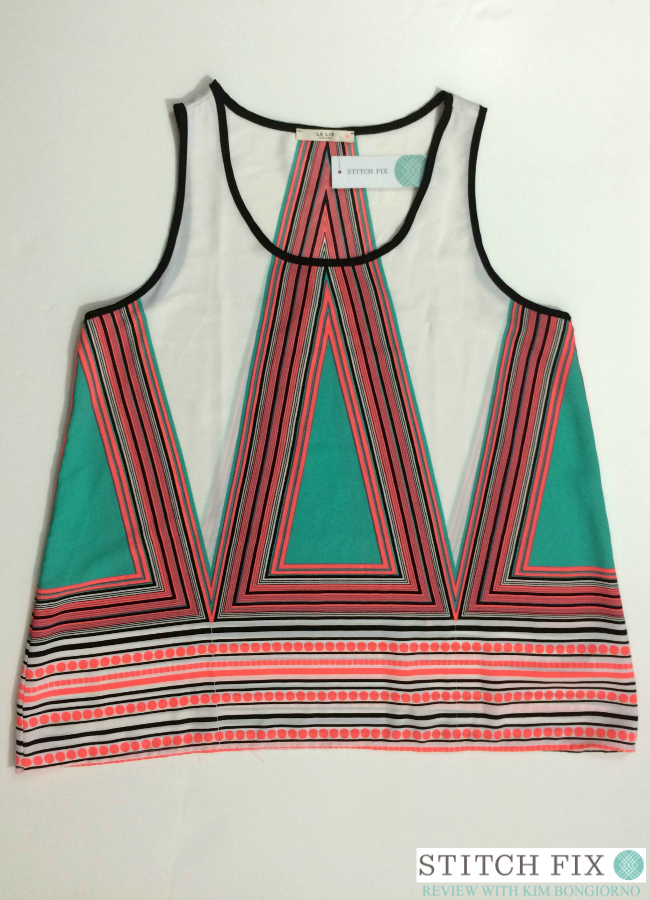 2. Dear John Marson Wide Leg Denim Trousers $78
The right balance of WAHM denim, for I can throw on a ribbed tank and call them "jeans" when playing with the kids, or a nicer top, dressy shoes, and jewelry for a work meeting or event. The inseam is just right, the rise prevents muffin top. Do they WOW me? Not particularly, and as I look at the photos of myself in them I worry they get loose too quickly. But I think I might keep them anyway. Comfortable, classic, flexible.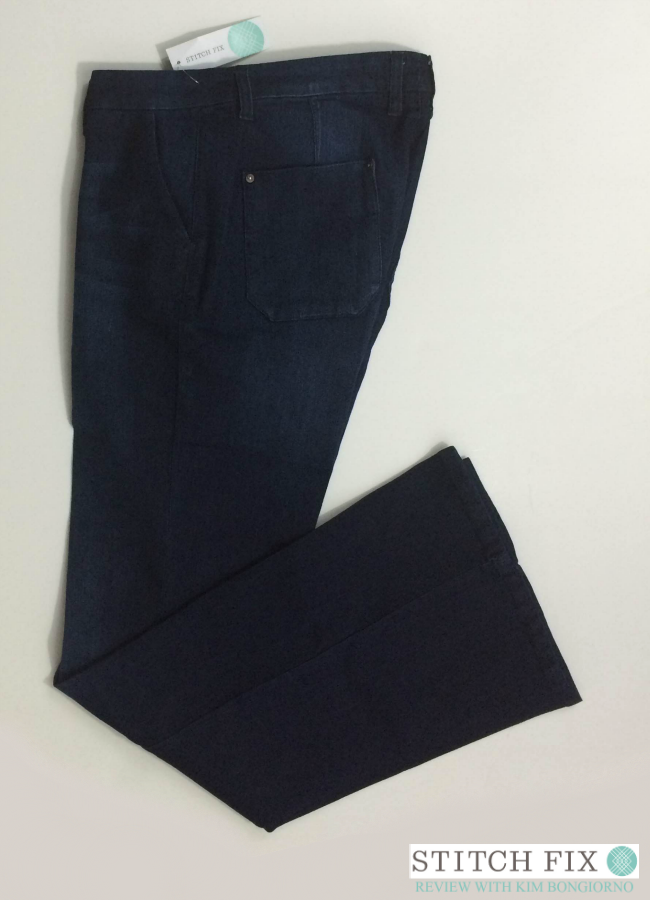 I had to include a shot of the style card for these jeans, too. Not only do I love all the tops and accessories they show with them, I WANT THEM. I can see myself in both of these outfits.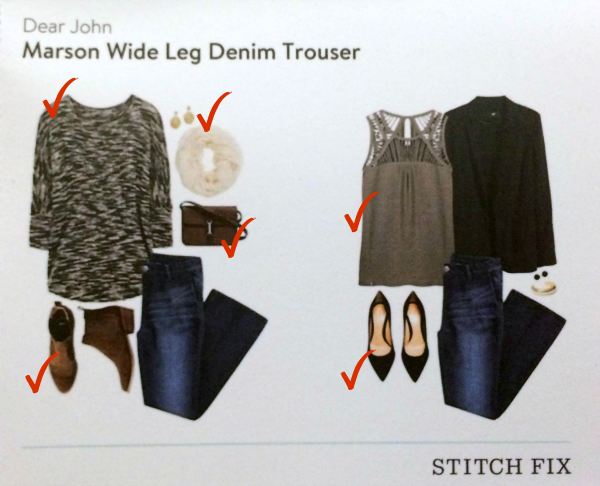 3. Splendid Lye Cowl Neck Knit Top $64
If you have never owned a Splendid top, you are missing out on one of my life's greatest joys. It feels like you're wearing the best pajamas ever. They drape just the right way, they feel amazing on. If I had looked at the price of this top first? I never would have even tried it on. But it slipped right on and fell flawlessly in all the right places, the cowl is flattering, the sleeves are folded over like the finest cap, and even the split sides add something. It's kind of sheer, but in a way that doesn't bother me, and can be layered really well, dressed down, or dressed up. I love this top.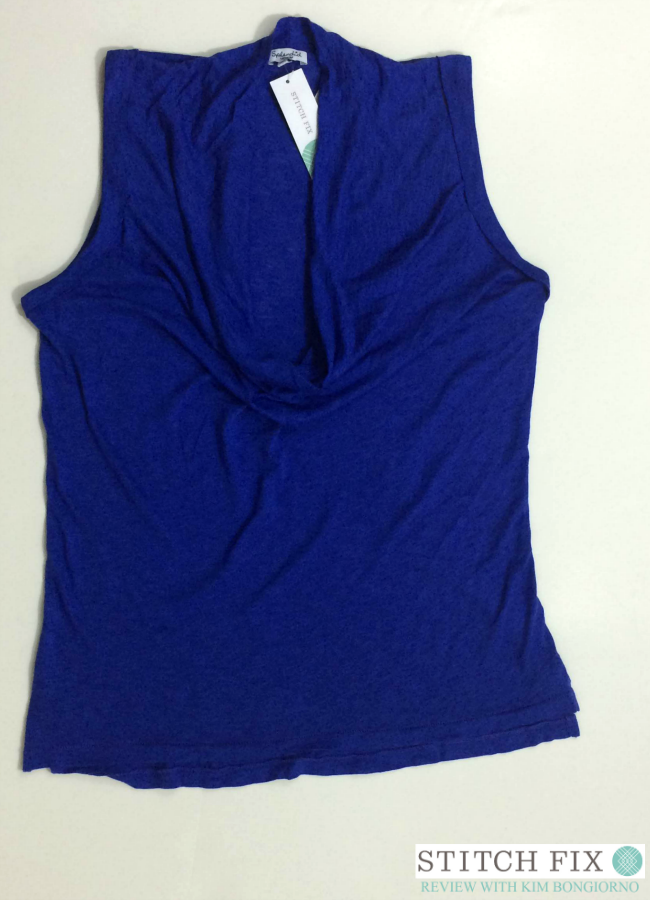 4. The Fontana Tie Neck Top $64
I understand why my stylist sent this to me: I had another top with a similar cut last time that I fell in love with. But this time it's not quite me—it's too beach-coverup-ish, in my opinion. It's comfy and all, but I don't really feel it, so I won't be keeping it.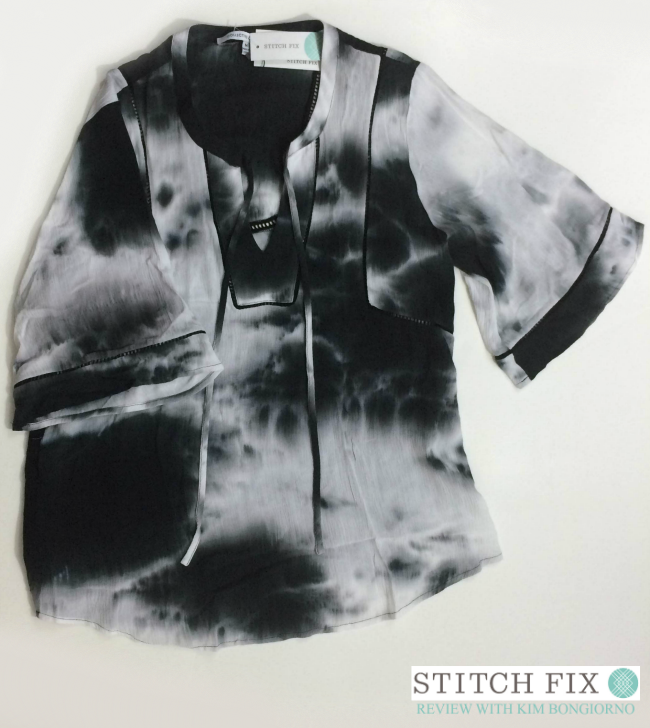 5. Street Level Kaelyn Laser Cut Two-Tone Reversible Tote $68
I am in love with this bag. I have seen it in various colors online now and again, but my stylist sent this combo to me since I pinned it to my WAHM Style Pinterest board and it was in stock. SHE IS MY NEW BFF. I can use the laser cut deep indigo-purply side out any time I am wearing my usual dark denim (see the denim trousers above, yo!), or if I was doing all white or all black in the summer, I could do that neon orange side out. Woohoo! It also comes with the orange wristlet attached with a lobster claw clasp inside, which is insanely handy dandy. I thought it would be much more expensive than $68, too. I want to marry this bag. Is that legal yet?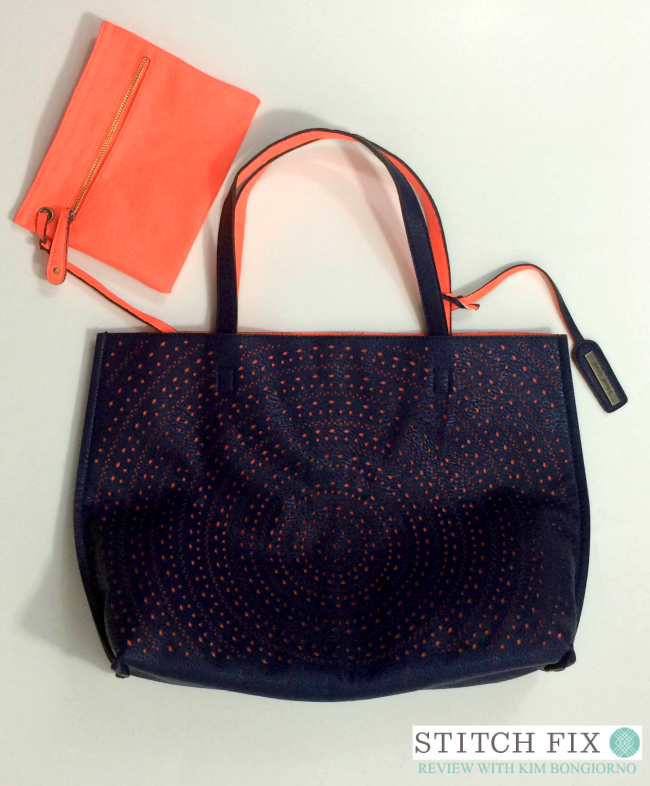 (Let's take one more moment to look at that beautiful bag. Ahhh…)
This was another great styling. I was so excited to see the color in this Fix, and they were all flattering and fun. I tried the pieces on with other pieces in my wardrobe—both from previous Fixes and just regular shopping—and they really work in well.
If you'd like to try Stitch Fix with me, please sign up here with my referral link. This helps me earn a little extra $$ towards my next purchase. Also, if there is something in this Fix or any others that you want to try, you can ask for it by name in your notes to the stylist (plus I have 6 tips on how to get the best possible results that you can see here before you schedule your Fix). Thanks!
→VIEW ALL OF MY STITCH FIX POSTS & TIPS HERE←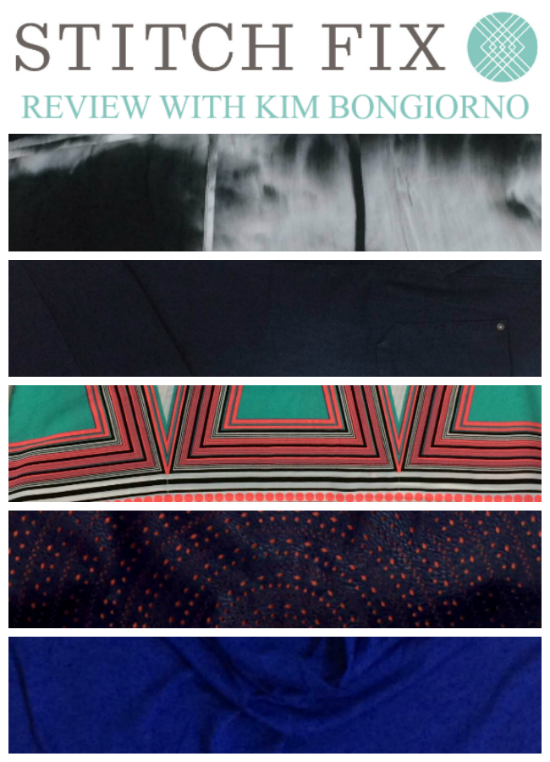 Comment with Your Facebook Account
Comments