I kept it ALL. This Stitch Fix thing has been such a good thing for my pathetic wardrobe.  Seriously, I am so glad I took a chance on it.
If you aren't familiar with Stitch Fix, it's an online personal shopping service for people like me who OMG NEED HELP. You get 5 items at a time and have only a few days to decide what to keep and what to return.
Shall we begin reviewing my latest Fix?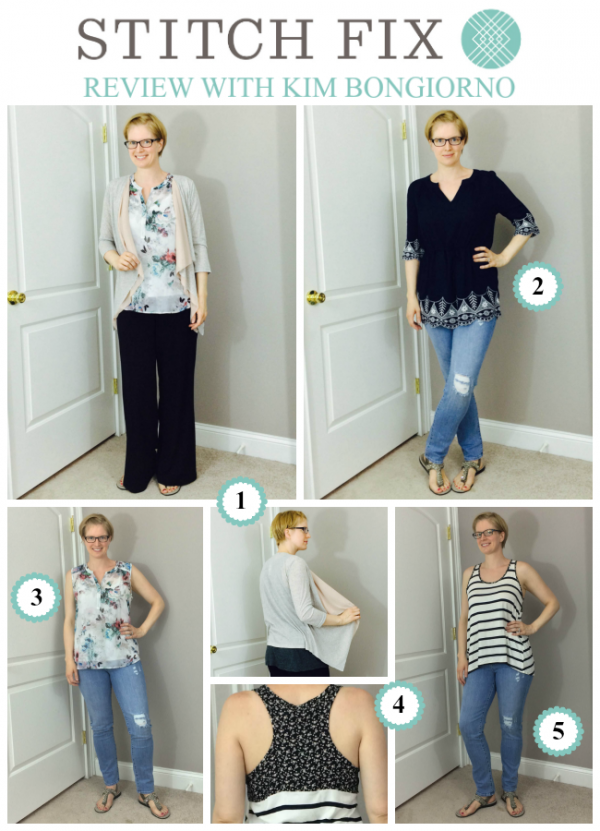 1. The Brixon Ivy Pinson Drape Cardigan $54
I was so in love with the Brixon Ivy Potina Floral Lining Drape Cardigan from my last Fix that I begged for more like it. This one is shorter and simpler (kind of a heather oatmeal color). I thought it would be boring and wash me out…then I put it on. LOVE. I wore it the day I got it. Because the lining is a similar color to my skin, I can wear this with pretty much anything. I could not be happier!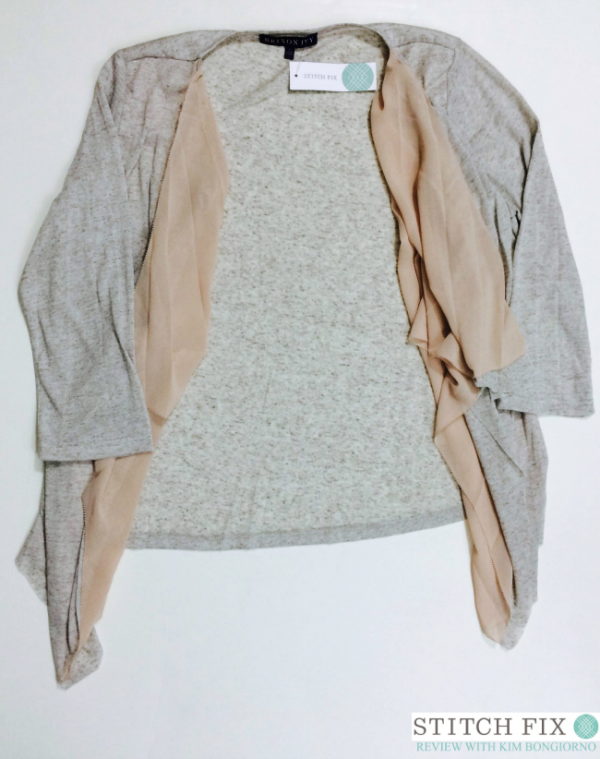 2. The Crescent Moon Rita Embroidered Tunic $58
I sighed in disappointment when I saw this: my hippie days (well, dressing like a hippie days) are long gone. But I'm a sport so I put it on and oooooohhhhh yeaaaahhh. It is so comfortable, flattering, and I don't even think I need to wear a tank/cami under it. I liked it with the jeans from my Fix (see below) as well as with my go-to pair of (Clearance rack) Paige High Rise Bell Canyon dark denim jeans. I already see myself living in this thing come early Fall.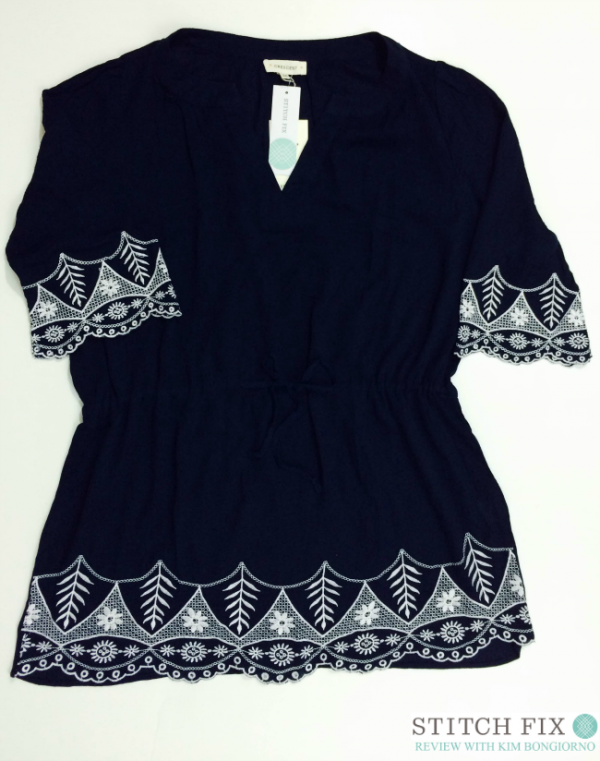 3. The Daniel Rainn Vivienne Split Neck Blouse $68
I usually do not do floral, but this airy, well-fitting top is the perfect balance of casual and easily-dressed-up. At first I almost didn't take it because of the white spaghetti-strap camisole that comes with it (it kept sliding off my boobs!), but then I tried it on with my own nude scoop-neck tank-style camisole like this one and it made all the difference for me. I loved it with my Calvin Klein wide-leg jersey pants, my Paige dark denim, and could even go more structured with dressier trousers, a slim belt, and jacket. A total win.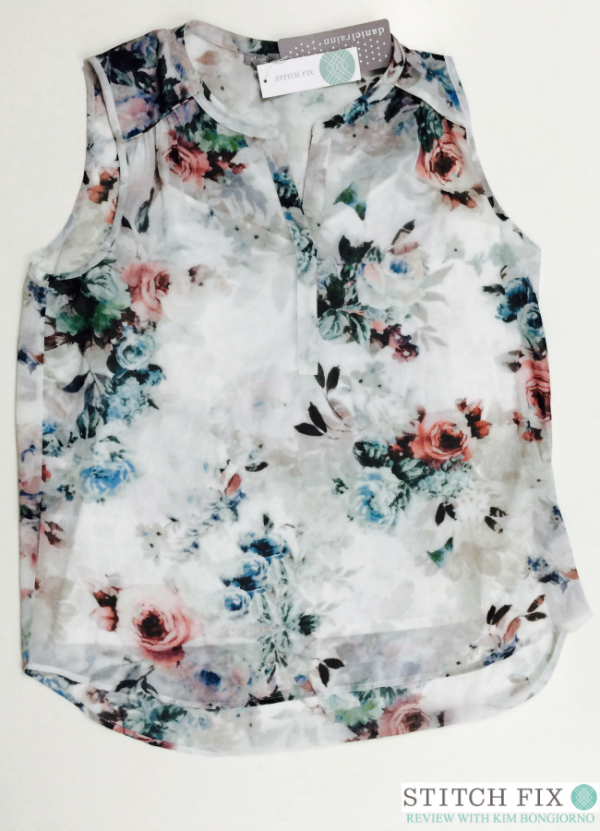 4. The La Lis Parsons Knit Top $38
Because I was trying this on while dealing with an 8yo who wanted to "help" with her sticky fingers and constant VERY LOUD TALKING, at first glance I assumed this was navy and wasn't super interested. I have tried the navy-stripe thing and it just never worked out for me. BUT it's actually black stripes and (surprise!) a black floral print on the back halter part and trim. This swingy top is ridiculously soft, and went well with my wide-leg pants I mentioned above. Oh–and with a good nude bra, it's not as sheer as it seems it would be.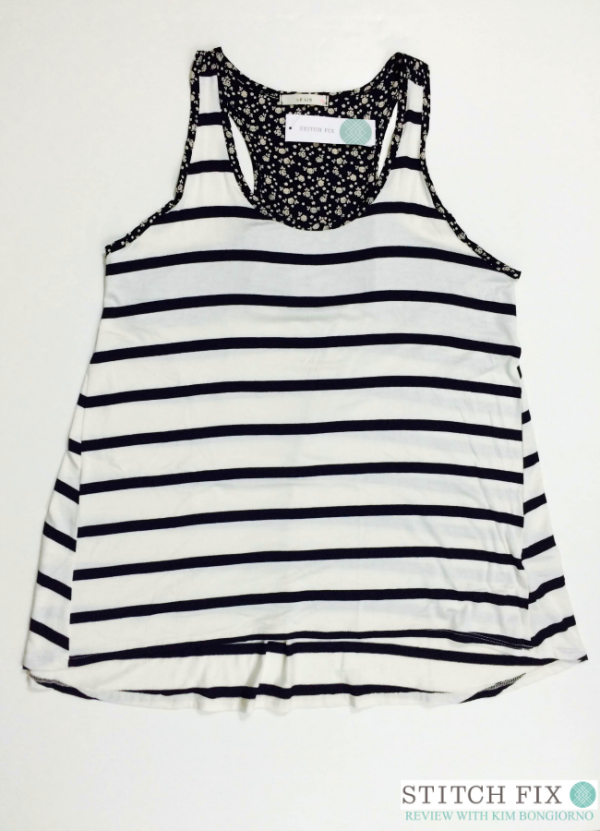 5. Kut from the Kloth Kate Distressed Boyfriend Jean $78
Now, I never had a boyfriend who wore his jeans this snug or cropped, but maybe I'm just not experimental enough. I will admit that I do not like light-colored denim, short denim, or tight denim, but I gave these a chance because I have other Kut jeans I have adored for years. These were pretty comfortable despite my assumption they'd feel too restrictive, and they did look good with tunics—the Rita one above and others I own—plus with the Buy 5 Discount it'd be the same total order price whether I kept them or not. I'm still not 100% sold on them as something for me, but I'm trying to work them into my wardrobe (rolling them up a little like I'm apparently supposed to) and be a little less, well, boring. We'll see how much I love them by the end of summer.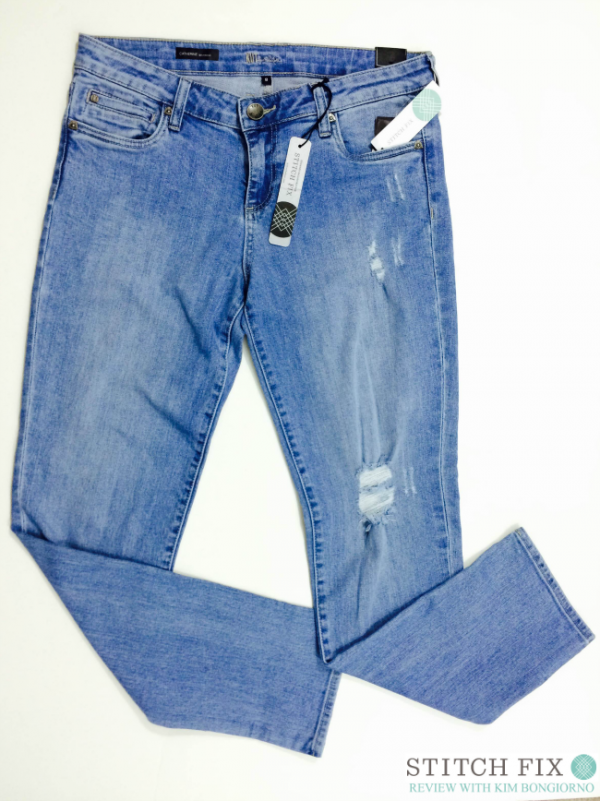 As always, I promise that I'll photograph myself in Stitch Fix outfits and share on Instagram so you can see them in action. I might even remember to use the styling inspiration cards that came for each piece this time!
Again, this was a really good styling. I didn't know it'd be such a success when I opened the box—there were some risks in there—but 4 of the items are big wins for me and the jeans just might win me over after I get used to something different. And here's the cool thing: with the 25% off Buy 5 Discount and my $25 in credit, I only owed $197 for all 5 items in the end. Not too shabby, considering how flexible most of these items are.
If you'd like to try Stitch Fix with me, please sign up here with my referral link. This helps me earn a little extra $$ towards my next purchase. Also, if there is something in this Fix or any others that you want to try, you can ask for it by name in your notes to the stylist (plus I have 6 tips on how to get the best possible results that you can see here before you schedule your Fix). Thanks!
Stitch Fix Review, January 2016
Stitch Fix Review, November 2015
Stitch Fix Review, September 2015
Stitch Fix Review, August 2015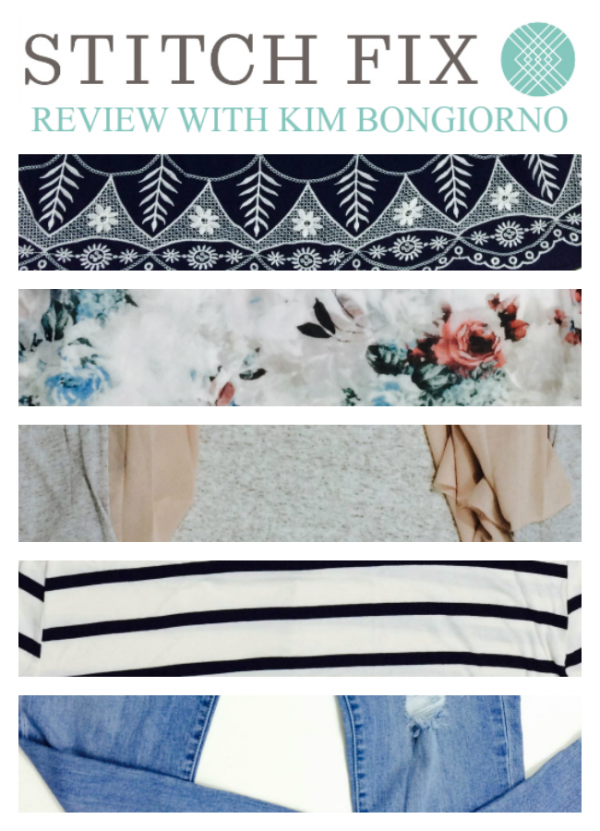 Comment with Your Facebook Account
Comments