Since my first Stitch Fix experience was so fun, I scheduled my second shipment right away—and it's already here!
If you aren't familiar with Stitch Fix, it's an online personal shopping service for people like me who OMG NEED HELP. You get 5 items at a time and have only a few days to decide what to keep and what to return.
Shall we begin?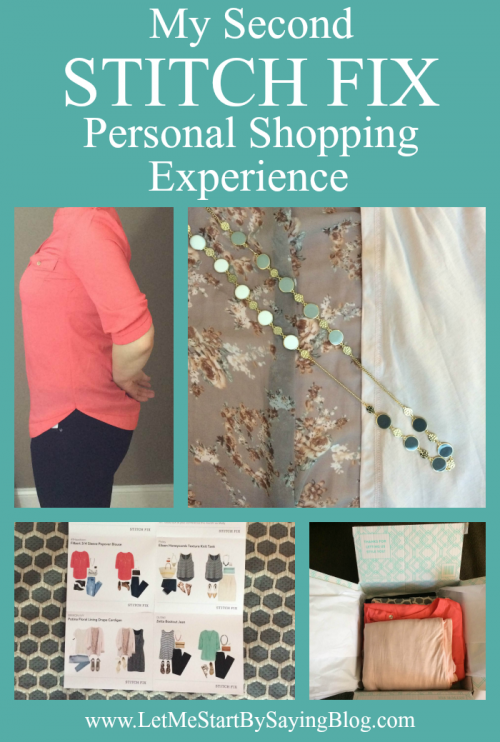 Just like last time, I'm numbering the items below and describing what I think of them so you can help me decide what to keep. I really do appreciate your feedback!
And since I know some of you will ask, the gloriously sparkly peep-toe espadrilles I'm wearing in the photo can be found here—and yes, they are totally affordable and comfortable.
I can't wait to hear what you think!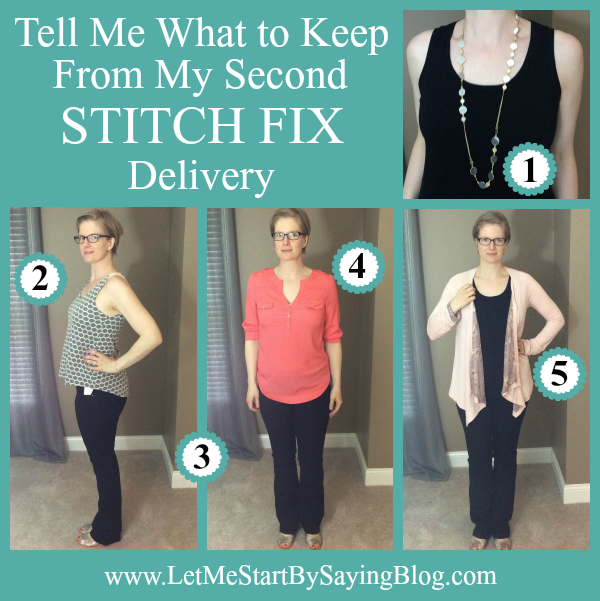 (Oh, and I'm deliberately not looking at or sharing prices yet because I am always too swayed by it. I'm trying to focus on how much I like/want the stuff before I check out the price tag. If you want to know, I can share them with you soon!)
1. The Tillman Enamel Circle Necklace
This long necklace is gold with white and grey silver disks. One side of me says that it's a nice basic necklace that will go with everything. The other side of me says that if I don't love it, I shouldn't get it. What do you say?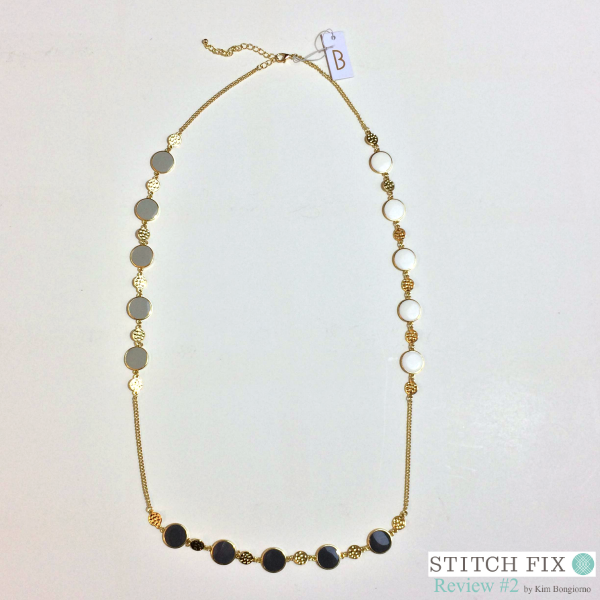 2. The Eileen Honeycomb Texture Knit Tank
Though I'm not really a pattern person, I loved the grey and white pattern and fabric on this one (you can see a close-up in the first picture above). It's even got a cool texture to it! And the top of the straps have a peachy little strip of fabric, which adds something to it. Now, I do normally like tops that are a little longer in the back, but my concern is that it is TOO short in the front. Otherwise it is comfortable and kind of fun. What do you think of the length?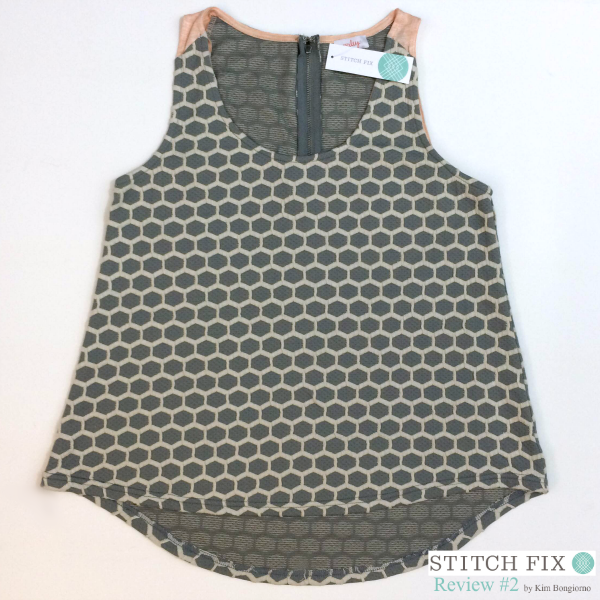 3. The Zetta Bootcut Jean
The inseam is good, the leg fit/cut is good, the pockets make my butt look good (yes, my friends insisted on a butt shot for all future Stitch Fix pants decisions), buuuuut…the front rise is a bit low. Remember that I'm tall and normally wear a 9″ rise! In fitted tanks this caused a little muffin top action, and when I sat down there was a bit of breezy crack. But do the inseam and look of it counteract those problems? Should I get these black jeans and stick to longer, flowy tops?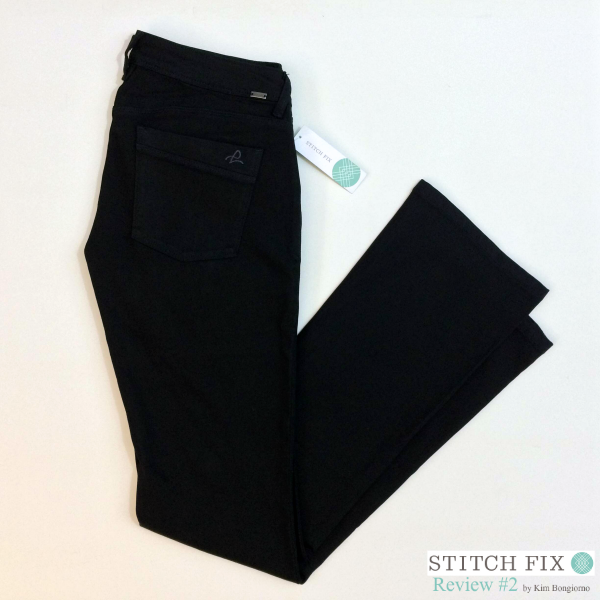 4. The Filbert 3/4 Sleeve Popover Blouse
This pinkish-mango color is awesome (the photo doesn't do it justice). The sleeves have this cool almost ruching on them that adds a less-casual feel to it, and the length is good. I do think I need to size up from a medium (in the picture) to a large, though. Thoughts?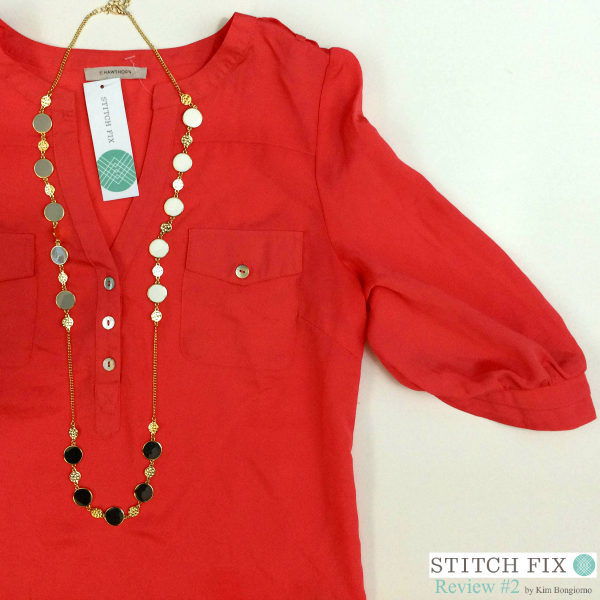 5. The Potina Floral Lining Drape Cardigan
Originally I worried this blush-colored cardigan would wash me out, but in person it's just pink enough to flatter my fair skin. I LOVE IT. It is super comfortable, the lining inside is floral but the colors are neutrals so it can be worn with anything. Even the cuffs are lined. And holy crap: the sleeves are actually long enough on me! WOO HOO! I kind of want to marry this cardigan.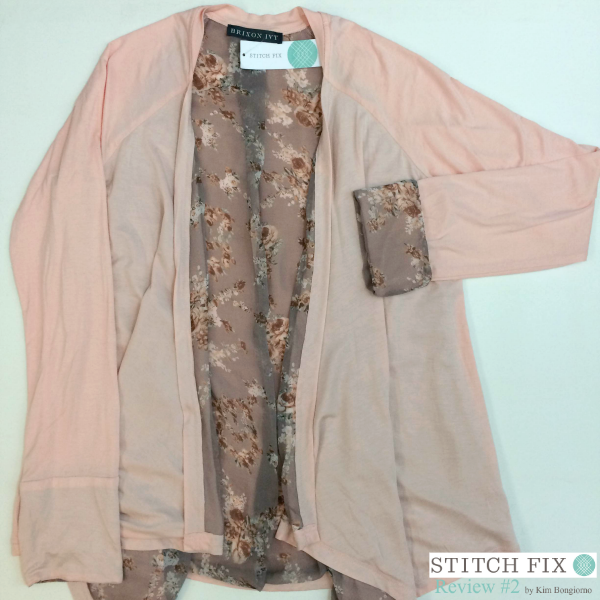 I only have a few days to make my decision, so please chime in! What should I keep? What should I send back? HELP MEH.
And just like before, I promise that the items I do keep I'll photograph in use and share on Instagram so you can see your advice in action.
Overall, I'd say this was a really good styling. I know that might sounds strange, considering that I'm not immediately in love with everything, but I at least LIKE everything. My main concerns are fit (3 of the clothing items) and need (the necklace). The colors were perfect, the patterns were great, the pieces both tied together and would work in my wardrobe. I could wear them all both at home while working, and dress them up for events. That is exactly what I asked my stylist for, and she totally got it.
If you'd like to try Stitch Fix out with me, please sign up here with my referral link. This helps me earn a little extra $$ towards my next purchase. Also, if there is something in any Fix I've shared on my blog that you want to try, you can ask for it by name when saying I referred you. Thanks!
Stitch Fix Review, January 2016
Stitch Fix Review, November 2015
Stitch Fix Review, September 2015
Stitch Fix Review, August 2015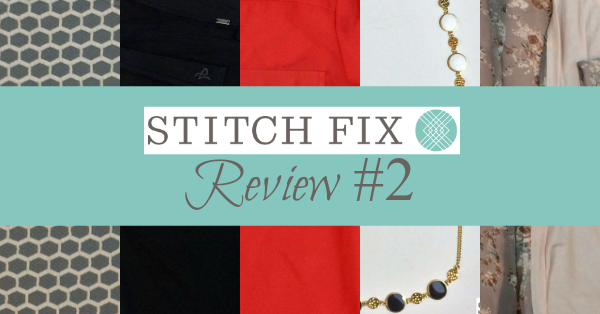 Comment with Your Facebook Account
Comments