I confess, I have been eyeing Stitch Fix for a loooong time, trying to decide whether it could possibly work for me.
If you're not sure what that is, it's basically a website where you sign up, give info about your style, budget, and body, and a personal stylist sends you five things in a box (clothes and accessories) for you to try on and decide whether to buy.
I recently saw my friend Nikki in YET ANOTHER AWESOME THING she got from Stitch Fix, so I took the plunge. When I announced this on Facebook, a bunch of you asked for me to honestly tell you about my experience. So here we are.
Here were my main concerns:
1. I am tall. 5′ 9 1/2″ so technically that isn't "tall" but I am too tall for regular sizes so it kind of sucks to be me when buying clothes.
2. I am boring. I don't really like prints. I know what I don't like right away.
3. I am thrifty. I work hard for my money–and my husband busts his ass to earn his–so I don't like wasting it. If I do not LOVE something, I won't buy it. And I don't like paying a lot for clothes, which I know is dumb because quality costs more. I'm trying to get over this.
Here is how it works:
1. I filled out a long questionnaire about the size/shape of my body, told them what style I prefer, what needs I have, etc.
2. I filled in the essay portion with more info about my likes/dislikes/needs/concerns. This time around, I specifically told them I have some book signings coming up and will be speaking at BlogU conference, so though I am a WAHM writer, I do need some comfortble things to wear that are a bit nicer than my usual jeans-and-sweaters get-ups.
3. I shared links to my fashion Pinterest board to help guide my stylist. I pinned some stuff from the Stitch Fix Pinterest boards there, too, to increase the chances of me getting some items she might already have her hands on.
4. I gave my credit card info, for $20 gets charged right away, which is credited toward your first purchase.
5. And then I waited.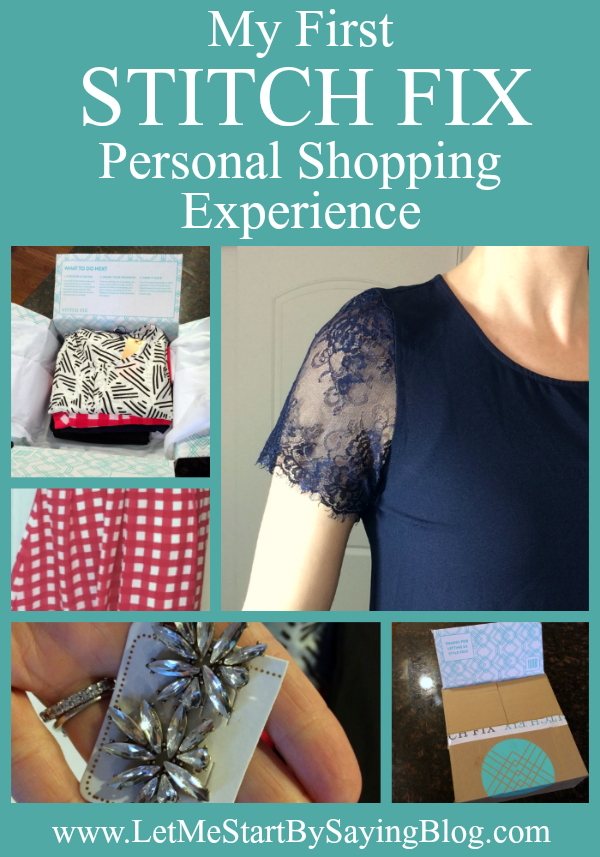 Now it is here, a few days early! And I need to decide what to keep.
Want to help a girl out?
Here are the items all numbered, and below I'll describe them. Let me know what you think!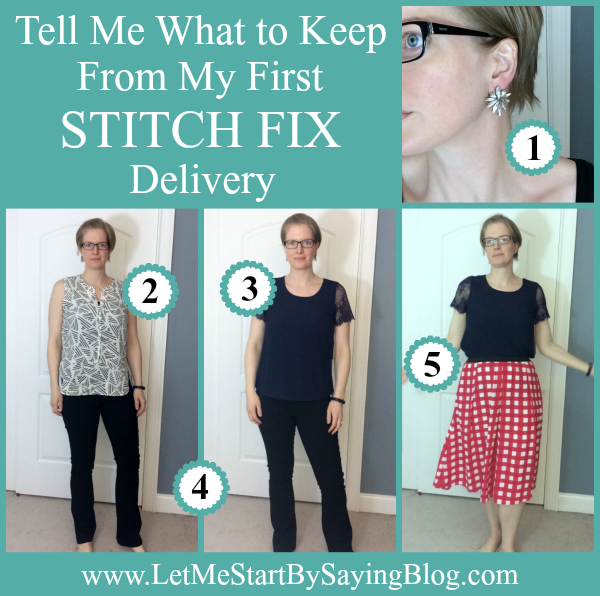 1. The Earrings
These things are glorious. I think I actually found them on the Stitch Fix Pinterest boards, and they are just as fab in person. Sure, I'll be wearing these at fancier occasions like book signings or speaking engagements, but cripes they make me happy!
2. The Black & White Sheer Top
It's comfortable, but I'm not keen on patterns and and unsure on this one. Am I being too boring? Is it more flattering than I think it is? Advice, please!
3. The Sheer Navy Top
The lace on the sleeves is divine (you can see a close-up of it in the first photo in this post). BUT…is it too short for me?
4. The Black Pants
They go on like yoga pants but are sturdier and very comfortable. I'm a little worried about them being a tiny bit too short, but I think they could be good with flat sandals. Or maybe I am too much of a nun for tight pants and need to stop being such a prude. Maybe?
5. The Skirt
WTF? I said no skirts, and the stylists even mentioned in her/his note to me in the box "please don't kill me but…" when mentioning the skirt. It is unflattering and so not me and I directly said NO SKIRTS. But this tablecloth might look cute on someone else (???) so I figured I'd share this awful photo of myself looking awful in this skirt I didn't want because I like full disclosure. NOPE ON THE SKIRT.
I only have a few days to make my decision, so please chime in! What should I keep? What should I send back? HELP MEH.
And I promise that the items I do keep I'll photograph in use and share on Instagram so you can see your advice in action.
In the end, I have to say for the first try I'm pretty impressed with what was send me (minus the skirt). I'll definitely keep trying them out. Are you interested in seeing more of my shipments as I get them? If so, I can post each month as I do.
If you'd like to try Stitch Fix out with me, please sign up here with my referral link. This helps me earn a little extra $$ towards my next purchase. Also, if there is something in this Fix or future ones that you ant to try, make sure you ask for it by name in your order. Thanks!
Stitch Fix Review, January 2016
Stitch Fix Review, November 2015
Stitch Fix Review, September 2015
Stitch Fix Review, August 2015
Like this? Subscribe today.
Find me on Facebook & Twitter.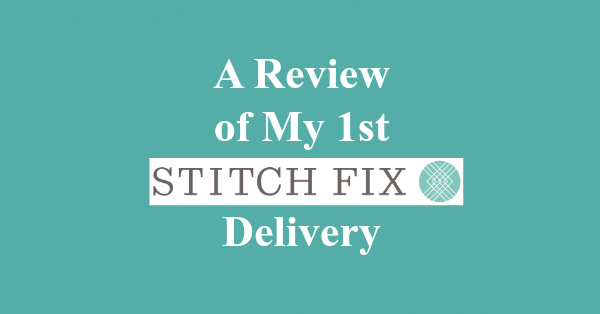 style="display:inline-block;width:300px;height:250px"
data-ad-client="ca-pub-0278565167894652″
data-ad-slot="8703277301″>

Comment with Your Facebook Account
Comments