About a year and a half ago I found myself sitting at a table with Ernie Banks the day he got home from receiving The Presidential Medal of Freedom. He was a regular at my in-law's pizza place in Chicago, but for some reason we kept missing each other during my family's visits there.
Until that day.
I'm not one to get star-struck when meeting famous people. Yes, I knew who Mr. Banks was, and truly respected that, but he was still just a man I had yet to get to know, personally. And to be honest, it didn't start off too well.
Within minutes of sharing a table with me he suggested I stop working and focus on the kids, especially since my husband was able to support me. Being who I am, I bristled at the comment. I could see my husband and father-in-law, who know me all too well, standing on the other side of the table, boring their eyes into me thinking Oh my God Kim this is Ernie Banks, please let that comment slide. So I did.
Okay, no, I didn't. I politely told him I loved being a writer, I loved my job, and it did my kids good to see that. He looked down at his hands and told me a little about his kids and I quickly understood where that comment came from; he loved kids so much he couldn't imagine why any parent would choose to not be with them all the time, if they could.
I dropped my defenses.
He ordered us some wine.
Mr. Banks (yes, I'm incapable of calling people over 60 by their first names) peppered me with questions about myself, my work as a writer, where I'm from. He'd turn and watch my kids "working" in their grandparents' restaurant, commenting on how good they were. And I mean he really looked at them. Watched them with a smile. He took the time to get to know me, enjoy the moment we were in together. He was talking about his own kids again when a man politely interrupted us. He had something in his hand.
It turned out that man had seen Mr. Banks play ball as a kid. As he told his story you could see his face light up like a child's as he explained what this baseball hero meant to him. He shyly opened a magazine—Sports Illustrated, I believe—and pointed to a page with a picture of Mr. Banks in it saying, "I was at this game. I can't believe I saw this picture and then you were in here. I wouldn't have bothered you, otherwise."
Mr. Banks reached for the magazine, took it out of the man's hand and showed me the picture. I smiled and said, "You look so handsome!" He laughed and remarked how all the ladies thought so, then signed the magazine without even being asked. When he handed it to the man, he shook his hand and asked if he had any kids. The man said yes, and Mr. Banks said, "Cherish them when they're young, enjoy every minute of them because they are the most important thing. They really are more important than anything else."
The man practically floated out of the restaurant.
Over the next few hours as we covered topics such as what sports our kids did, what he and Jackie Robinson did when they hung out, why I'm a vegetarian, what it was like to be a 17-year-old on the Negro American League for a year before getting signed as the first black man to join the Chicago Cubs, our favorite places to travel, and the work he's doing to make sure schools are helping kids love science and math more, we were interrupted by my kids—who he always welcomed and engaged with—and a variety of people either congratulating him on his Medal of Honor or wanting to meet him because they were a fan. He was funny with the kids, signed autographs for anyone interested, and had a sincerity in the more serious moments that gave me quiet pause. He was like a magnet of positive energy that made everyone want to be closer to him.
By the end of our time together I was completely won over by him, and he decided to encourage me to continue my career as a writer, after all.
Last night my husband got the call that Mr. Banks passed away. I keep rolling over that day we had together in my head.
I can't remember all the details of all the stories he told me that day. I can't remember how many times I saw him after that during our visits to Chicago, or what we talked about then.
What I do remember most about Mr. Banks is that he was someone who recognized that life was both difficult and full of promise. That hearts can break but lessons can be learned. That when you have a moment, any moment, that you are enjoying, whether it's having the President of the United States put a medal on you or watching adorable kids ask people if they need a refill on their iced teas, you should stop and feel it, appreciate it, savor it.
These moments, big and small, are special, so hold on tight while you can.
These moments might never come again.
Like this? Subscribe today.
Find me on Facebook & Twitter.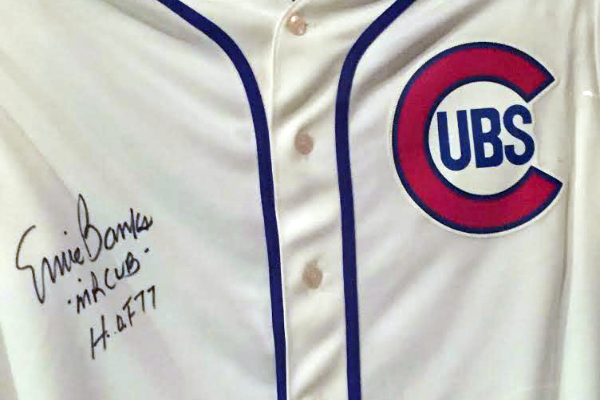 Comment with Your Facebook Account
Comments