There are a surprising number of photos of me with goats as a child.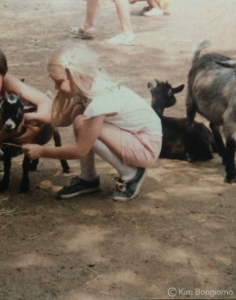 My family never flew anywhere on vacation. We took road trips. 
Everyone piled into the VW Rabbit or, later, the station wagon with the peeling wood sticker on the side, and my father drove us on "the scenic route" (read: more trees) to military bases from New England to D.C.. We had no money tree to pluck from, so there was always a massive cooler of sandwiches and Diet Pepsi taking up the entire way way back of the car. Rather than hit diners, we'd picnic at mealtimes (read: eat on the side of the road by aforementioned trees) to save money we needed to spend on gas (did I mention the station wagon was bigger than our house?).
Along our family road trip we'd inevitably pass a zoo. Mom would take pity on my youngest brother and I, insisting we pop in to check out the animals–but only at the most pathetic zoos that existed in the 70s and 80s.
Are there any photos of me by bears, tigers, giraffes, or hippos? Nope. For some reason, it was always me with a goat in a biohazardous petting zoo. I even have a great picture of my brother at age eight or so pretending to cut off a goat's head with a toy ax.
Ahhh…the memories.
When I was sixteen, my friends and I would take a very different kind of road trip. We'd head to the beach. Did you know there are boys at the beach? HECK YEAH.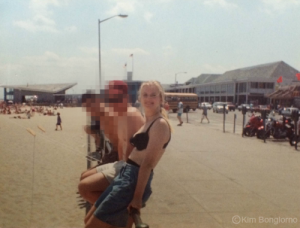 Why anyone would let their 16-year-old daughter and her friend drive an hour or so away to Hampton Beach to hang out unsupervised with random boys is a bit beyond me now, but, alas, I was a good girl and nothing (much) ever happened. It was just fun to pack up a car we borrowed from my mom or my friend's parents, blast "Life is a Highway" and eat Cracker Jack in between bouts of flirting with young gas station attendants in order to get a break on the price of gas. Road trips are expensive when you make minimum wage at Little Caesar's Pizza Pizza!
Heck, I couldn't even afford to take a single detour from my route in order to visit any goats! It was a travesty, I tell ya.
Later, in my twenties, road trips were a bit more purposeful. I'd drive up to the mountains to rock climb and camp with friends. I'd drive up to Canada to check out the food (and boys…again) in Montreal. I'd drive up to Newport, RI to look at really fancy houses I could never dream of living in, and eat delicious desserts while sitting on a dirty curb, slightly hungover from a late night of dancing, but relishing every cinnamony moment of it before hitting the beach.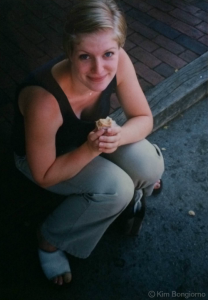 These days the only boys I encounter on my road trips are the one I'm married to and the one I have given birth to–plus my daughter as a tiny chaperone, of course.
My kids and I drive up to visit my mom a few times a year, and in between those visits, my little family of four spends a lot of time in the car doing both long and short trips.
I've talked before about flying with the kids, but I can sum up road trips with them in 3 words:
To survive make the trips more fun, I reward them for their patience with little treats, from their favorite snacks to new movies loaded on the iPads (GOD BLESS THE iPAD). I remind them that they better behaved they are, the more fun it will be for us all. And I make sure to run them like the little wild puppies they are, every few hours.
It's still fun, these road trips, even though so much has changed since I was a kid. Even though we can–and do–fly as a family, there's something special about piling into the car together for a long drive. These days I actually look forward to it (this might have something to do with the invention of seat belts and being in charge of the destination, but I digress).
I expect our first road trip of the summer to be any day now, which is great timing because this week I discovered a few things that should make road trips easier (I say yay!) and less expensive (my husband says yay!), and wanted to share it with you all. Sunoco and DebtProofLiving teamed up to write The Family Road Trip Survival Guide, a free e-book that helps you make your road trips more organized, fun, and fiscally responsible. Go give it a read–their tips are much better than mine, which basically sum up to "bring lots of bribes and perfect The Mom Glare."
A cool thing they mention in there is the easy-peasy chart on the Sunoco website called GasCardsCompare.com where you can compare the perks of over a dozen different gas cards (including their own rewards card, which offers an automatic 5-cent per gallon discount at the pump), making it easier for you to find the cheapest way to drive around taking pictures of your kids with goats.
Does it get any better than that? I don't think so.
Since we're still trying to decide where to take our family road trips this summer, I'd love some suggestions. Or at least some stories about road trips you've taken in the past.
Possibly you hit up some peculiar petting zoos, too..?
Like this? Subscribe today.
Find me on Facebook & Twitter.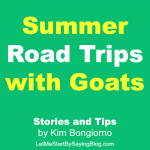 This post was sponsored by Mary Hunt of Debt-Proof Living and her partnership with Sunoco, but I think the help they're offering my readers is great because it increases your chance of visiting goats this summer. A win for everyone involved!
Comment with Your Facebook Account
Comments