I love games.
Board games like Monopoly, kid games like Rush Hour, TV game shows like Wheel of Fortune, the People Magazine crossword puzzle…you know, stuff that challenges the brain without hurting it too much.
Now that my kids are seven and (almost!) nine years old, we have board game smack-downs of epic proportions. We watch the new kid version of Win, Lose, or Draw and shout our guesses over one another like we actually have something at stake. The kids are really getting into it, enough so that they want to do some by themselves.
My son has already mastered Solitaire on the iPad and is learning Pokemon on his own (I can't figure that one out for the life of me), but my daughter needs something more her speed. She loves word searches, so I thought a crossword puzzle would be great! Only problem? The clues on the ones I found were too confusing.
So I made one on my own.
I figured that to make it fun, the kids need to have a good chance of getting the answers right–don't you agree? Here's my first attempt, which I'm pretty sure any kid would be able to sail right through, increasing her confidence level exponentially: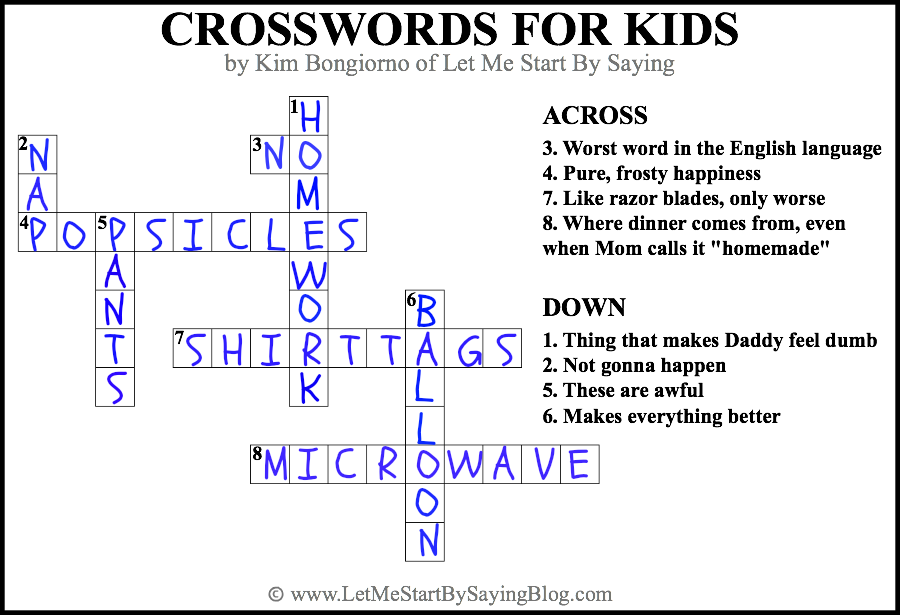 So, what questions would be on your kids' first crossword puzzle?
Want more? Subscribe to the blog.
Follow on Facebook, Twitter, and Pinterest.
Comment with Your Facebook Account
Comments