So I hear you want to attend a blogging and writing conference this summer to make you better at what you love to do, and to meet some of your favorite women on the internet, but The Tax Man snuck his hand into your wallet and took everything you've got.
Well, my dears, I have a little treat for you today.
The Faculty of The BlogU Conference is made of mothers, and this Mother's Day we are giving you a gift: we're throwing a Twitter Party full of prizes and laughter. The Grand Prize? A full scholarship* to attend BlogU 2014. This ticket covers 3 days of activities, 2 nights' rooming, 4 sessions, parties, plenty of coffee to keep you going, chances to talk to major players in the industry who will tell you how to get ahead, and an experience you'll never forget.
This Grand Prize kicks ass.
I'll be emceeing this Twitter party via @LetMeStart, and @TheBlogU will be hosting the whole shindig.
Just follow the hashtag #BlogU14 from 9-10pm EST on Sunday May 11th and jump into the conversation! There will be lots of newbies attending that night, and plenty of us to help you all keep up. Trust me, you will have fun if you join in–it's simply unavoidable!
Also expected to be in attendance and various members of The BlogU 2014 Faculty, including:
Susan McLean of @NoDomesticDiva
Bethany Thies of @BPMbadassmama
Tara of @YKIHAYHT
Amy Flory of @FunnyIsFamily
Janel Mills of @649point133
Kerry Rossow of @HouseTalkN
Paige Kellerman of @PaigeKellerman
Rebecca Gallagher of @FrugieBlog
Robyn Welling of @RobynHTV
Anna Sandler of @Anna_Sandler
Stephanie Giese of @BinkiesAndBrief
@NicoleLeighShaw will be behind @TheBlogU
…and more!
Now mark your calendars for Sunday May 11th from 9-10pm EST–and good luck!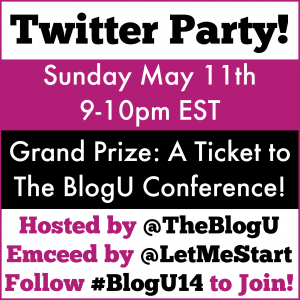 *One attendee of the Twitter party who answers the "Giveaway Questions" will be randomly chosen to win the Grand Prize. If the winner has not yet purchased a ticket for The BlogU 2014, one will be provided to her/him at no cost. If the winner has already purchased a ticket, she/he will be refunded the full price of the existing ticket. There is no purchase necessary to win the Grand Prize of this Twitter party.
Comment with Your Facebook Account
Comments