Looking for a good April Fool's Day prank to pull on your unsuspecting kids? I've got some right here for you.
But before you get started, please understand that the joke's on you: prank-pulling and regular kid behavior really isn't that much different.
(Click on the prank to see how to pull it via the original Pinterest source)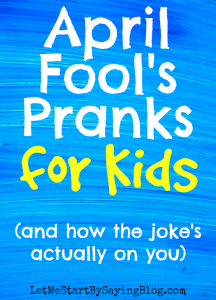 Real April Fool's Day Pranks vs Kid Reality
Your Prank: Eat vanilla pudding out of Mayo jar to gross kids out.
Kid Reality: Eats actual Mayo out of Mayo jar.
Prank: Doodle on your kid's face with washable marker as he sleeps.
Reality: He drew on the kitchen wall with a Sharpie before he fell asleep.
Prank: Make fake Martian birth certificate for kid to accidentally find.
Reality: Speaks in alien tongue anyway. Not surprised by new birth story.
Prank: Make fake animal poop out of brownies and eat it.
Reality: Has eaten real poop.
Prank: Put the corner of a dollar bill peeking out of a book, and only the corner.
Reality: While you were setting up that prank, your kids each took a $20 from your wallet.
Prank: Put googly eyes on all the food in the fridge.
Reality: Already scared of vegetables.
Prank: Put roll of duct tape on toilet paper dispenser.
Reality: Always uses the last of the toilet paper, making duct tape a reasonable option.
Prank: Put food coloring in milk so it pours out bright blue.
Reality: Secretly snacked on blue finger paint earlier today. Thinks he's just having seconds.
Prank: Pour salt in the sugar shaker and vice versa.
Reality: Pours salt and sugar mountains all over the food you just spent an hour cooking.
Prank: Line up stuffed animals as if they're waiting to use the bathroom.
Reality: Shows mad respect for the plushies, so pees on hall floor rather than cut in line.
Prank: Put meatballs in cupcake liners, frost, and serve them to kids.
Reality: NOT FUNNY, MOM.
Not a DIY-er? Try these, instead: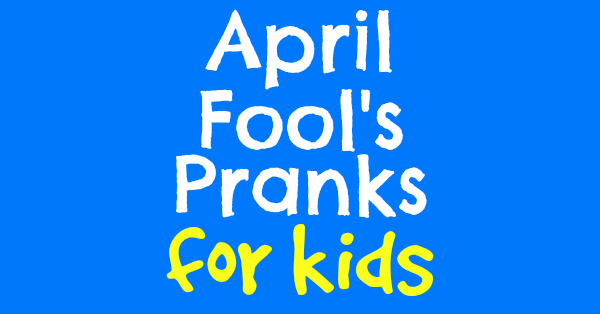 Comment with Your Facebook Account
Comments