I use Grammarly to 

check my grammar

 because sometimes I spell it "grammer" and I have the tendency to write long run-on sentences that use so much breath to read aloud I accidentally murder people who try to do so with my blog posts. (Sorry about that, dearly-departed readers.)
If you told me last month I'd be reading then writing a review about a book that touches on the women's right to choose, I would have laughed at you.
I don't read books about that stuff. I know where I stand.
And yet, here I am, because Ann Ormsby's The Recovery Room is so much more than a quick blurb can do justice.
This fictional novel isn't about defining, defending, or challenging a law; it's about the stories behind the women and men who have a decision to make.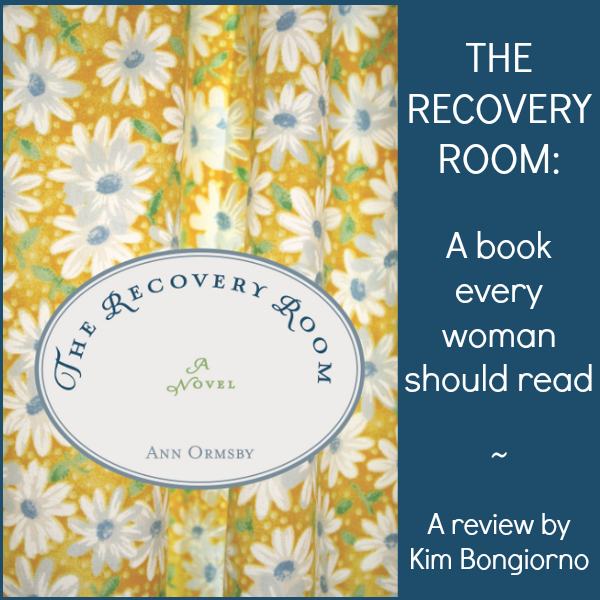 It's about how even if they've always thought they knew where they stood in their beliefs, being in the thick of it challenges everything.
It's about how the three women who have unexpected pregnancies have much more going on in their lives than just that. Clara's a teenager whose mom is too busy dealing with her autistic sister to handle any other drama; Pia fears her abusive husband's intentions for their daughters, and Loren's beloved husband just lost his job, making it almost impossible to pay for their children's current college tuition.
The fact of the matter is that nearly 1 in 3 women in America will have had an abortion by the time she is 45 years old. You will likely have known someone similar to one of the women in the story. You might see yourself in the story, whether as one of the women deciding what to do about the unexpected pregnancy, the friends and family around them, or others in the community.
Though the novel is fiction, the human experience played out on every page–including heartache, fear, and anger on both sides–makes each person's final decision feel real.
Though the novel deals with a controversial topic, it does so with a delicate hand, making it an easy read that carries you through, wanting to know more about everyone you meet.
With rich imagery and a cast of complex characters, Ormsby takes the reader to Litchfield, New Jersey, where a demonstration is being planned at a local women's clinic. You will learn about how each character's past and present are intertwined with the next's, and why they play the part they do in the planning of, fighting against, promotion of, or avoidance of the upcoming demonstration. Politicians, police, neighbors, socialites, family, old friends, and the media all come into play, building a tension in both the quiet moments and riotous scenes that keeps you riveted to the final page.
And after you get to that final page? These characters will stay with you; their struggles and hope having brought them to life in your heart.
You will then understand that it's not just about the decision; it's about the journey.
Ann Ormsby is a freelance writer with a master's degree in journalism from New York University and a bachelor's degree in English and Writing from Drew University. Her articles have appeared in The Newark Star-Ledger, The Huffington Post, njspotlight.com and The Alternative Press. Her short story "Wounded Enough" was published on hackwriters.com and her story "Opening Night" was shortlisted for the Able Muse Prize for Fiction. The Recovery Room is her first full-length novel.
Learn more on AnnOrmsby.com and follow her on Twitter @OrmsbyWrites.
WIN AN AUTOGRAPHED COPY OF THE THE RECOVERY ROOM
OR BUY YOUR COPY ON AMAZON TODAY
Ann Ormsby's The Recovery Room is on Amazon.com.
Comment with Your Facebook Account
Comments