Today is my birthday.
Yes, I'm one of those people.
I love celebrating it. I get it. I'm glad I made it this long, and look forward to my next birthday.
Today I'm going to take cares of what I gots to takes care of, but then I'm going to open the gift my mom mailed me, hang out with friends, and then go to my annual Birthday Dinner with the Ladies tonight. There will be cupcakes.
I'm now 38. I still feel young and lucky and happy because I have almost 4 decades under my belt, a good man by my side, and crazy kids that keep me laughing.
I have experienced enough sadness, loss, heartache that I can fully appreciate the good, the love, the wonder of every day I get.
I know who I am now, better understand who I used to be, and look forward to who I have yet to become.
I'm at a good point in my life where I don't have all the answers, and that's ok. I'm imperfect but trying. I'm dealing with Life's lemons but still enjoying the ride.
And I have learned to allow people to connect with me more than I ever did when I was young and afraid. I allow myself to be vulnerable, to experience, to reach out – even when I have no guarantee that someone might reach back to me. I am living and grateful that I'm here at 38.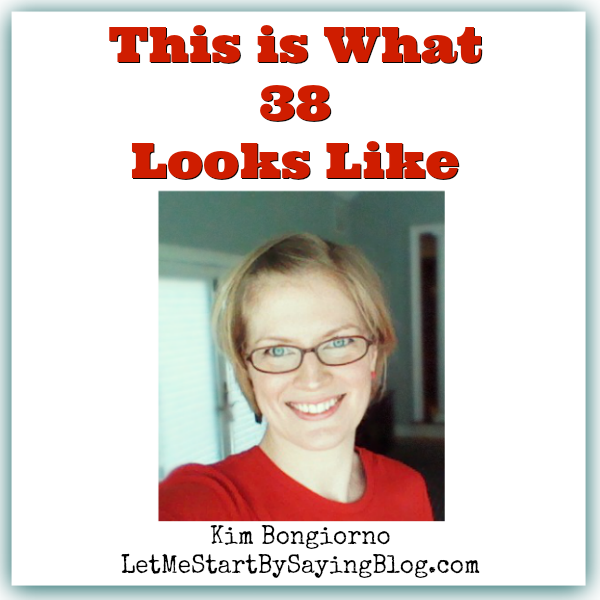 So, while I'm Out There celebrating and baking cupcakes, I'm going to leave you with some of the questions I was asked last night, after I told friends and readers that they could ask me anything.
Oh yeah. There were some doozies.
I hope you enjoy learning a little more about me. May you, too, find your way to a cupcake today!
Jeni Brown In average, how much wine do you go through weekly?
I actually don't drink much. I love me some red wine (particularly a nice spicy red zin), but I either get too tired to bother, or open a bottle, have a glass, then never get to the bottle again. I'm a big wine-waster, and it is a sin.
Brenda Ganschaw Wolf If you could go back and talk to your 20 year old self and tell her one thing, what would it be?
Take a typing class. OMG – please learn to type properly, girl!
Trisha Simões Do you shower immediately after you work out, or do you wear your dirty workout clothes the rest of the day, let the sweat dry and grow pimples on your ass, like me?
I NEED to shower after I work out. Even if it's just yoga. I have such sensitive skin, if I don't I get all blerrghablahhh. (<– that's a real thing)
Laurie Reinders Do you ever pee alone?
I'm pretty fast, so yes. I also have no issues with shoving small children out of my way for the chance to lock the door between me and them.
Isabelle Mason What's the darkest spot of motherhood you've endured? Brightest?
When my son was just 1 year old and I got pregnant with my daughter, I was violently sick. I was so mad at my body, I couldn't take care of my son, it felt like I was pregnant foreverrrrr.
The brightest are moments that happen in a flash – seeing my kids be so themselves. Also, about a year ago a woman told me that she witnessed my daughter with her son (who has special needs – I'll leave it at that) in a way that encouraged him to do things he didn't think he could. She did this on her own, and it worked. The mother witnessed this, but didn't tell me til much later. I was so proud to hear this.
Anara Kessler If you had married the first person you kissed, what do you think your life would be like today?
My first kiss was a boy named Jay in 1st grade who had the same birthday as me. I would have likely been stuck in Massachusetts, doing who-knows-what. AND I'd have to share my birthday every year (BUMMER).
Melissa Sandru Robinett What was your favorite part of your 30s? 20s? Teens?
Thirties – so far has been seeing my kids get more independent as I sprout the career I've always wanted – the three of us doing well on our own, being more ourselves.
Twenties – Meeting and falling in love with my husband.
Teens – Getting to drive. I loved the independence of a car. My best friend and I would drive and drive.
Tara Carr Witter What is your favorite book?
IMPOSSIBLE to answer. I have so many that were amazing experiences. Some that stick out in my head right now are Lovely Bones, Perks of Being a Wallflower, the Harry Potter series, The Fault in Our Stars, Prodigal Summer was luscious, Still Alice. Favorite poem: Beowulf (yes, it is 2000 years old). Favorite short story: Where are you going, where have you been?
Brandy O'Connell When did you know 100% that you were done having children?
I knew when I had my 2nd daughter in my arms, that I had all my kids.
Anna Whitney Luther If someone paid you $20,000, would you be their surrogate for twins?
Nope. My body can't be trusted when it comes to pregnancy.
Jen Hollywood-Showell Your most fav and least fav beauty products and why? 
Clarisonic made my skin what it is today. Seriously. It is amazing.
Urban Decay's eyeshadow base – does the job, every time.
Maybelline Lash Blast mascara – the only one that doesn't smudge, and it doesn't irritate my sensitive eyes.
Revlon Color Burst Lip Butter – a sheer, comfortable way to wear color without feeling lipsticky. I have maybe 8 colors!
Least favorites: any other mascara, smelly cosmetics, thick face masks. Blech.
Allyson Burns How is your butt?? All healed?
You're the only one who asked about it! It is in pristine condition, thank you very much. Working properly and well-maintained.
Amy Martin Bernard What's your work/life balance look like? Do you hire help / outsource? If so, how much? What have you found works/doesn't being a WAH/SAHM. How do you do 'it all'?
My kids are now at school full day, so I work in my home office during that time. I have a cleaning lady come every other week, but that's my only "help." I have to prioritize and since I'm sacrificing in the name of something that I really really want, it doesn't feel like a sacrifice. I want to be a novelist so bad it hurts. I'm willing to give up seeing friends during the day, give up the rock-hard gym body I used to have, give up other stuff I enjoyed, to get to it.
My "all" also changes – I pick my "all" and focus on it, so the stuff I can't/don't do is no longer on that list and I don't think twice about it.
Teresa Zetwick Everybody says that they don't have regrets but I think that's a bunch of bologna…. so don't call it a regret, what thing in your life do you wish you'd not done or done differently….without all the "my whole life would be different," just pretend you could do it different or skip it all together and still be where you are now.
College. I want a degree.
Sally Giffin Cook Would you ever share the details of your 9/11 experience in a blog/story?
I do so here.
Sue Rafferty Who would win in a battle to the death between Dora and Caillou and what would be the winning tactic?
Caillou would annoy Dora to death. Yes, she'd give it a go to beat him to death with her massive head, but his voice does terrible things to one's life force.
Rebecca Tipper Gallagher Question: who would you rather be stranded on an island with, Kim Karadashian or Joan Rivers?
Joan – at least she'd make me laugh. Though, if food was scarce I could kill KK and eat her meaty bottom for like a month.
Jennifer Schario Hicks Who was your go-to character to call out in cartoon freeze tag?
Wonder Twins.
Patti Ford – Insane in the Mom Brain Does knowing Patti (who is 42) give you hope that you (like her) will be even more awesome as you age?
Obviously, Patti is an inspiration. Always.
RachRiot Will you open this jar of salsa for me? You look freakishly strong.
I am, in fact, freakishly strong. My friends count on me to move furniture and lift things for them on a regular basis.
Tracy Momaical How many licks does it take to get to the center of a Tootsie Pop?
Can't test this to get real data, since I'm allergic to chocolate.
Leigh Baker Does pee come out when you sneeze?
Nope – It's the one part of my body left unbroken from motherhood & age. The one.
Ellen Gale Williams If you were forced to be offline for one month, how would your life be different?
I would have stacks & stacks of notebooks filled with stuff I wrote and now need put online. I'd drive my husband crazy asking him to do research for me. I'd have OD'd on television.
Erin Dwyer Dymowski What's your favorite book for kids? For you? To gift?
I love the book Smile by Raina Telgemeier for tweens. I just gave Wonder to my 12yo niece and I think it transcends age.
I am really into YA right now. I can't wait to get my hands on the last in The Mortal Instruments series.
Lance Burson Before you took monarchial rule over the internet, what did you wanna be when you grew up? Are you planning to actually grow up? Does this line of questioning make me look fat?
I wanted to be a teacher or an actress. I think it's possible to get older and be responsible but still feel young. And no, you look divine.
Norine Dworkin-Mcdaniel Has it turned out the way you thought it would?
I couldn't have asked for more in these past 38 years. I'm thrilled. All I ever really wanted was to be happy and safe. I am both.
Melissa Lasko Ketchup or mustard? And what's the most helpful advice anyone has ever given you?
Rarely do I use either. And as for helpful advice, I'm deferring to my favorite quote by Steve Martin: "Be So Good They Can't Ignore You."
Allison – Motherhood WTF Do you find yourself sometimes making unintentional noises when doing physical things like getting up off the ground?
I grunt. I really need to work on that.
Anna – My Life & Kids What would you look like without a Clarisonic?
Anna Whitney Luther Have you discovered any new talents post 35?
None come to mind, but my kids ask me to do things sometimes and we all love when I can actually do it. They challenge me – like, by asking me to sew a Darth Vader costume for a sheep or make origami ninja weapons.
Kathy Glow Craziest thing you've ever done? Most boring thing? What ages were you doing those things and have you gotten more or less daring as you've aged?
Rock climb in order to get over a crippling fear of heights – I was 19yo. Boring? Hm. Can't remember. I'm still as daring – though I don't think I'd ever sky dive now.
Ilana – MommyShorts If you could go back to high school with the knowledge you have now, what is the first thing you would do differently?
I was more a grown-up in high school than I am now. I wouldn't really change much of anything.
Nicole Leigh Shaw How, specifically, has Nicole Leigh Shaw made you a better human being? Also, how do you handle facial hair at the sides of your jawline, I'm asking for a friend. A hairy, hairy 37yo friend who is actually me.
I am enlightened, a better writer, my hair is shinier, and my soul is complete.
As for my face fur, I trim it with cuticle scissors in between waxings (no joke).
Johi Kokjohn-Wagner Is there something that you thought you would have accomplished by 38 that you still haven't?
A college degree. I also thought I would have volunteered for The Peace Corps, but never did.
Teri Biebel Where did you get that giant wine glass and can I have one??
My mom found it at The Christmas Tree Shop.
Amy Bozza Where do you see yourself in ten years?
I want to be writing a novel a year, still in this house with my husband, with 1 kid newly in college and the other making good decisions as a newly-licensed teenager.
RachRiot What's the worst/meanest/ batshit crazy comment you've ever received on the blog?
I had someone ask me if my kid was mentally delayed because of her handwriting; someone told me I was headed for divorce; that my kids would be better off running away; and basically the usual "you're an asshole" stuff. Comments are FUN. 😉
Bethany McCormick Meyer What do you think about being a writer in the age of social media? Good place to be or bad place?
I have more opportunities because I can prove myself without a college degree…but there's also a lot more info for people to sift through before they can find me. It's a double-edged sword.
Dani Ryan I have THREE for you to pick from.  If you could be a man for a day, what's the ONE thing you'd like to experience? What's the worst thing you've ever done for money? If you could go back in history and have a drink with one famous person, who would it be and why?
1. I'd want to see what guys really talk about when they are hanging out, or just sit in silence like I imagine.
2. I dressed as Chuck E Cheese and danced at bday parties for kids.
3. I'd want to talk to Kurt Cobain to understand him better, Jane Austin to talk about people, and my Nana – who was famous to me.
And now? Cupcakes, for everyone!
Comment with Your Facebook Account
Comments