I'm in a giving mood.
I mean, it's the holiday season, right?
And I need to go to the Post Office like one million times over the next couple weeks, anyway, right?
So why not mail something to a few of you?
HERE'S WHAT YOU CAN WIN:
1 of 3 sets of autographed books…on which I will sign anything you want me to. Want me to put on some red lipstick and seal my message with a kiss? Will do. Want me to make up a haiku about potatoes? Not a problem. Want me to profess my love for you, despite the fact you're a stranger? Sounds good to me. 
I've always thought that autographed books personalized for the recipient were a wonderful gift. I bet whoever you give your copies to will feel the same way!
Set includes:
"You Have Lipstick on Your Teeth" and Other Things You'll Only Hear from Your Friends In The Powder Room – This is a best-selling, top-rated humor anthology that was the Hot New Release on Amazon immediately upon publication. My essay in it describes pregnancy, childbirth and those first few months of babyness in colorful (slightly insane) detail. 
Part of My World: Short Stories – A collection of original fictional short stories, all written by me. I've been blown away by the feedback readers have given me on this, for some of my blog fans aren't familiar with my love of writing fiction. There truly is something for everyone in here.
And to top it all off:
How about a $15 Amazon.com Gift Card for each winner? DONE.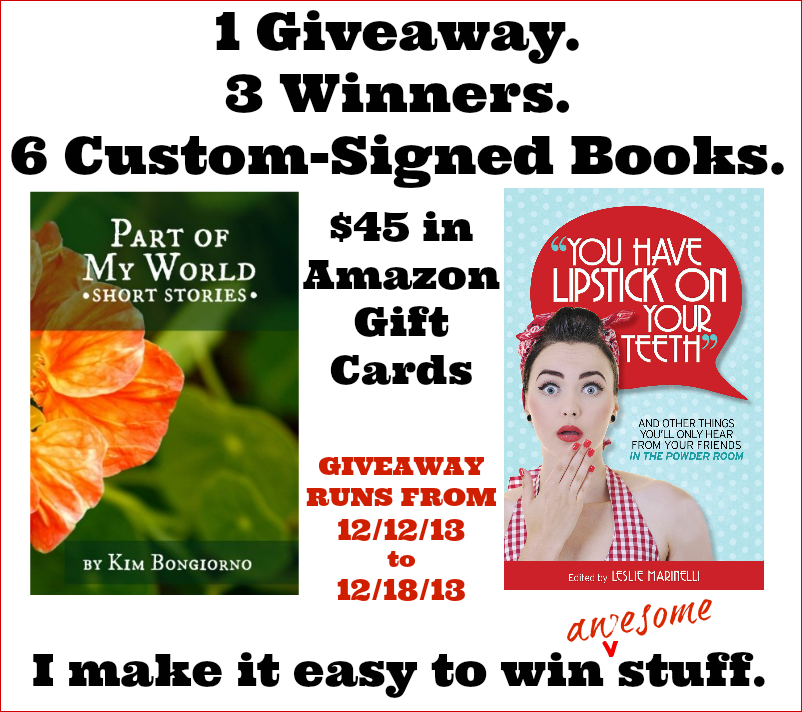 HERE'S HOW TO WIN:
Giveaway is open from Midnight 12/12/13-Midnight 12/18/13 to Continental US residents, only.

Use the Rafflecopter box below, which will walk you through the many ways to enter.

Bonus #1 – You can earn 5 bonus entry points if you already have a copy of either books & post a photo of yourself with it on my Facebook Page.

Bonus #2 – You can earn 10 bonus entry points if you sign up for my newsletter.
My goal is to mail the prize packages out in time for Christmas, so make sure to check your email on Wednesday, December 18th to see if you've won.
GOOD LUCK!
Comment with Your Facebook Account
Comments