Let's say you're at a party, and a real asshole corners your friend.
What do you do?
You cross that room, look him in the eyes, and say, "Hey, asshole, get OUTTA here."
You put yourself between your friend and the asshole, and after every bad thing he says you remind her, "He's a big jerk so don't let his claws dig too deep into the lovely person that you are."
If he won't go away, you simply stand by your friend and keep her company, make sure she's happy. Plop yourself with your back to the asshole, making her laugh, talking louder than him so she stays engaged with you, making her feel as comfortable as you can.
Now, let's say it's not a party, but it's Life and cancer corners your friend.
What do you do?
The same damn thing.
In February of 2008, a girl named Nicole walked into my home and my life. Immediately she became Nikki, and we became friends.
We've known each others' stories for years now, so it when it came time for her to tell me that she had cancer, I wasn't shocked – but I was still heartbroken.
So I stood by her.
Nikki is the kind of person that no one has a single unkind word to say about. She's funny and cool and approachable and smart and has legs that make men weep.
She is also brave.
Today she is sharing her story on Wendy Nielsen's blog. Currently kicking the ass of Stage 3 Triple Negative breast cancer, she took the time to sit down with me to answer Wendy's questions (love her, but the girl types like a turkey), in the hopes that it will educate and comfort and help.    
I'm lucky to have her in my life, and I think you'll feel the same once you get to know her.
CLICK HERE to read Light: Nicole Kramer.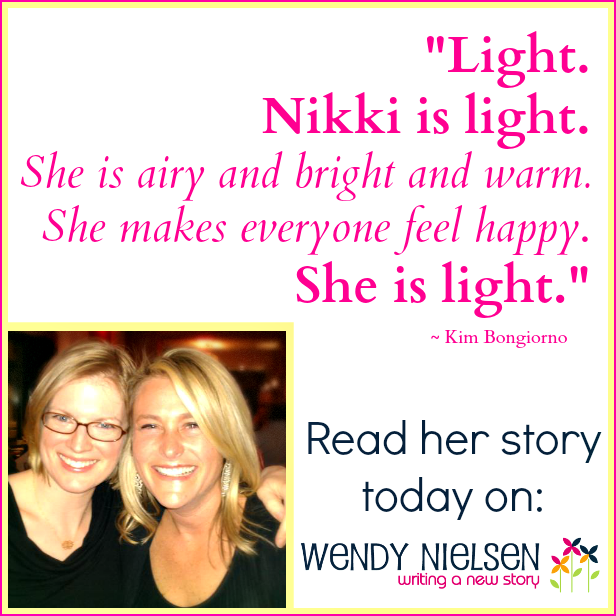 Comment with Your Facebook Account
Comments