I'm a little confused. This isn't really a sponsored post, but I did barter services to help offset the costs of getting some styling help, and decided to write about it. So, let's call this a disclosure just to make sure I'm not breaking any laws by not putting one here, okay? 
I know for a fact that my friends really do like me.
How am I so confident about this?
Because they are willing to go in public with me, despite the fact that I usually dress like I live in a van down by the river, am colorblind, and have absolutely no pride.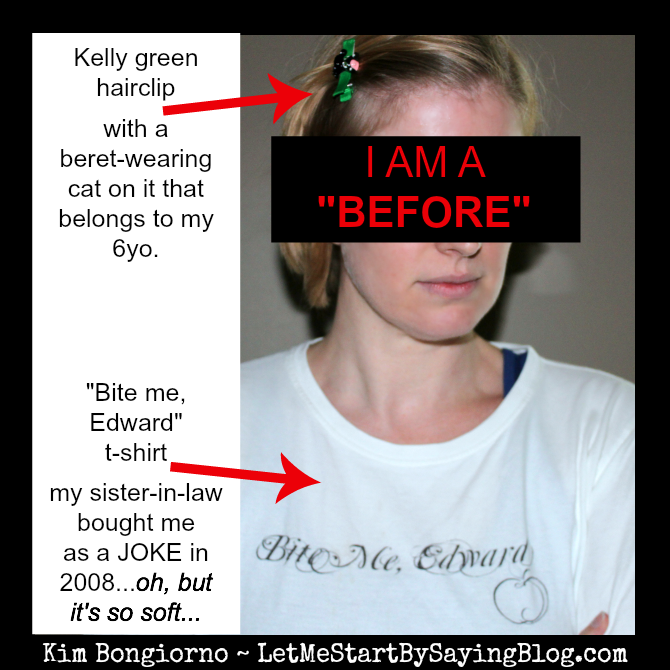 More often then not, I have a hole in the seat of my pants, and/or am wearing something meant to be pajamas. In front of people. Publicly.
The irony is that I love fashion. 
So why have I always dressed the opposite of how I long to?
There was always an excuse:
I'm trying to get pregnant

I'm pregnant

I just had a baby

I'm pregnant again

I just had another baby

Holy crap two kids is hard…what year is it, exactly?

We need to buy a house = no spending money

I could be in better shape

My kids draw on me too much to invest in clothes

I work from home, so who really cares how I look?
Well, this year I began making appearances at book singing events, and realized I only owned one pair of nice pants. ONE. I also noticed that I didn't look good in any of my 30ish pairs of jeans. 
LAME. 
I mustered up the guts to admit that, despite the delicious familiar comfort of my Hobo Clothes, I deserve to look good. Yes, even if I'm just at home, playing with my kids in the driveway, getting covered in sidewalk chalk.
So I did something that I've always wanted to do: asked for professional help.
I asked my friend Ilana (of MommyShorts fame) if she knew of any stylists in the NYC area, and she had just the one:
Emily Shalant, clothing designer, mom, stylist extraordinaire, and owner of Style Solution Seven.
Faster than you can say "faded yoga pants," Emily un-hobo'd me by:

1. Talking about my needs:
Mom of elementary-school-aged kids = impromptu gluestick battles

Works from home at a computer (comfy sitting pants, please)

Does professional appearances

Must stop looking like riff-raff

Must stick to the budget I worked so hard to save for to do this
2. Then we Skyped so she could look inside my closet, see my favorite outfits, politely refrain from shouting at me "BURN IT. BURN IT ALL."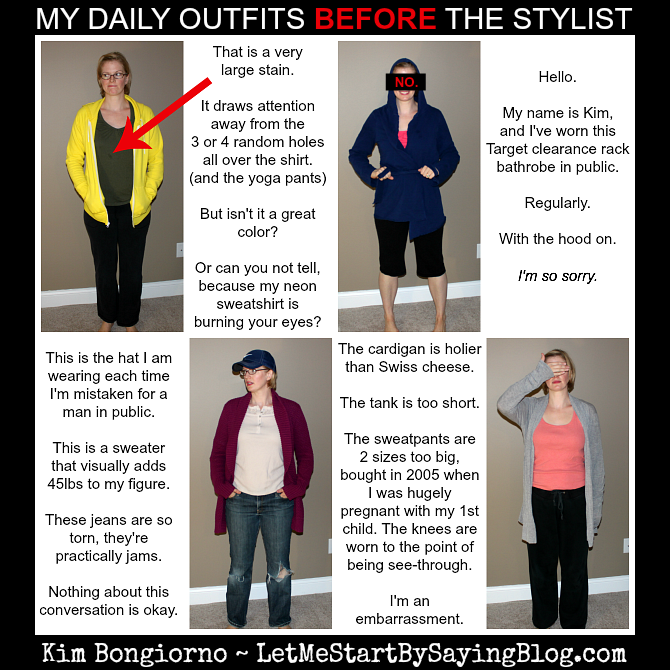 3. On a sunny Saturday, we met at Bloomingdales in Midtown Manhattan. I followed her around, agreeing to try on anything (except animal prints), answering any preference questions, and carrying long items because she's tiny enough to fit in my pocket.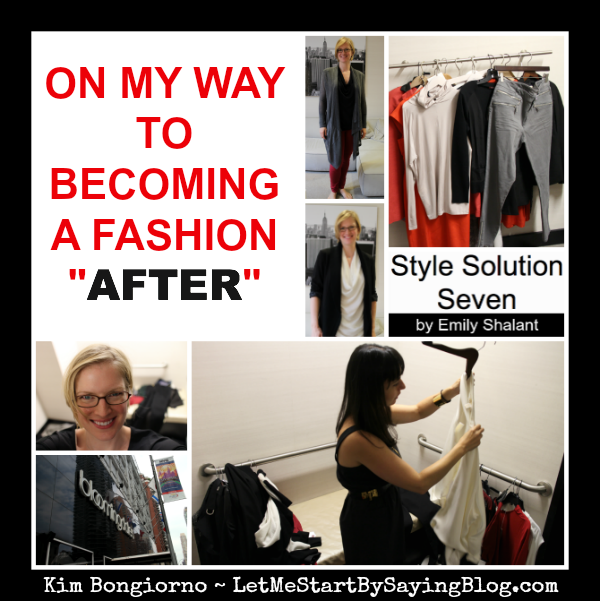 She led to me her favorite dressing room, I stripped down to my full-coverage nude bra and underwear, apologetically explaining, "Sorry about the massive underpants. I've had anal surgery twice, and sometimes my butt just isn't in the mood for thongs. We need to work around that."
Barely batting a lush eyelash at this insider's information to my pooper, she organized the room and began handing me things.
Three hours, many laughs, a bit of flop sweat, and one she-saved-me-from-blowing-my-budget-on-an-impractible-but-divine-beaded-dress moment later, I had a new wardrobe.
Every item flattered me, worked together, could be used for multiple occasions from day to night and at least 3 seasons. 
She pushed me to stay within reason – would I really wear that? don't I need one good this? – and within budget. 
After a grateful hug (not long enough for me, probably a little too loving for her), we parted and I was left alone with my thoughts.
Thoughts that got me looking at my closet in a different light.
Why do I keep ugly crap in my closet?
Why don't I wear a few of my shirts that I love, just because they are fancier than the typical Old Navy basic tees I stock my shelves with? Who am I trying to not impress?
It took me almost two weeks of thinking about the clothes and filtering out my closet before I was ready to debut my new wardrobe.
It was worth the wait.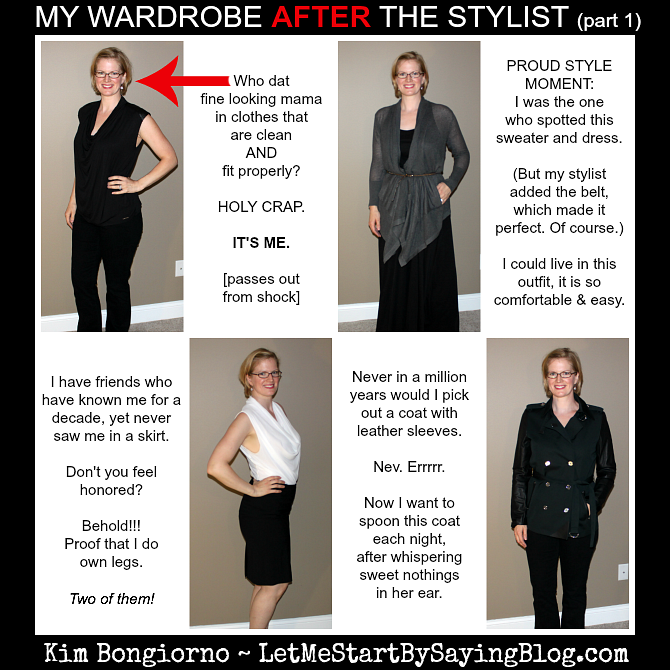 I felt better. I was comfortable. I looked good.
These are not terrible things.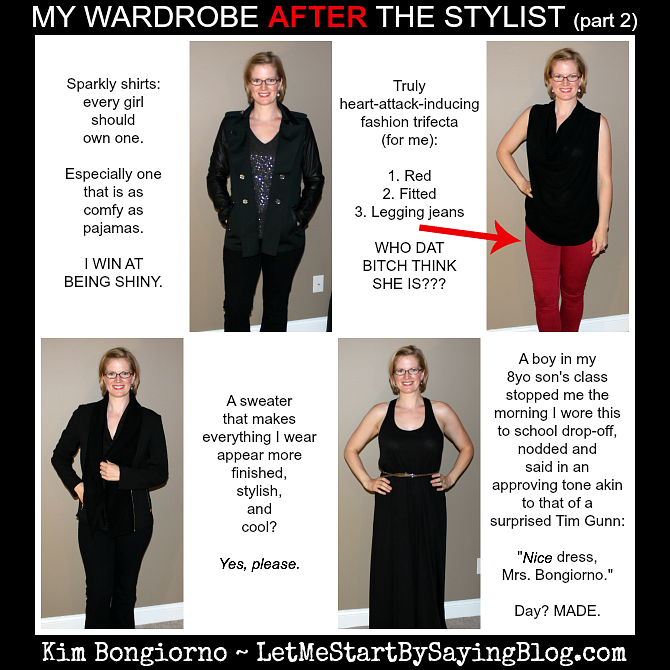 I now had two styles of jeans that looked good on me, so I could peruse Ebay or sales online to get more of them in a variety of colors. 
She explained how to make sure you have the right size, how a belt or a rolled-up sleeve can finish a look. I feel like I have to tools to work what I had into what I just bought.
Emily's Style Solution Seven site promises "You will be transformed. All in one day."
And I was. In more ways than one.
I feel like I set the standard a little bit higher for myself. I worked really hard to be able to create a budget for new clothes, and I'm appreciating them more than I thought I would. I'm not saying I'll never again go to school drop-off unshowered, but at least once I do shower I'll have some great jeans and sweaters to put on. 
Just like it's okay for us parents to give ourselves a break when it comes to things we think should be doing but just don't have the energy to do (Breaking News: babies and little kids are exhausting creatures), it's also okay for us to wash our hair and treat ourselves to that sparkly new shirt when we're ready to do so.
And I'm ready.
For more information on the loveable stylist Emily Shalant, check out her blog Emily Elegant, website Style Solution Seven, and follow her as Emily Elegant on Facebook.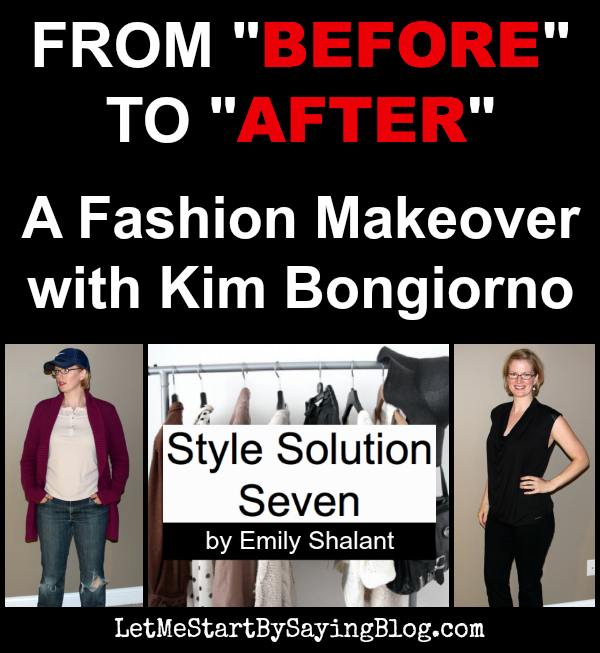 Comment with Your Facebook Account
Comments