…because you have other shizz to do.
Where I've been this week on the www.
All summed up so you can move on with your life.
~ ~ ~ ~ ~ ~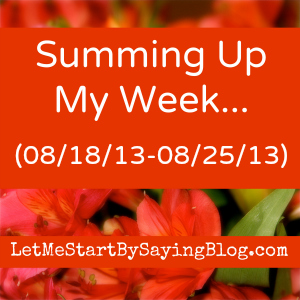 WHERE I WAS:
Sharing things I didn't say on vacation HERE on In The Powder Room.
Interviewed HERE by Johi of Confessions of a Corn Fed Girl.
Wrote about my 1st trip ever to Europe HERE. Yes, with pictures.
So many great reviews have been coming in for "You Have Lipstick on Your Teeth" – I'd love to see yours! If you put up a review on Amazon.com or write one on your blog, please share the link with me. Also? Please send me a photo of yourself with the book – I have a fun project up my sleeve. Post it on Facebook or Email me. Thanks!
Asking you to share your prom pictures with me here.
Made this week's Best Parenting Tweets list HERE by @HuffPostParents.
WHAT I LOVED:
Few people can explain a difficult situation like Leslie of @TheBeardedIris. THIS is why so many people respect her writing.
THIS by @BellOnWhells about trying to remember who you are, once the kids are all in school.
THIS by @JessBWatson about enjoying your own, unique ride.
FAVORITE TWEETS:
Oh, Sesame Street… without you I'd never get a shower.

— Jenni Chiu (@MommyNaniBooboo) August 19, 2013
BLOG SPONSORS:
I have 3 wonderful blog sponsors. Please help me show them some love by checking them out & Liking them on Facebook & Twitter.
My Pretty Chic Boutique = Gorgeous handmade jewelry on Etsy.
So…Then Stories = Quick, true, funny stories.
Splendid Junk Vintage = Etsy shop of lovely vintage goods.
Okay, now I think that's everything. Back to your regularly-scheduled weekending…
Comment with Your Facebook Account
Comments