…because you have other shizz to do.
Where I've been this week on the www.
All summed up so you can move on with your life.
~ ~ ~ ~ ~ ~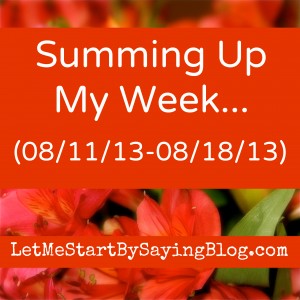 WHERE I WAS:
In a new book!
Did you hear I'm in a new book? What's that? You didn't? Well, guess what?
I'M IN A NEW BOOK!
Click this picture of me & the 5-star rated "You Have Lipstick on Your Teeth" to get your own copy. And once you do? Send me a photo of yourself with the book – you'll be a part of a little project I have coming up.

Post it on Facebook or Email me. Oh, and any reviews of the book on your blog or fabulous Amazon/Goodreads reviews you put up will be shared by yours, truly, if you give me a link. Thanks!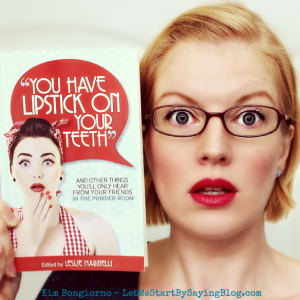 Standing up for a friend who lost her husband to cancer this week here.
Talking about trendy buttocks here on @InThePowderRoom.
Asking you to share your prom pictures with me here.
Been sharing pictures from my trip to London, Paris, Rome & Florence on Instagram @TheKimBongiorno.
Grateful that @ElizabethStMom included me in a post about their favorite Back-to-School tweets.
WHAT I LOVED:
@AndyHerald being present with his kid here.
Ashton Kutcher's speech here (click image below):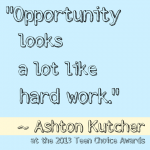 FAVORITE TWEETS:
Now I remember why I don't paint my own nails. My nails look like my kids painted them. Blindfolded. With their feet.

— Gina Valley (@GinaValley) August 2, 2013
I'm having the kind of day that makes me wonder who the hell I fucked over in a past life.

— Scary Mommy (@ScaryMommy) August 1, 2013
And here I thought it was Wednesday. That's what I get for not having days of the week panties.

— Nicole Leigh Shaw (@NicoleLeighShaw) August 1, 2013
I'm a fairly intelligent woman, yet half my time in the shower is spent wondering if I've already shampooed my hair yet or not.

— Abby Heugel (@AbbyHasIssues) August 15, 2013
Actually I would love to try cauliflower but it looks like broccoli's ghost and I don't eat haunted foods.

— Honest Toddler (@HonestToddler) August 13, 2013

NOTE: I've been reading The Honest Toddler's new book and it makes me laugh long time. Get a copy here. And follow her on Twitter here. You can thank me later.
BLOG SPONSORS:
I have 5 wonderful blog sponsors. Please help me show them some love by checking them out & Liking them on Facebook & Twitter.
My Pretty Chic Boutique = Gorgeous handmade jewelry on Etsy.
Carpool Goddess = Tales of a modern mom.
You Promised! App = Fun, interactive app keeps kids & parents happy.
Splendid Junk Vintage = Etsy shop of lovely vintage goods.
Okay, now I think that's everything. Back to your regularly-scheduled weekending…
Comment with Your Facebook Account
Comments