It creeps in quietly, sneaking and slipping itself into gentle dips and folds, greedily feeding itself without a sound.
It is a hated beast, one that strikes fear in some, loathing in others.
Most of us have been touched by its many tricky hands. Our mothers, friends, neighbors.
Our children. Our partners. Our spouses.
Ourselves.
We look, we fight, we stand strong.
We let others stand strong for us when we can't.
We let the prayers of loved ones, of strangers, of anyone who discovers the need for them, wash over us, try to tear the monster out of our weakened fibers.
But sometimes that's not enough.
Cancer has taken yet another one of us this week.
Scott was loved.
He was a son, a daddy, a husband. A friend, an inspiration, a good man.
He was a fighter to the end.
He was loved.
His wife, Courtney of OurSmallMoments, is now suddenly a single mother with two young children and an empty side of the bed where her husband should be.
Back when he was first diagnosed, she stayed strong and hopeful and hardworking. When she had every single excuse to collapse?
She. Stood. Up.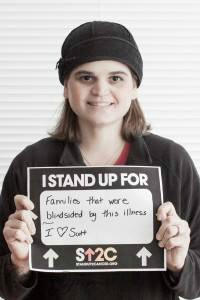 But now he's gone, now she must crouch down to hold onto her kids and keep herself from falling under the weight of this loss.
So now we, a group of her friends from the web and real life, are standing up for her.
We couldn't help beat the cancer that took Scott, but we can help make the financial strains of medical bills, funeral expenses and future costs associated with being a single parent less of a burden on Courtney.
And so we give.
Our words, our prayers, our shoulders, and more.
If you, too, can give words of kindness, a dollar, or anything more, please donate via GiveForward to the fund set up for her family.
If you can simply share this post (or any of the others like it) to help spread the word, help us reach our goal, please do so with the buttons below.
And if you have any questions for me about how to help, I'll be right here.
Standing for Courtney, Scott and their kids for as long as I'm needed.
Learn more about Courtney's journey through her honest words and beautiful photography here on her blog, OurSmallMoments.
Learn more about the fundraiser in Scott's honor here. You don't have to know his family to leave a message of support, a prayer, or kindness for Courtney to read. These can be left on the fundraiser page even if you can't donate financially, or post them on her Facebook Page. She is quietly reading them all.
Comment with Your Facebook Account
Comments