…because you have other shizz to do.
Where I've been this week on the www.
All summed up so you can move on with your life.
~ ~ ~ ~ ~ ~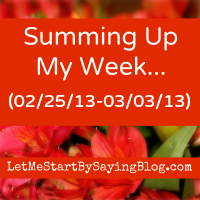 WHERE I WAS:
Kickin' ass at parental psychological warfare HERE.
Listed some (naughty) things to do in the snow HERE on InThePowderRoom.
Shared some of my surprises about parenthood HERE on Mamalode.
My 5 favorite Oscar moments were HERE on InThePowderRoom.
Made the HuffPostParents Best Parenting Tweets of the Week HERE.
I went out dancing 2 nights in a row. Oh my God I'm tired.
I try to hop onto the #SpikedPunch Twitter Party every Sunday at 9pm EST.
Can you please "Like" my new Facebook Author Page for me? Just click below:
I wrote a book. Order your copy of PART OF MY WORLD: SHORT STORIES here
.
Already read it? Please leave a review on Amazon (the "Write a customer review" button is below the last review)  – it's super easy to do and really helpful for my future writing projects. Thank you!
STUFF I LOVED THIS WEEK:
@GonnaKillHim's stand-up routine about spousal texting HERE.
@BabySideburns' thoughts on a fuzzy feminine product HERE.
@expatbarbie's post on "Fakebooking" HERE.
@InTheMomLight asking how her toddler's day was HERE.
FAVORITE TWEETS:

I'm sick.I went to CVS and over the counter medicine was $12.I went to the liquor store and wine was $10.I bought wine.

— Nixster (@OriginalNixster) March 1, 2013
BLOG SPONSORS:
I have 4 wonderful blog sponsors. Please help me show them some love by checking them out & Liking them on Facebook & Twitter.
Daughter-in-Law Diaries = Advice, support, community for DILs.
In The Mom Light = Usually Funny. Always Interesting.
My Pretty Chic Boutique = Etsy shop of stone & bead jewelry that I covet.
Splendid Junk = Etsy shop of lovely vintage goods.
Okay, now I think that's everything. Back to your regularly-scheduled weekending…
Comment with Your Facebook Account
Comments