…because you have other shizz to do.
Where I've been this week on the www.
All summed up so you can move on with your life.
~ ~ ~ ~ ~ ~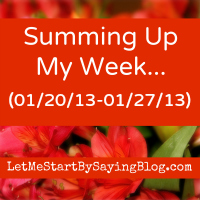 WHERE I WAS:
Clearly, the biggest news of the week was the release of my new eBook. The reviews coming in have been more than I could hope for. Some of you have already starred reviews up on Amazon for me. Thank you. Really.
Got 99 cents? Get your own copy here:
Another wee little favor I must ask: I could really use some Likes of my Facebook Author Page. That's the one connected to my new Author Website KimBongiornoWrites.com. Just click the image below, and Facebook will open in a new window for you to "Like":
I decoded what parents say versus what they mean HERE on ScaryMommy.
Made a list of the kids you'll see at your kids' school concerts HERE.
For the 3rd year in a row, someone nominated me as a Top 25 Funny Mom at Circle of Moms. If you agree, click the golden thumbs-up HERE to vote. You can vote once a day thru Feb. 13th. I'd love to make the list again, so THANK YOU in advance for your votes. Also, you can vote for more than 1 person per day, so find the full list of nominess – and their current rankings - HERE.
I interviewed a bunch of ladies & wrote HERE The Truth About Aging Vaginas.
Shared my list of no-longer-sexy sounds HERE on Facebook.
OSCAR MOVIE UPDATE: This week I saw The Impossible & Django Unchained, chipping my way towards my goal of seeing all the nominated Best Pictures (and some Best Actor/Actress) films before the Oscars air on February 24th. Only 6 more films to see!
Sunday nights from 9-10pm EST I'm on the #SpikedPunch Twitter Party with THESE LADIES. Join me! THIS is what I use to follow along during the party.
STUFF I LOVED THIS WEEK:
THIS by MomsWhoDrinkAndSwear about stolen candy.
THIS by AllSweetnessAndLife about body image.
THIS list about parental advice by BecauseMyLifeIsFascinating.
Discovered Radiant Cosmetics HERE via a Twitter party, and learned that they donate profits of their make-up sales to stop human trafficking. Check them out!
SOME OF MY FAVORITE TWEETS THIS WEEK:
I have nachos in my bra… You know because where else am I gonna keep them.

— Jen Mitchell (@buriedwithkids) January 26, 2013
There are days when I think a catheter wouldn't be such a bad thing.

— The Suniverse(@TheSuniverse) January 25, 2013
I love when I'm typing "maybe" and my phone thinks I mean "malbec." Good idea, Droid.

— Something Clever 2.0 (@JennSmthngClvr) January 25, 2013
Moms: There's a time and a place for catching a quiet moment to yourself.That place was your first apartment and that time is long past.

— Nicole Leigh Shaw (@NinjaMomBlog) January 22, 2013

BLOG SPONSORS:
I have 6 wonderful blog sponsors. Please help me show them some love by checking them out & Liking them on Facebook, Twitter, Etc.
Daughter-in-Law Diaries = Advice, support, community for DILs.
In The Mom Light = Usually Funny. Always Interesting.
My Pretty Chic Boutique = Etsy shop of stone & bead jewelry that I covet.
Cloudy With a Chance of Wine = Wife, mom, wine lover, blogger.
Mod Mom Beyond IndieDom = From backstage to middle age.
Splendid Junk = Etsy shop of lovely vintage goods.
Okay, now I think that's everything. Back to your regularly-scheduled weekending…
Comment with Your Facebook Account
Comments