…because you have other shizz to do.
Where I've been this week on the www.
All summed up so you can move on with your life.
~ ~ ~ ~ ~ ~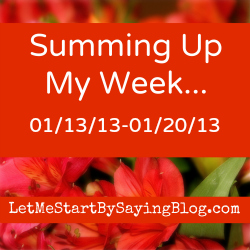 WHERE I WAS:
Guest-posted on gDiapers with a list of qualifications to be a SAHM & how I should be fired effective immediately HERE.
Made the HuffPostparents Best Parenting Tweets of the Week HERE.
Wrote a letter to the new people I was about to meet HERE.
Listed how parenting is like clubbing in NYC HERE.
I cross-pollinated at HuffPost Parents & HuffPost Healthy Living with my article about women & their weight HERE.
Made a list of things that bake better than an Easy Bake Over HERE.
Did you know I'm the InThePowderRoom Social Media Manager? Yep, I've been working on making the Pinterest boards more awesome every day. Follow me THERE! I'm particularly proud of my beautiful Valentine's Day board HERE.
Sunday nights from 9-10pm EST I'm on the #SpikedPunch Twitter with THESE LADIES. I tweeted so much last Sunday, I got locked out of Twitter. It's THAT fun. Join me! THIS is what I use to follow along during the party.
STUFF I LOVED THIS WEEK:
THIS post about bedtime stalling by @MommyShorts on @ScaryMommy.
THIS list of 5 ways to be a good friend to a parent of a special needs kid by @LizDawes on @InThePowderRoom.
THIS tale of Googling your husband's ex by @TheOutlawMama.
THIS hilarious YouTube music video by Macklemore, & THIS beautiful one.
Talking animals? Can't. Stop. Laughing. at THIS.
SOME OF MY FAVORITE TWEETS THIS WEEK:
I have a masters degree in theatre if you were looking for someone to build your web siteor bring you a latte.

— Jeff Porper (@jeffporper) January 14, 2013
I just broke a mirror over someone's head so I'm fuzzy on who is having the worst luck here.

— moooooog35 (@moooooog35) January 14, 2013
"Oh, my god.YES!YES!YES!"–Me, remembering I have ice cream sandwiches in the freezer.

— Candy Kirby (@candykirby) January 15, 2013
Sports Bras: for those times that two boobs are just one too many.

— Barbie (@Quityerbitchen) January 15, 2013
BLOG SPONSORS:
I have 4 wonderful blog sponsors. Please help me show them some love by checking them out & Liking them on Facebook. 
Daughter-in-Law Diaries = Advice, support, community for DILs.
My Pretty Chic Boutique = Etsy shop of stone & bead jewelry that I covet.
Cloudy With a Chance of Wine = Wife, mom, wine lover, blogger.
Splendid Junk = Etsy shop of lovely vintage goods.
Okay, now I think that's everything. Back to your regularly-scheduled weekending…
Comment with Your Facebook Account
Comments