The Best of 2012: Your clicks, comments & shares determined which were my Top 10 Most Popular Posts of the year. I'm sharing one a day for the last 10 days of the year, each with a little back story. Enjoy!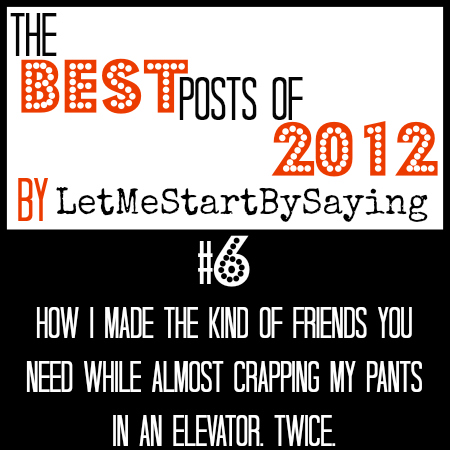 I'm a vegetarian who went to a blogging conference, ate a lot of quinoa, surrounded myself with hilarious women who I had waited ages to meet in person (specifically, The Bearded Iris, Jen of People I Want to Punch in the Throat, Robin O'Bryant, Andrea of Underachiever's Guide to Being a Domestic Goddess), and had quite the adventure.

If you like poop jokes? You'll love this one.

Come read How I Made the Kind of Friends You Need While Almost Crapping My Pants in an Elevator. Twice.
For more of the list, check out…
My 10th best post of 2012.
My 9th best post of 2012.
My 8th best post of 2012.
My 7th best post of 2012. 
Comment with Your Facebook Account
Comments