The Best of 2012: Your clicks, comments & shares determined which were my Top 10 Most Popular Posts of the year. I'm sharing one a day for the last 10 days of the year, each with a little back story. Enjoy!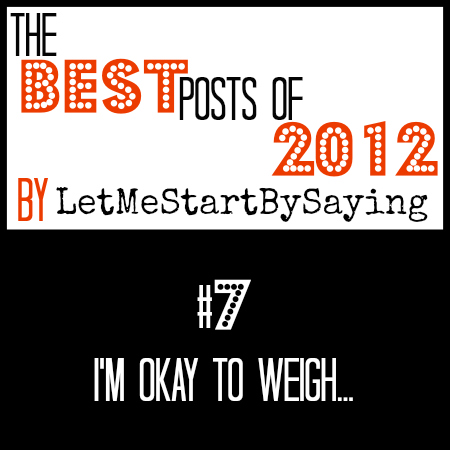 The amount of women I know whose lives are so affected by what their scale says each morning astounds me.
So I weighed myself and shared a photo of it, then shared my thoughts on the subject.
Hundreds of you replied, to the point that I couldn't keep up. Confessing your weights, your struggles, your hopes, your stories, your goals, your fears. It felt important to know so many found this place safe enough to share. I'm proud of this one. Really proud.
Come read I'm Okay to Weigh…. 
For more of the list, check out…
My 10th best post of 2012.
My 9th best post of 2012.
My 8th best post of 2012. 
Comment with Your Facebook Account
Comments