You know how you go to that children's Free Book Grab at school, the local library, or church and you let your kids pick whatever books they want and don't proof-read them to make sure they didn't take one that is a pornographic tale of teasing ponies and their "Secret Place?"
No?
Oh.
Well. Let me tell you MY story…
So NinjaMom has been at me for a while to jump on her Character Assassination Carousel. It's a place where parents share their take on their kids' favorite books. It is always funny. Always. FUNNY.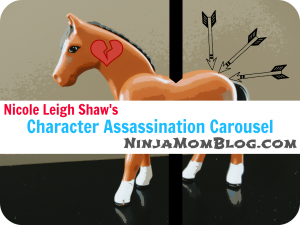 I wasn't sure what to do. A classic? An annoying potty training book?
Then we went to the Free Book Grab at school and I found myself reading PINKIE PIE'S SECRET PLACE to my innocent 5yo daughter before bed one night. If you aren't familiar with Pinkie Pie, let's just say she's the little minx of the My Little Ponies.
I never trusted her. I never will. Especially after reading this book.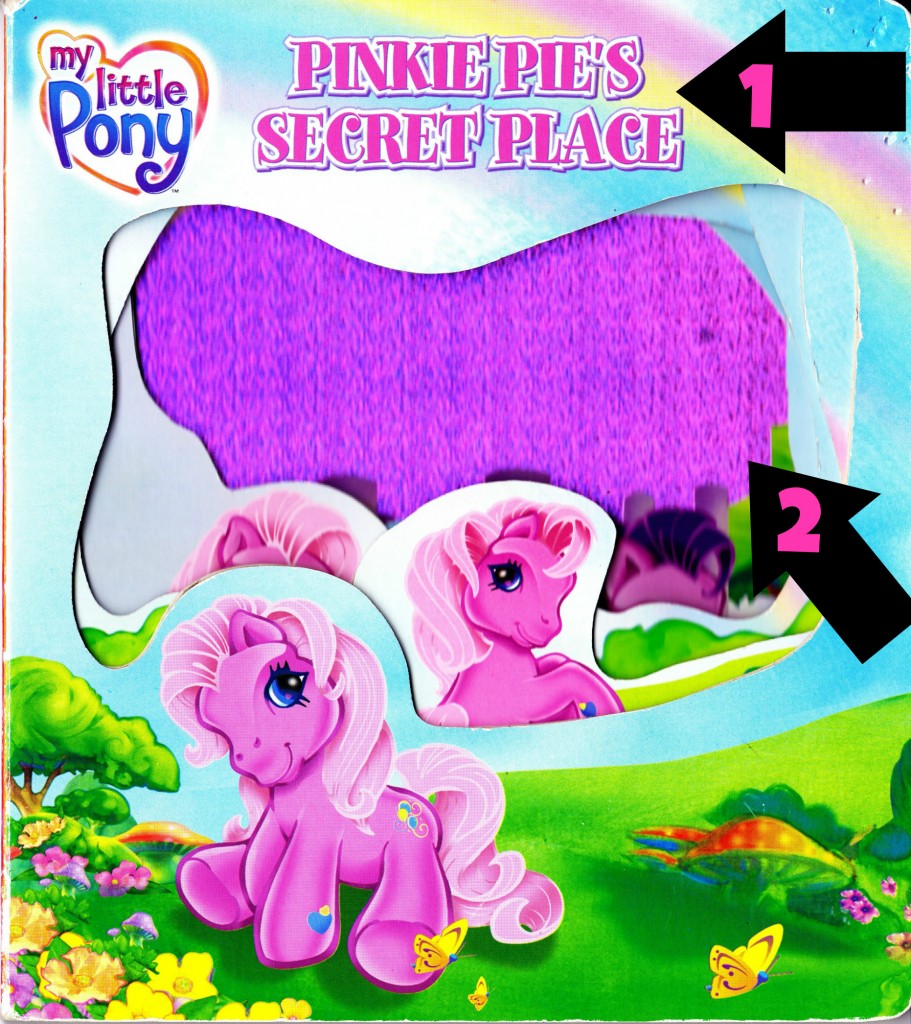 That's Pinkie Pie on the cover. Wench.
See that "Come Hither" look she's giving to all who read this hardcover children's book? If that doesn't tip you off as to where this book is going, please allow me to point out:
1. The title is Pinkie Pie's SECRET PLACE. (<– foreshadowing)
2. The front cover is a vaginal canal that has Pinkie Pie herself peeking from between the folds and with what seems to be a sparkling pink cervix at the end…OR IS IT?
Keep reading, and you'll find out.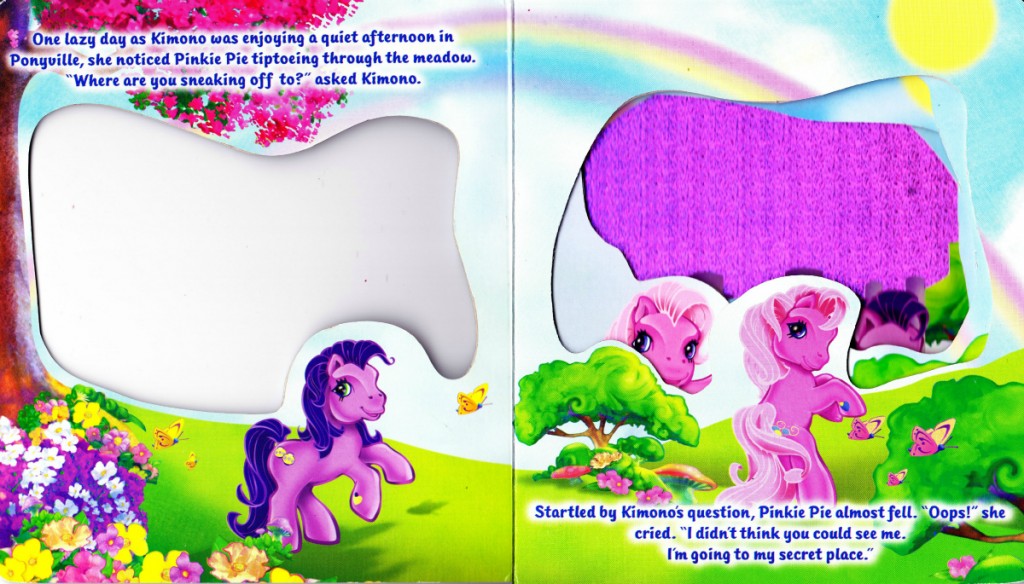 The book begins on a lazy day with Kimono frolicking with butterflies alone at the edge of the woods, when she sees that whore Pinkie Pie "tiptoeing through the meadow". Pinkie Pie, all tarted up with a freshly applied whimsical balloon tramp stamp on her haunches, pretends she thought she was getting away with something. She coyly peeks over her shoulder at Kimono.
Golly gee, Kimono. I had NO IDEA you'd notice a hoof-clopping hot pink HORSE tiptoeing through this totally flat grass. I was just headed to my Secret Place…I can't believe you caught me!  **wink**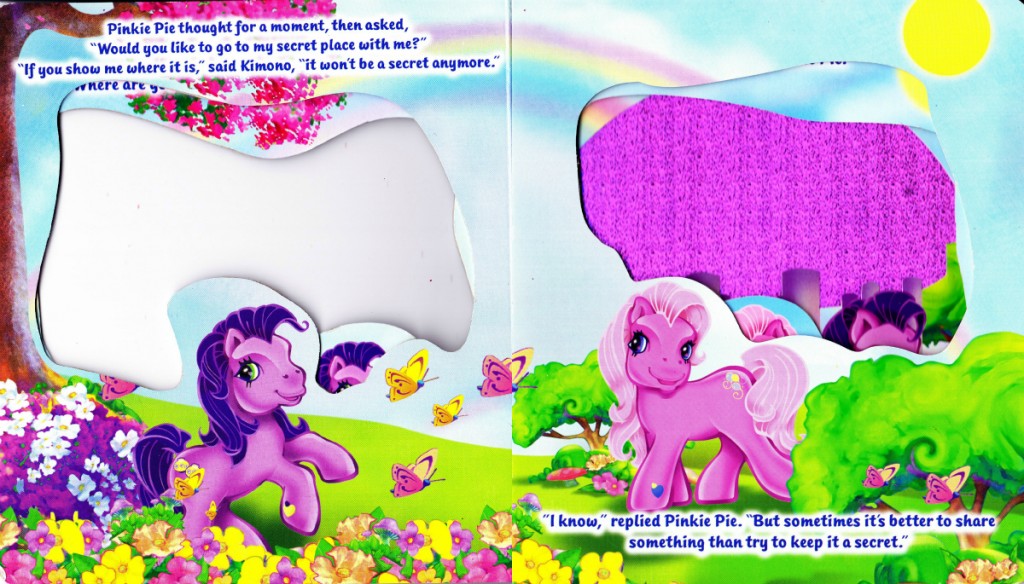 Pinkie Pie pretends to have JUST thought of inviting Kimono to go to her Secret Place right then and there. (LYING FLOOZY)
The following lines as quoted directly from the book have been in many a pornographic film:
Kimono: "If you show me where [your Secret Place] is, it won't be a secret anymore."
Pinkie Pie (breathlessly whispers): "I know. But sometimes it's better to share something than try to keep it a secret." (twirls her mane seductively)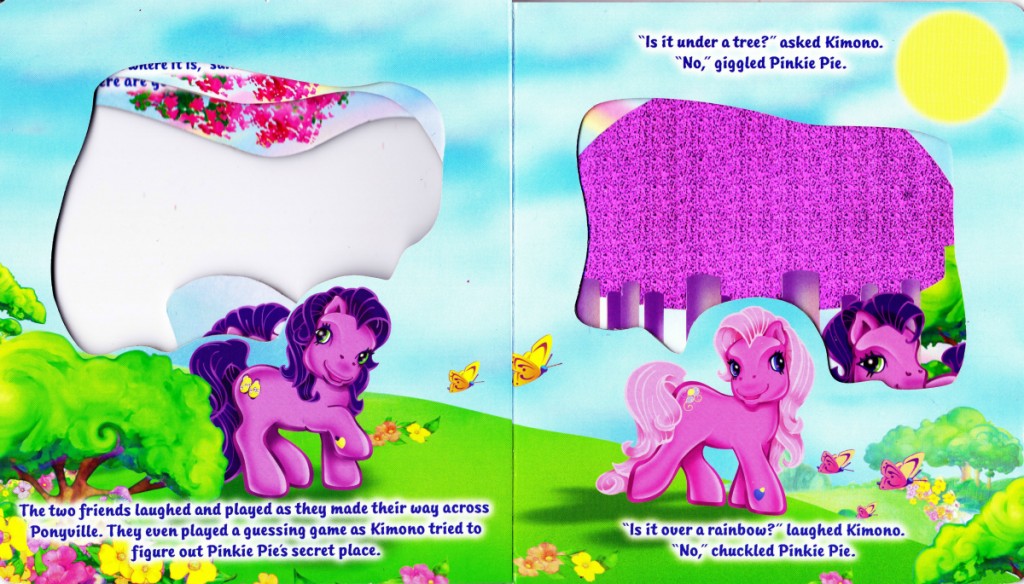 Faster than you can say "Stranger Danger," that tricky tramp Pinkie Pie is leading the naive Kimono deeper into the woods, flirting and playing games, trying to get her to guess what Pinkie Pie's Secret Place is.
"Is it under a tree?" asked Kimono.
Since Pinkie Pie isn't a male horse, she giggles. Because girl horses don't have "trees."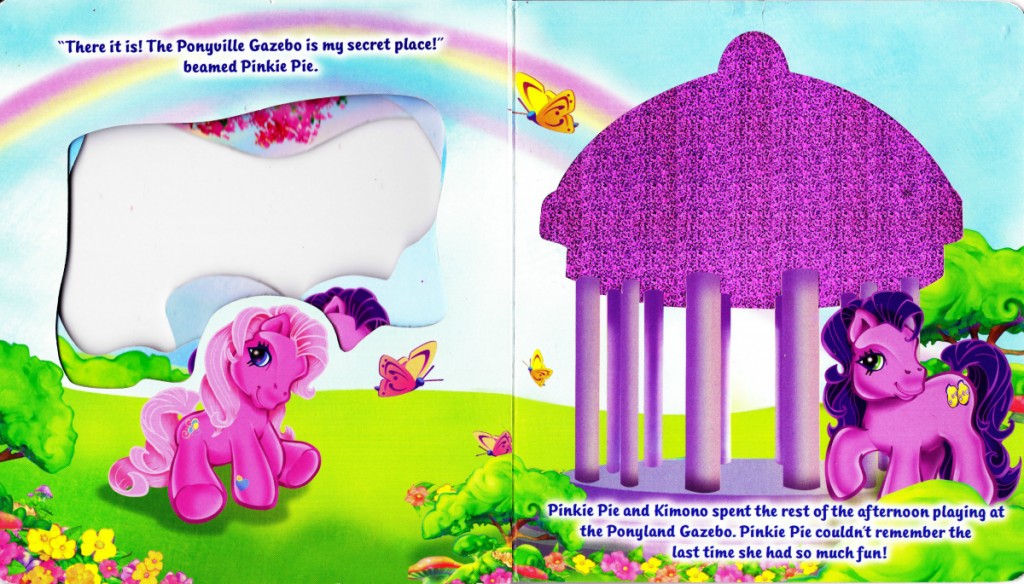 THERE IT IS!!! "beamed" Pinkie Pie.
Now that Kimono is deep in the woods with Pinkie Pie the Sex Machine, she has no choice but to have girl-on-girl action beneath Pinkie Pie's Glittery Pink Tit Cage of Experimentation. Kimono is all confused smiles at first, but once locked behind those purple bars, that virginal pony is gonna get taken for a ride, whether she wants to or not.
Neigh neigh, little horsey. How Do You Like My Secret Place NOW?!?
(NOT QUITE) THE END
The first time I read this was the first time I saw this book and my jaw pretty much fell off of my face.
Not only does this children's board book teach kids about sex, it also tells a story about how if you happen to come across a secretive stranger in the woods, you should follow her deeper into the woods until you get to the secret sex cage she keeps there and then play with her and it all day long.
Oh, but it doesn't end there, my friends.
Luckily, when the book is over and you slam it shut to try to wipe the memory of Pinkie Pie's Glittery Pink Tit Cage of Experimentation from your mind, you will find out there are more books in the series.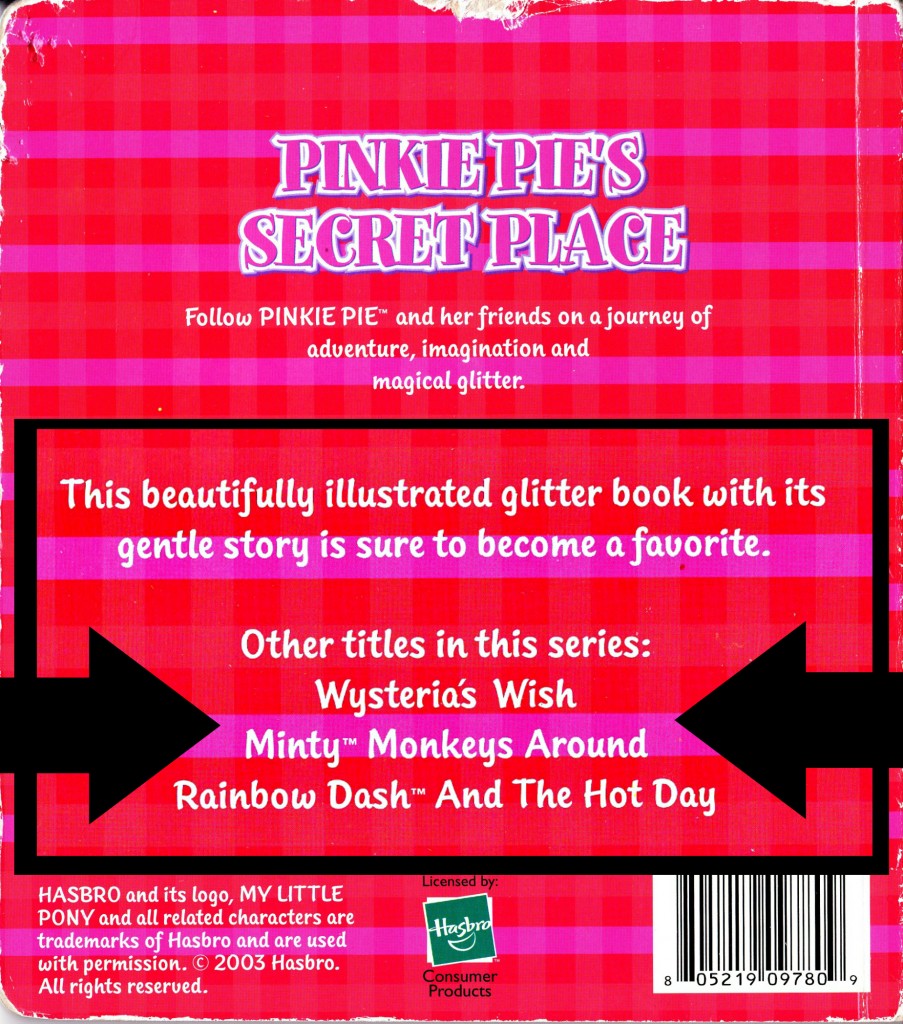 I'm gonna skip right over the fact that the publisher refers to this book about pony sex slavery as a "gentle story", and tell you what I think happens in the other 3 titles in the series.
Wysteria's Wish: Wysteria has spent too much time being a wallflower. She's ready to spank a bitch. Hard.
Minty Monkeys Around: A pony named Minty. A new bottle of tingly mouth wash. Horny twin monkeys. What happens next? You B the Judge.
Rainbow Dash and the Hot Day: Someone's in heat and wants to prove it.
Looks like I'll have to wait until the next Free Book Grab at school to see if my hunch about the others is right…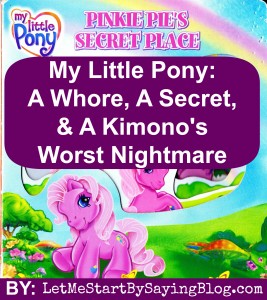 If you'd like to post about one of your kids' books and take a ride on 
NinjaMom's Character Assassination Carousel,
let me or Nicole from NinjaMomBlog know. She'd love to have you.
Last blogger on the carousel was Mannahattan Mamma.
Next up: Teri from Snarkfest takes a spin.
Comment with Your Facebook Account
Comments