…because you have other shizz to do.
Where I've been this week on the www.
All summed up so you can move on with your life.
~ ~ ~ ~ ~ ~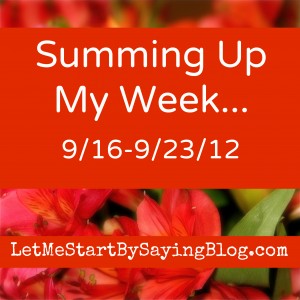 I showed you exactly what I weigh, putting my foot down about all this bullshit of women treating themselves like crap over a frigging number. The response was more than I imagined it ever would be. Thank you, to all of you who decided to share your number with me, too.
I shared how I feel about gardening & wrote a letter to my annoying neighbor.
The Mouthy Housewives trusted me to give advice to one of their unsuspecting inquisitors. Poor thing. 
One of my tweets was chosen a Funniest Parenting Tweets of the Week by NickMom.
I'm now a lucky member of THIS great Pinterest board. Follow it. Really.
Got all Mayan Mom. Theoretically.
Stuff I Loved: THIS beauty from 4PlusAnAngel, THIS by @SuburbanSnaps, THIS by @MommyShorts.
Some of my favorite tweets:
You open the doors to the fresh air and pesty flies rush in. You close the doors and pesty children can't go out to play.

— Nicole Leigh Shaw (@NinjaMomBlog) September 17, 2012
There's not enough alcohol in this breath spray to make it through the day.

— Abby Heugel (@AbbyHasIssues) September 21, 2012
Happy 12th birthday to my little girl. Seems like only yesterday you were a screaming baby and I was all, like, "WTF DID I DO?!?"

— moooooog35 (@moooooog35) September 22, 2012
Did I just use a Dustbuster to clean last night's dinner off my kitchen table? Possibly.

— Robin O'Bryant (@robinobryant) September 20, 2012
I know it's unfair, but I'm tougher on educators making typos than other people. It's like when the gynecologist pap smearsyour throat.

— MarinkaNYC (@MarinkaNYC) September 22, 2012
Day 3 of No Sugar: I'd blow rails of Splenda off the ass of a dead hooker.

— Erin Donovan (@gonnakillhim) September 19, 2012
No, but I do kiss YOUR mother with this mouth.

— Aristotles (@AristotlesNZ) September 22, 2012
I co-designed jewelry with MyPrettyChicBoutique to sell on WeShop. Come see the COLORFUL AGATE NECKLACE & SWAROVSKI SPARKLE EARRINGS.
I have 4 wonderful blog sponsors (purchasers of ad space) who make me happy and help pay a babysitter so I can write without children hanging from my neck. Please help me show them some love by checking them out & Liking them on Facebook. Thanks! If you are interested in advertising here, ads start at $10/month (details here).
SuburbanHaiku = Clever, sweet & funny author of eBooks under $3.
Abby Has Issues (the Book) = 100% profits help animals in need.
My Pretty Chic Boutique = Etsy shop of stone & bead jewelry that I covet.
Splendid Junk = Etsy shop of lovely vintage goods.
Okay, now I think that's everything. Back to your regularly-scheduled weekending…
Comment with Your Facebook Account
Comments